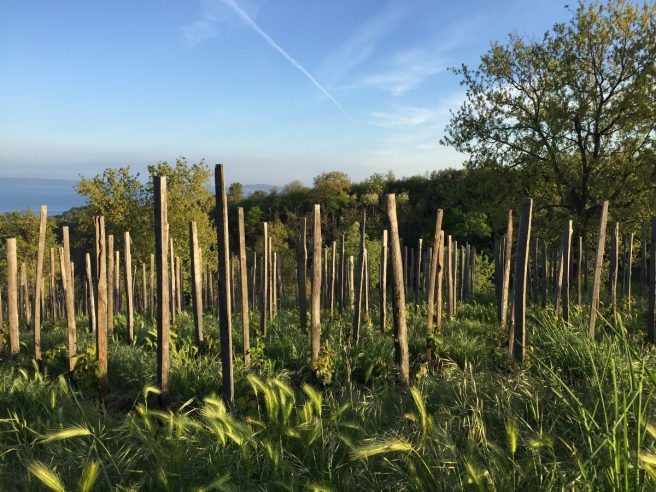 Any release from Gianmarco and Clémentine of Le Coste is an exciting one and we are so happy to have squeezed these latest arrivals in, just in time for Christmas.
The work the two have done since settling in the village of Gradoli, in Lazio's north, back in 2005 is nothing short of remarkable.
This is not an area known for the production of great wine, yet they saw the potential in the volcanic shores of Lago di Bolsena and now farm a total of fourteen hectares with their fastidious attention to detail, producing some of the most exciting wines in all of Italy.
We have just received the following wines.
LE COSTE Bianchetto 2018
This is a fifty fifty blend of young vines of Procanico, mixed with Malvasia, Moscato and many other local varieties. It spent ten days on skins, with both fermentation and a six months élevage taking place in cuve. From this cooler vintage, delicate and fragrant, with gentle scents of citrus and herbs and just a hint of tannin. A real joy to drink and thankfully, we have plenty of magnums too.
LE COSTE Rosso di Gaetano 2018
This is roughly half Sangiovese with the other half being a mix of Syrah and Merlot. It spends three weeks on skins, before being pressed off to cuve to rest for six months. Clem and Gianmarco describe this as their 'picnic wine' and it is easy to see why. This pretty, easygoing wine packs pure fruit and plenty of charm onto its slender frame.
LE COSTE Rosso 2017
Mainly Sangiovese, with small amounts of Ciliegiolo, Colorino, Canaiolo and Vaiano. A blend of three parcels of various ages, elevations and expositions, harvested individually. The grapes are destemmed and spend three weeks on skins, followed by a year in old chestnut casks. With gorgeous aromatics and a cherry-hue, it displays a wonderful brightness of fruit and a real lightness across the palate. One of their best yet.