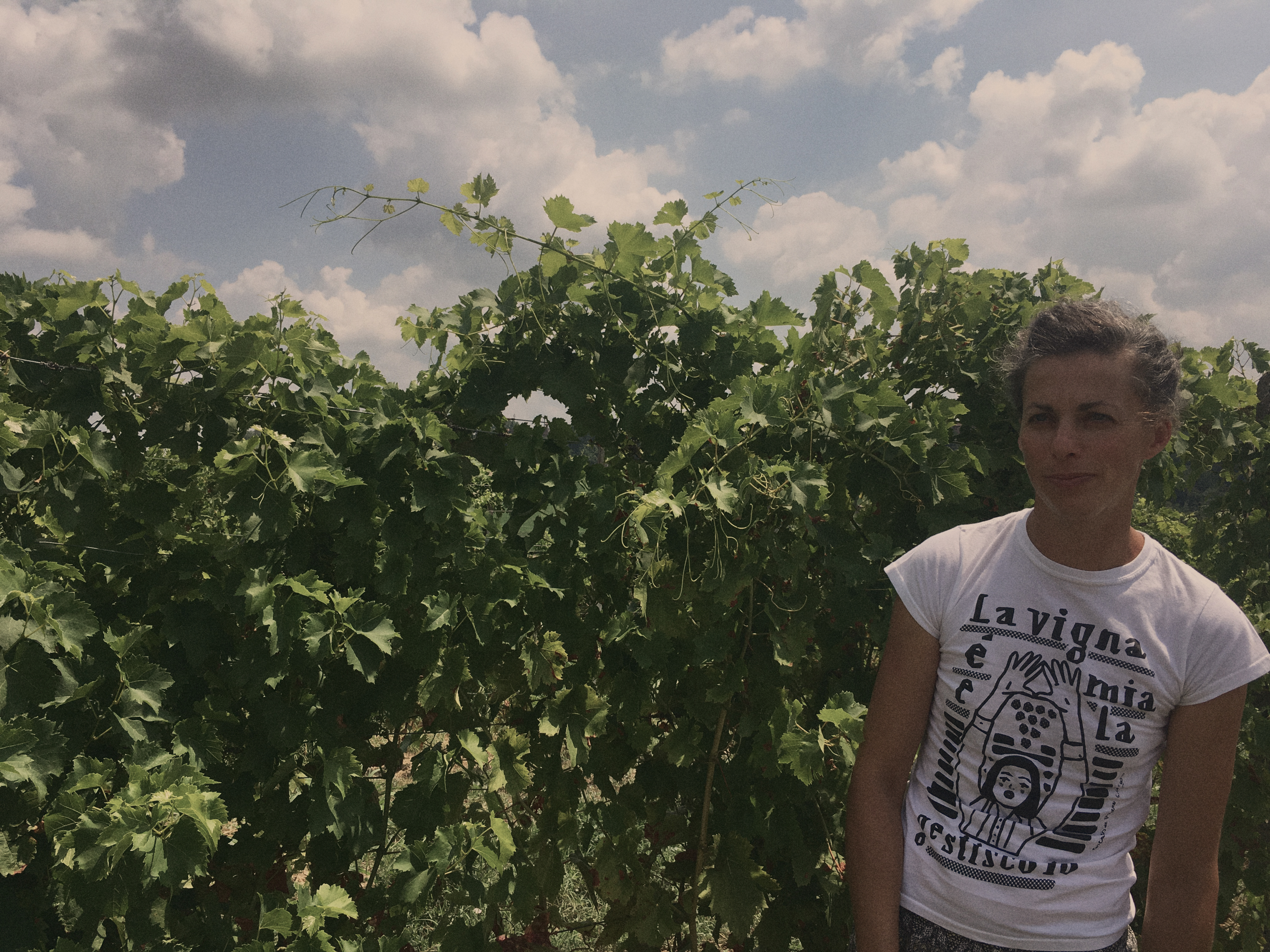 In her early twenties Nadia Verrua decided to leave life in the city behind and return to her family's farm in the hills outside Asti. In doing so she became one of the first female winemakers in Piedmont and the fourth generation to grow the local grape varieties which call these soft, sandy slopes home. She was also to have a profound effect on the direction Cascina Tavijn would take for the future. 

We've missed not being able to visit Nadia and her family over the past few years and it was a pleasure to sit down with her and learn a little more about life on their farm.

A selection of Nadia's wines can be found on Tutto a Casa
 
Hello Nadia, could you start by telling us a little about yourself and how you began working at Cascina Tavijn?
My journey with Cascina Tavijn started around twenty years ago. I had studied graphic design but wasn't convinced it was the right choice for me, these hills kept calling me back.
I was fascinated by the work of my parents and enjoyed sharing wine with friends. I signed up to a course in food, wine and marketing where I met some inspiring people, such as Gian Luigi Brera and Laura Pesce.
The course lasted a year and in the meantime I started working with my parents. I don't know how it happened, because at that point I really knew nothing about wine and had only done the occasional harvest. Perhaps the recklessness and arrogance of my twenties led to me making choices that I wouldn't take so lightly today.
How was it working alongside your family?
Although with some hesitation at first, my parents welcomed me and I am lucky that they were so down to earth. I still remember my first time cleaning the floor of the cellar and working in the vineyard, removing the shoots during pruning, which of course I didn't know how to do. I started this way, just learning one step after another.
I am the fourth generation in a family of winegrowers and the second of three daughters. When I started out there were not many women making wine in Piedmont and before I showed an interest in wine my parents presumed they would have to sell the vineyards when they retired, because there would be no one in the family to look after them. Now there are plenty of women making wine here.

How have things changed since you started?

Only when I joined the family business did we start bottling our wines, before they were sold as sfuso in demijohns. Over time we have gone back to making the kind of wine that my parents Teresa and Ottavio used to make. This was a farmer's wine, organic, less refined but more authentic in my opinion. A wine that was true to the one they used to make, with spontaneous fermentations, no filtering and very little or no sulphites. 

Today my dad is seventy seven, he seems happy about how things have gone and sometimes jokes that he works harder now than he ever has. I think that my mother is also very proud, this is what she's been doing since she was twenty years old and how naturally she works in the vines never ceases to amaze me.

Today we have grown up from four to seven hectares of vineyards and three hectares of hazelnut trees. I know it is not much but we are thought of as entrepreneurs around here. We don't want to grow too much, as we like to take care of every step along the way ourselves, from the vineyard to the cellar. 

Could you describe the farm in a little more detail?

We have ten hectares of land in total, five in Scurzolengo, three in Montemagno and two in Castagnole Monferrato, which are all in the province of Asti here in Piedmont.

The soils change a little between each place. In Scurzolengo we have calcareous soil with silt and sand, Montemagno is calcareous soil with sandstone and Castagnole Monferrato is a mixture of sand, calcareous soil and sandstone.

We grow Grignolino, Barbera, Ruché and Slarina. We have also planted a little Cortese and Malvasia Moscata for the future and buy some Freisa from friends of ours for the Vino Rosso.

Could you tell us a little more about the varieties you grow?

Grignolino carries the history of our land. It is pale in colour, with more pips than juice. It gives a wine with tannin and acidity, with a slender body and a colour that verges on orange. I think it's a good match for everyday meals. I like it because it is a unique wine. It is difficult to understand, a little grumpy but has a strong character. 

Ruché and Slarina are unique to these hills and have characteristics which are incredibly unique, especially when vinified on their own. Ruché is somewhat aromatic and plays a lot on the fruit and flowers, it is a grape that reminds me of good times spent with my family. Slarina is a very old fashioned grape that is being rediscovered in the area, it is a little lighter and the flavours lean more towards pepper.
Barbera arrived in  these hills in the sixties, it is very productive and perfect for a wine destined to demijohns, bottled for the family and drunk during meals. I like it because it's fruity, vinous and sincere. It appeals to everyone. 
Are there any producers that have been particularly inspiring to you or helped you along the way?

Alessandra Bera, the late Stefano Bellotti and Clementine and Gianmarco from Le Coste have all helped me a lot over the years. 

What is next for Cascina Tavijn?  
I don't want to increase the number hectares of vineyards but rather I hope to focus on making the best wine I can. In the future I would like to separate each wine according to the different terroirs, since we work with three different crus. 

My two daughters enjoy pressing the grapes with their feet and hands and taking care of our table at wine fairs and who knows, perhaps they will be interested in wine in the future. 

…