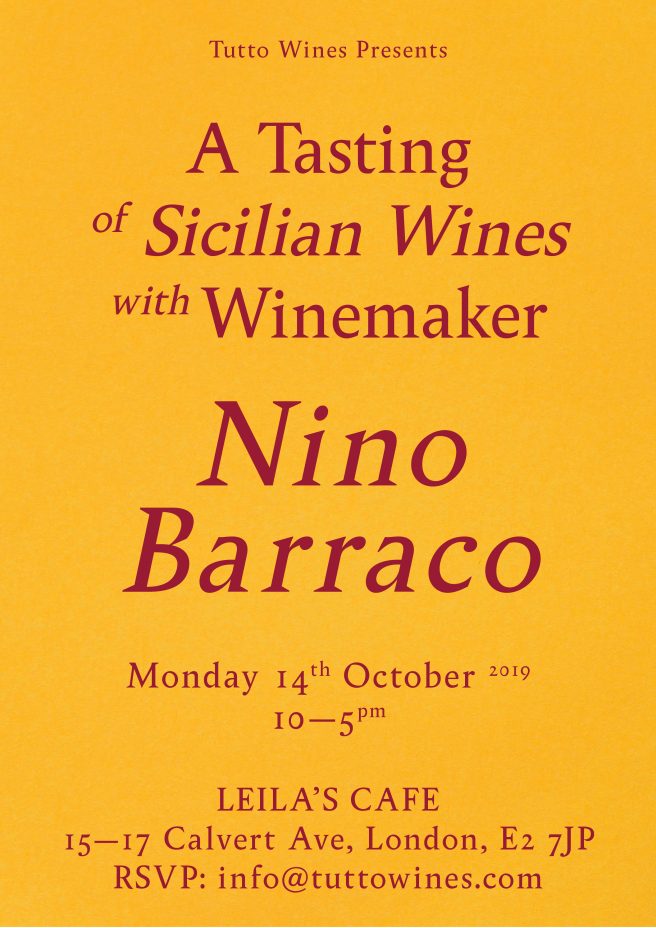 Nino Barraco was one of the first winemakers we worked with and he remains a firm favourite of not just ourselves, but drinkers across the United Kingdom and we cannot wait to welcome him back to London.
Nino's vineyards, which hug the coastline of Marsala in Western Sicily are amongst the most beautiful we have seen and the wines he produces from local varieties Catarratto, Grillo and Zibibbo are utterly unique expressions of grape and place.
Nino is an affable, intelligent and articulate man who is extremely passionate about his native Sicily and to taste wines with him is a real treat. If you work in the trade, join us on Monday 14th October at Leila's Cafe in Shoreditch to meet Nino and taste his full range of new releases, alongside verticals of both his Catarratto and Grillo.
In keeping with the theme, we'll also be pouring for the very first time new releases from our other Sicilian producers, Gabrio Bini and Lamoresca.
The tasting will run from 10am-5pm, you are welcome to drop by anytime and can RSVP via info@tuttowines.com
We look forward to seeing you then.
Alex, Damiano and Stefania