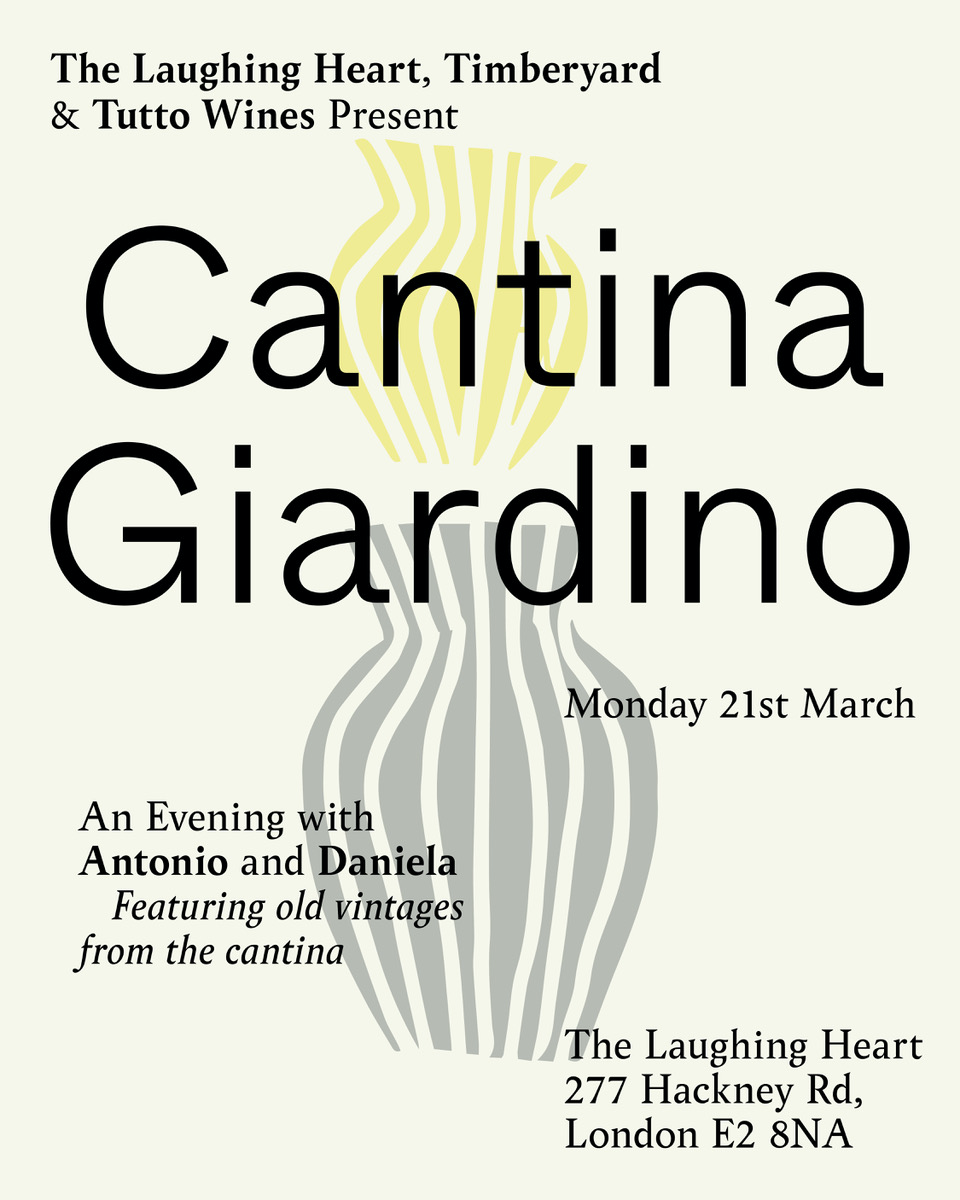 Cantina Giardino was one of the first producers we started working with a decade ago and over the years Antonio and Daniela have become legends of Italian wine.
It has been many years since we've been able to welcome them to London and we cannot wait to host them for an evening celebrating their work at The Laughing Heart. Over the past decade The Laughing Heart's owner Charlie, and friend Jo Radford of Edinburgh's Timberyard, have amassed a deep collection of Cantina Giardino's wines across many vintages in bottles both big and small. Next Monday 21st of March we will be offering a selection of their wines that spans vintages and formats never seen before.
To complement the wines, chefs Adam Boon of The Laughing Heart and James Murray of Timberyard have written a beautiful menu inspired by the recipes of Campania and the best ingredients the British Isles have to offer. Expect homemade salumi, caciocavallo made by Daniela's family, spaghetti con colatura di alici and a remarkable Scotch Mule mutton, aged by Timberyard for the occasion and grilled over charcoal, followed by panna cotta served with Cantina Giardino's nocino.
The menu is priced at £55 for five courses, with tables available from 6pm.
A large selection of Cantina Giardino's wines across many vintages will be available to purchase by-the-glass or bottle.
Reservations can be made here
Meanwhile from 6pm downstairs in La Cave, you'll be able to access the same wine list, with Italian classics playing on their beautiful soundsystem all night long. There is no need to book down here so feel free to come by after work, say hello to Antonio and Daniela and enjoy a glass or two of some truly special wines.
We hope you can join us for what promises to be a wonderful night.