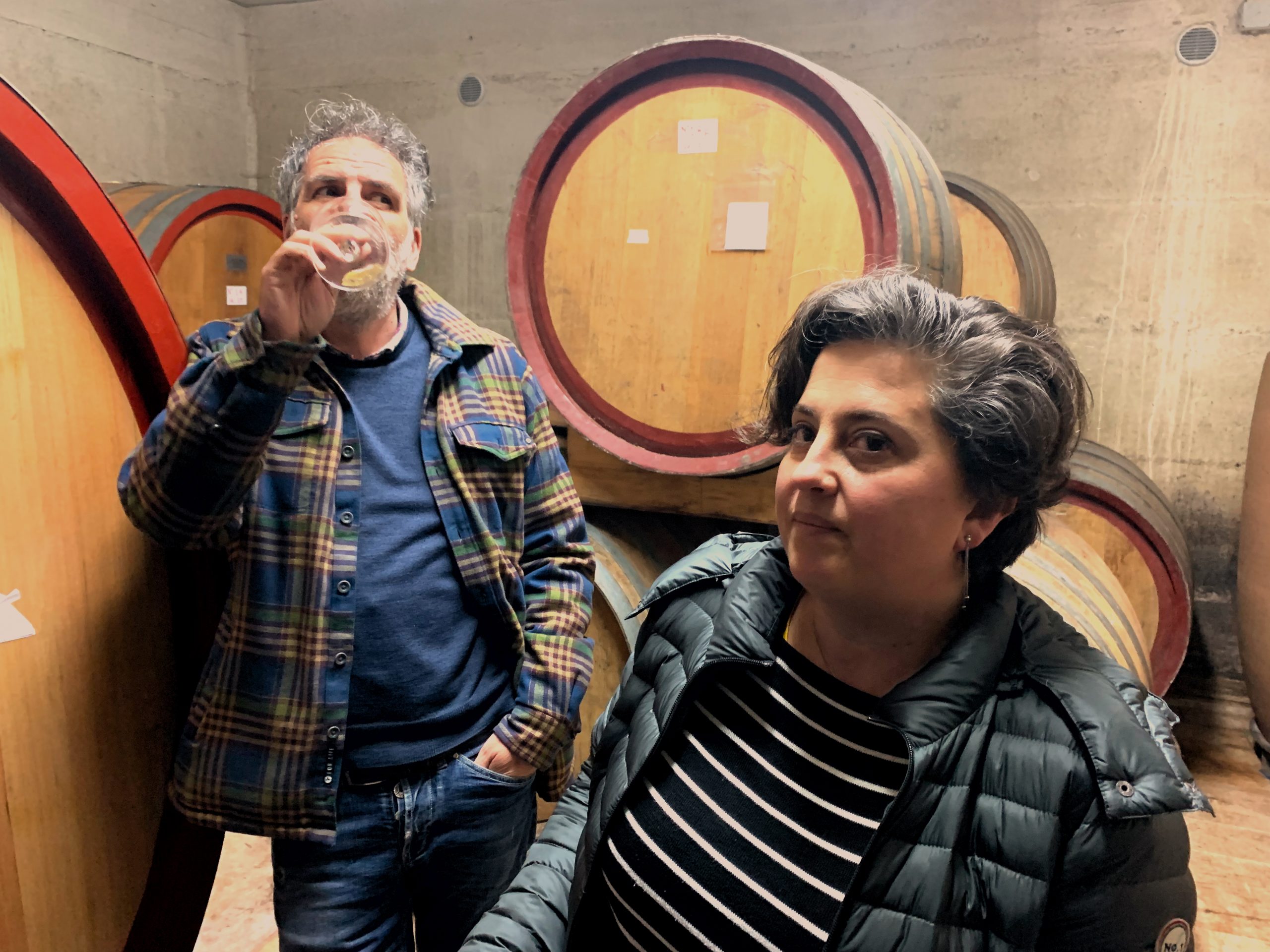 Along with four friends who bonded over a love of great food and wine, Antonio and Daniela de Gruttola started Cantina Giardino almost twenty years ago in a time when the kind of wines we love were difficult to find in Italy, let alone in the sleepy hills of Irpinia.

Over the past two decades the two have been instrumental in encouraging a new generation of wine lovers from across the world to look at the wines of Campania in a different light. Anyone who has had the pleasure of spending time at their home can attest to the warm welcome, generosity and legendary hospitality on offer and the two exude a boundless energy and a thirst for experimentation and collaboration that runs deep.

True pioneers, they are not ones to rest on their laurels. They were the first in the region to begin experimenting with long macerations and the use of amphorae and in recent years have joined forces with the legendary Brasserie Cantillon to produce some sublime lambic beers.

Antonio and Daniela are amongst the most innovative and well loved producers we work and it was a pleasure to learn a little more about what makes them tick. 

A selection of Cantina Giardino's wines can be found on Tutto a Casa

Could you tell us a little bit about yourselves. Where are you from and how did you discover wine?
We are a group of six friends that enjoy sharing the pleasure of drinking together and cooking the dishes of our tradition. We all come from the same village in the South of Italy, Ariano Irpino.

How did Cantina Giardino start and what was the motivation?
We had already been harvesting together for four years, making wine from old vines of Aglianico. In the fourth year we decided to make three reds: Calore, Drogone and Nude. We did all this in the garage of Professor Giardino, one of the partners in the project, and so we thought that Giardino would be the perfect name for our cantina.

Back then nothing was official and it was only during the 2003 harvest, on the fifteenth of October of that year, that Cantina Giardino was born. In that year we only made reds because at that time for us wine had to be red and it had to be Aglianico.

Le Fole, which in old Italian means the fables, was representative of our imagination. Drogone is the name of an historical character, a Norman commander in chief that walked though these lands around 1045. Although back then we probably chose the name to play with the ambiguity of its meaning. To have a Drogone from Cantina Giardino was for us the same as getting high.

Nude was meant to represent the great Aglianico, the one that can age for a long time thanks to the incredible structure it attains from vineyards over a hundred years old that had survived phylloxera. Nude, with no clothes on.

What was it about Irpinia, the soil, climate and the vineyards you found that made you want to settle here?We love this territory deeply, not only because this is where we were born but also because it has always been an area in crisis, with a complicated economy but great potential. Earthquakes have tested us on multiple occasions and migration away from the region in search of work has been a reality here since the early 1900s until today.
When we started, Irpinia was already known for its wines but they weren't very popular. This allowed us to express ourselves freely, without the constraints of winemaking tradition. Irpinia offers a cold climate compared to most places in the South, we have late harvests and soils that give a marked acidity, making wines which can age for a long time.
Were there any winemakers that inspired you at the start?
There were certainly benchmarks for red wines, but for white wines none of us were aware of the potential of macerations and low intervention winemaking. We decided to start producing macerated whites and to work with each grape variety separately to understand the strengths and limits of each.
At the beginning, very few people were making wine in Italy without sulphites. What inspired you to start working this way?
We were able to stop using sulphites completely in 2006. For the first three vintages we had added minimum amounts at bottling but once we did the analysis we realised that the amount we used was so small that we had to make a decision: to increase the quantity we added or to get rid of it completely. It wasn't hard to choose the second option; we are good drinkers and when you drink in large amounts you start to understand everything about natural wine, how much more quick and easy it is to recover after a big night of drinking.

Who were the others working this way at the time?
Around here no one was working this way, though we did meet a few farmers making natural wine for themselves to drink. The truth is that the wine we make now, the one with no additions, is the same that has always been made in the past, until someone decided to say wine was something else and people forgot.

When did you start experimenting with maceration of white grapes? What inspired this and how has your approach changed over the years?
We started straight away in 2004, because we had done some trials which we thought were very interesting. That year we started working with each white grape on their own – Coda di Volpe for Paski, Fiano for Gaia, Greco for Adam and a rosato which became Volpe Rosa.

The idea was to use the same vinification techniques that we used for the red wines. Having no access to technology, maceration was the only way to guarantee a wine with great structure. We understood from the beginning that at least two days of maceration were going to be necessary for the way we were working.

I've described the idea, but now to the consequences: in Campania and in Southern Italy it was devastating, no one was ready to understand this type of wine and we faced a lot of negativity. However in the North of the country and overseas our wines began becoming very popular as no one expected macerated white wines coming from the South of Italy with such incredible acidity.

We were very lucky that our old vineyards were home to a group of white varieties of great character that were not ready for harvest until October. Throughout the years we have refined our method and have chosen to reduce the days of maceration. This can vary each vintage between two and four days, except for Sophia which always undergoes a longer maceration in terracotta amphorae.

Even in our own region, it seems we have finally been understood, although here people always prefer our reds and Nude, which is released after ten years, is still considered our best work.

You have experimented with many different vessels for ageing wine. Whether it be different woods, or materials used for amphorae. Could you tell us a little about this?
We have tried everything. All the woods are local, with barrels made by a local artisan from Campania, Antonio Cione. We have mostly chestnut, but have also tried other interesting materials such as cherry wood and acacia.

For the amphorae at the beginning we used earthenware jars, which was a collaboration with a famous ceramicist, Branca Gaetano, who works in a very old fashioned way and we've been using these since 2006.

Recently we have also begun using grès amphorae, which are bigger, but we only use these for élevage and not for maceration. Since the last harvest we have been using concrete, which we like a lot and we will continue to use smaller containers, such as glass demijohns.

In the last decade, the landscape of wine in Italy has changed markedly, largely thanks to producers such as yourselves leading the way and inspiring a new generation of winemakers to return to the old ways of farming and making wine. How far do you think Italy has come in this regard and is there still a long way to go?
We believe that one never stops evolving and improving, so we think that there is still a lot to do. When we started, it was practically impossible to compare ourselves with producers from the area.

Since the last harvest, almost twenty years since we started, we have begun a new project called FxF that revolves around Fiano, in two versions, one in stainless steel and another one in wood together with a young producer from around here called Nicola Nardone. This is for us another new way of working in this territory, to exchange knowledge and enable cultural growth which is the only way to foster the history of natural wines in Irpinia.

In Italy there are a lot of interesting projects these days. We have distanced ourselves a little bit from the world of wine fairs, which seem to have lost some of the charm of the old days when they revolved around the cultural exchange between producers. However, after a year of being isolated because of COVID, we are now really looking forward to seeing the other growers, and meeting the new ones as well.

In recent years you have collaborated with Jean Van Roy of Cantillon to make some incredible beers. Could you tell us how this relationship began and a little about the beers.
The relationship with Jean was born because we had both enjoyed tasting each other's work. He contacted us to let us know he had drank a bottle of our Sophia that we made from the Greco grape and that he'd love to create a Sophia Lambic. Jean made us feel involved in each step of the beer's evolution and for this reason we felt confident in suggesting our ideas.

Initially he only wanted to use the lees but one day we were on the phone to Jean and we suggested we use the pomace too, because it's a product that also ferments for a long time when the wines undergo longer macerations and it can express the terroir. He agreed because he trusted us, despite not really knowing what pomace was.

All that we wanted was for someone to know immediately while drinking Sophia Lambic that it was related to Cantina Giardino, a little winery in Irpinia. Thankfully this was the case and so following this experiment we suggested that we use the lees and pomace of Aglianico as the same instinct that guides us when we make wine, was telling us that this could lead to an interesting beer. Drogone, where the maceration can extend from one to even three months depending on the vintage was the perfect wine.

This collaboration taught us that the fascinating world of fermentations in the hands of two people can make history. Sophia Lambic and Drogone Lambic are now history, something new and different from anything that has existed before.

We are very happy and proud to be working with Jean and it is a collaboration that is very stimulating for us as we really live for this kind of cultural exchange.

What does the future hold for Cantina Giardino?
Cantina Giardino is a laboratory of ideas. Our minds are in endless evolution, we always support our convictions and are always ope collaborations that we think might be interesting. Recently our son Francesco, who is ten years old, made his first attempt at winemaking. The wine is called "Il Mio Primo Fiasco 2020" and he used Coda di Volpe which was pressed by feet with his friends, then left to macerate for six days an aged in glass demijohns. It was a surprise for us that he wanted to do this, so we let him do it exactly the way he wanted. 

He decided to bottle the wines in fiaschi, which we disagreed with at first but now it sold all over the world. This was considered extraordinary, especially given the packaging. It's funny, but we think it proves that it is very important to remain open to new ideas and while respecting tradition and nature one can never go wrong.

There are now new collaborators in our group, because we need to start delegating some of the work and have more freedom to study, while travelling and meeting producers that are respectful of the environment in every discipline, not only in wine. For this reason, from a trip to Japan two years ago was born a documentary called Kanpai, a collaboration between Cantina Giardino and Capetoste where we interviewed incredible characters from all over Japan.

Finally, could you recommend some great restaurants in Campania where our customers can enjoy traditional food alongside your wines?
There are two restaurants very close to Cantina Giardino that need a mention. Firstly, La Pignata in Ariano Irpino. Here our wines are always available but if they happen to run out, people can get in touch with us and we can help since we're just five minutes away. Then there is the Antica Trattoria Di Pietro in Melito Irpino, run by a wonderful family that always opens the doors of their restaurant to take care of us and our friends from all around the world.

In Campania we really eat well and we could recommend many more places. Although the region is not entirely open to the idea of natural wines, restaurants are always happy for people to bring a couple of bottles. We'd like to recommend a seafood trattoria with a magic atmosphere, outstanding dishes and where you can find our wines as well as our lambic beers called La Catagna a Bacoli. Crescenzo, Elio and their family are real characters that will look after you and make you laugh.
Then there is La Tradizione, Maxi and Torre del Saracino in Vico Equense, Taverna del Capitano in Nerano, Marotta in Squille, José in Torre del Greco. We love Polyphemos in Pozzuoli for their fantastic cheeses and also Da Tonino in Capri. Finally in Napoli you can find our wines at both Vineria Bandita and Puteca.
…