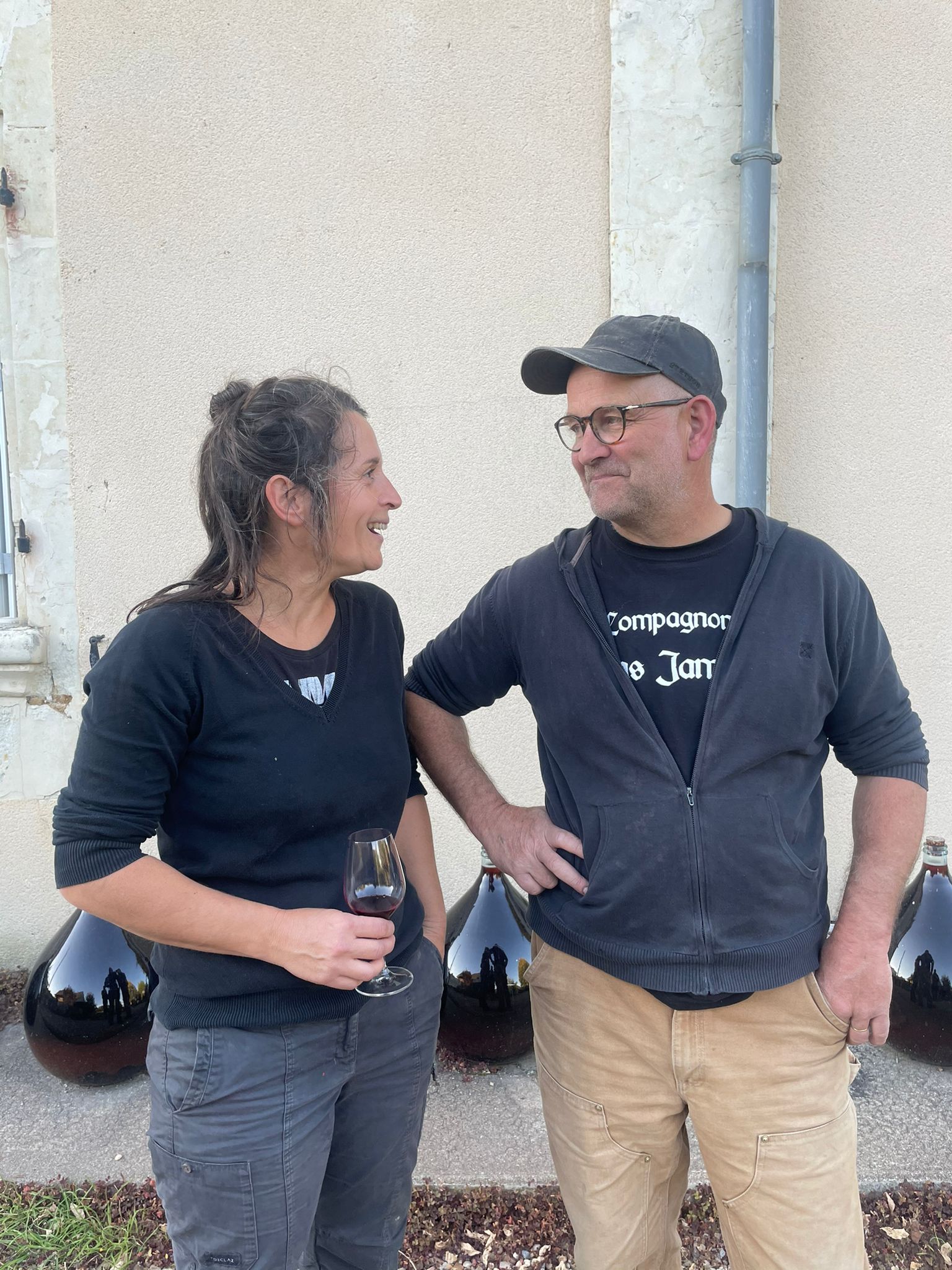 For many years Claire and Florent Bejon have flown under the radar, quietly going about making some of the best wines in all of the Loire. We had heard whispers of the their talent in the vineyard and cellar, producing impossibly pure and vibrant Cabernet Franc and tiny amounts of sublime Chenin Blanc from vineyards scattered around the village of Saint-Germain-sur-Vienne, but had not tasted the wines until earlier this year.
Tasting samples can be a soulless and at times fruitless pursuit, but these were so startling in their vibrancy, purity and perfume that they stopped us in our tracks.
After finally getting to meet Claire and Florent at their home earlier this week, we wanted to share this interview about their journey, inspirations and what the future holds for this wonderful little domain.
A selection of their wines can be found on Tutto a Casa
Hello Claire and Florent. Could you tell us a little bit about yourselves?

Neither of us comes from a family of vignerons. We followed our passion for food and wine, which led us to begin cultivating our own vines around twenty years ago. For the past five years we've tried to develop the domain little by little and just a few weeks ago Florent left his job bottling wines to focus on his work here full time.
Were there any other vignerons that inspired you or helped you out when getting started?

Florent met Mark Angeli [of the legendary Ferme de la Sansonnière, in Anjou] through his bottling work and from attending a lot of wine tastings. We soon fell in love with Gamay from Beaujolais, especially those made by Michel Guignier. Such growers have shown us the importance of hard work in the vines in order to get the most beautiful grapes and influenced by people such as Mark and Michel, we try to make Cabernet Franc that is ethereal, easily digestible and alive.
Could you tell us about Florent's work bottling wines for other vignerons?

This has allowed us to meet some interesting people and observe all the different kinds of experiences that can lead people to work in both the vines or the cellar. The time of bottling is certainly the most traumatic stage for any wine and particularly so if the wine is to be bottled without sulphites. Hygiene must be absolutely perfect and when we bottle wine, we try to use a little carbon dioxide to protect the wine.
Could you tell us a little about the domain itself?

We built our domain parcel by parcel according to which plots were becoming available at each point in time. Most of our vines are scattered around the left bank of the Vienne River. At one time this was part of the Touraine appellation, but since 2016 it is known as Chinon. The vineyards are planted mostly on slopes of clay and silex and on average are around fifty years old.
It has been a challenging year for many vignerons, how has it been for yourselves?

This vintage reflects very much the current imbalances caused by climate change, which the vineyards have had to face head on. We count ourselves lucky to work mostly with Cabernet Franc, which is less sensitive to frost and many of the illnesses that affect other varieties.
Of our five hectares, only one of the more remote parcels of one hectare suffered during the frosts. The situation was already delicate after the frost in April and unfortunately the same plot was subsequently damaged by mildew.
Could you describe how you approach your work in the vineyards?

Most of the work happens in the vineyards. We don't rely on machines among the vines, most tasks are still carried out by hand. The challenge is always to produce healthy fruit, which is the basis of any great wine. We prefer to let the wild herbs grow naturally between the vines. At the beginning we employed green manure (broad beans, rye, oat) to stimulate the local flora and fauna. Now that the vineyards have found their spontaneous flora, the species that thrive naturally here, we can let them grow autonomously. However, we allow ourselves to keep questioning our practices according to the health of our vines and the needs of each specific vintage. Our systems evolve continuously.
How about your work in the cellar?

Inspired by the wines we like to drink, for the Cabernet Franc we like to do slow, gentle macerations of whole clusters. The length of maceration varies from three weeks to three months. There are no rules and when our palates tell us it's time, we press and assemble the free run and pressed juices. We redirect the juice into different vessels, either old barrels, earthenware jars or demijohns. After nearly a year of élevage, the wines are assembled for a month or two and then it's time to bottle, which we do without adding sulphites.
We've also been undertaking some trials with a maceration of Chenin and a rosé of Cabernet Franc in demijohns, but in very tiny quantities.
Finally, what does the future hold?

We are working on the replanting of hedges and of an orchard in the parcel of Bournais, whilst being under the Vin de France appellation allows us the freedom to consider the idea of planting varieties which are not common in the area around Chinon, such as Pineau d'Aunis.
…