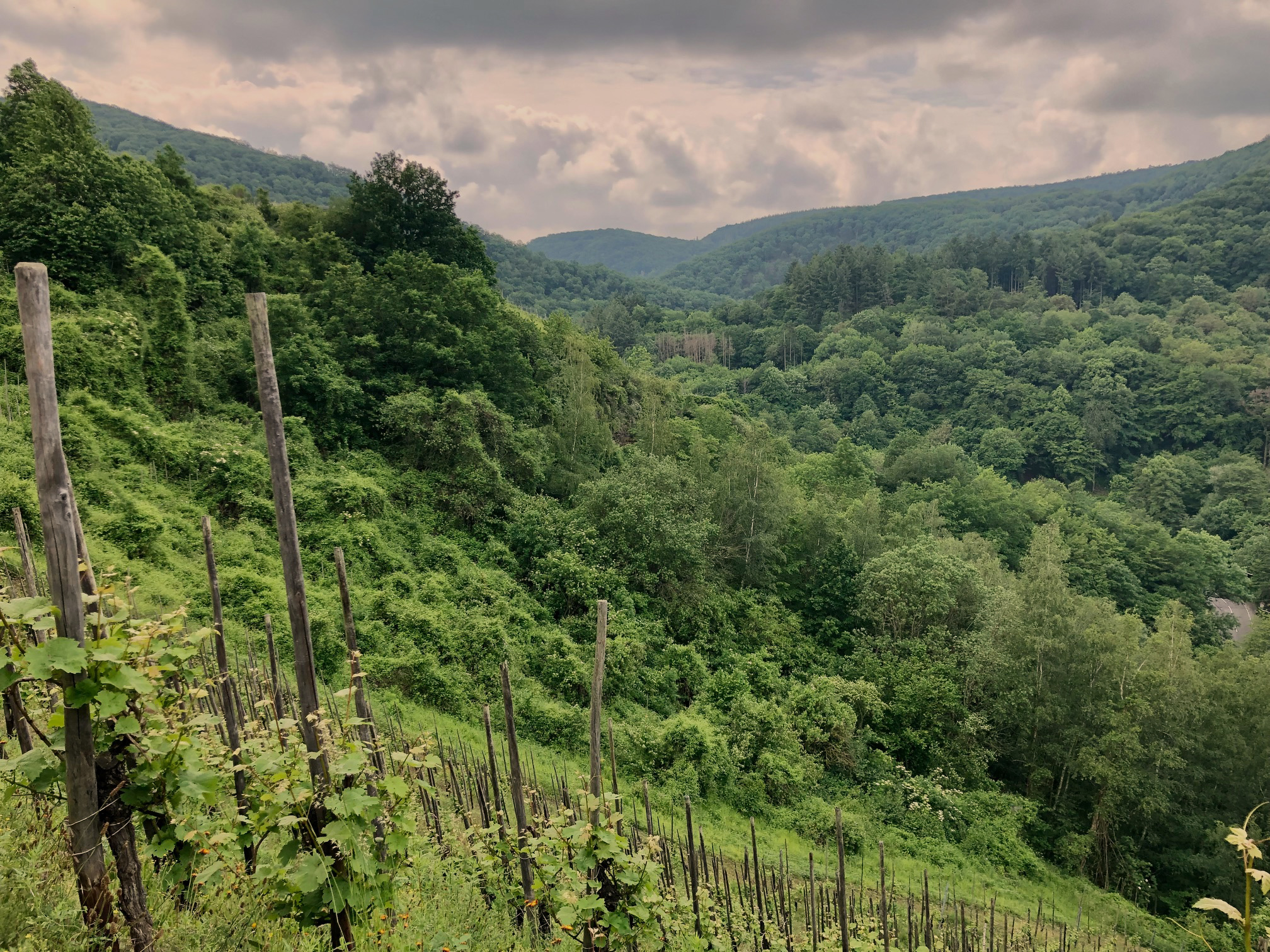 After just two vintages, Jakob Tennstedt has announced himself as one to watch, producing achingly pure expressions of Riesling from dramatic vineyards hidden away in a small valley of the Mosel. Stylistically, they are sui generis, offering an astonishing amount of depth and complexity, they have all the hallmarks of great wine.

Jakob's work is a labour of love. He has spent the past few years carefully restoring an abandoned plot of old vines tucked away in a valley above Traben-Trarbach. The slopes are impossibly steep and the vines, which are up to a hundred years old, grow on their original roots over weathered slate and quartzite. Surrounded by forest, it may seem like the most romantic of settings for a young vigneron to get started, but there is no doubt that Jakob has done things the hard way.

We sat down with Jakob to find out what drives him and what the future holds for this most talented of young growers.

Jakob's wines are available on Tutto a Casa

Could you tell us a little bit about yourself? Where are you from and how did you end up making wines in the Mosel?

I grew up in Berlin where I trained as a chef in Michelin-starred restaurants. I developed a passion for Italy cuisine and eventually I moved there to work at several small, family-run restaurants in the countryside. One of them in the north had a selection of really special bottles and I was able to taste many impressive wines for the first time. These included a Riesling from the Mosel which I couldn't stop thinking about and years later it was this that gave me the impulse to move here, grow grapes and make wine.

Was there anyone that had a particular influence on you when you were starting out?

I have worked in many interesting cellars, gained plenty of experience and learned a lot. I could list many winemakers who have influenced me but in fact it was a chef in Italy who had the biggest impact. I have never encountered someone with so much feeling, instinct, trust and passion since. He had a way of working which I admire and that really corresponds with what I am setting out to achieve. By the way, his name is Michele Valotti and his restaurant is called Trattoria La Madia in Brione.

Could you tell us about the village you are based in and the history of the grapes growing there?

Traben-Trarbach is a small town on the Middle Mosel, surrounded by vineyards and partly situated in a side valley. The town and its wines were renowned around the world in the past but unfortunately this reputation has been severely damaged in the course of the last century. Among other things, this is due to a focus on mass production of ordinary wine.

Fortunately in the last few years there have been many winegrowers who have taken a different path and aim to make wines of a very high quality, though sadly there are still too few who produce organic and natural wines. The most important and also most common grape variety here is Riesling, which is due to historical reasons but also simply because it can produce wonderful wines in combination with the slate soils.

The decision to work with abandoned vineyards is a brave one, what was the appeal and how long will the process of restoration take?

The most important thing for me was to find a vineyard that felt right, where I could find silence and avoid any neighbours that might have a disturbing influence. I was lucky as I found this particular vineyard because another grower had retired. The restoration work will take a couple of decades and ranges from the reconstruction of old terraces, regrafting vines that have been cared for poorly in the past and the complete replanting of some abandoned portions of vines.

Although you only work with one grape, you bottle each cuvée depending on what part of the vineyard it originates. Could you tell us a little about the terroir and the difference between each of the parcels?

I have a hectare and a half of vineyards which are all located in the side valley of Trarbach. The vines in each are between fifty and a hundred years old and all face south. Each vineyard is only a few metres apart and the soils in each are mostly grey and blue slate and there is also a little quartzite. The reason why the individual wines are so different is due to small changes in the water supply, microclimate, clones and the age of the vines. Together, these small variations end up having a profound influence on each of the wines. For example, although the vineyards all have a strong southern orientation, the maturity times are often very different.

The vines are very old and planted on their original roots, what impact do you feel this has on your wines?

In contrast to grafted vines, the plant is made up of one part and the root, stem and fruit naturally belong together. These vines are less vigorous and often more resilient to disease.
They are more balanced in ripening and less productive, or rather they produce what is natural to them. The wines seem deeper, calmer, healthier and more alive.

How would you describe your approach in the vineyards?

I try to care for the vines as well as I can and as naturally as possible. I try to feel nature as intensely as possible and to move with empathy and trust in it and alongside it.

What about your approach to winemaking, could you describe your work in the cellar?

I try to be calm and to trust my feelings. I try to work in a way that is clear and precise, by making only a few interventions and making sure that they are the right ones.

Fermentation takes place spontaneously and usually lasts for at least a year but in the case of 'Sterntaucher' from 2018, for example, the fermentation lasted over two years. Depending on the vintage and the temperature in the cellar, I sometimes do a little maceration but never allow it to go into the alcoholic fermentation. For example, if it is cool I might let the grapes sit in the mash for a couple of days before pressing, but in a warm year like 2018 I was not able to do that.

I press very gently and slowly over the course of around twelve hours using a pneumatic air press, which along with a basket press, is the most gentle I have found. I leave the wines to rest in large barrels of a thousand litres on all of their lees for between eighteen months and two years and do not touch them at any stage. When ready, I bottle each wine directly from the cask.


Your wines have a depth, clarity and stability that is astonishing. Obviously you are just getting started, but how do you feel they will age over time?

I would love if my wines were as your describe. While I cannot control them, I dream of being able to make wines that are somehow indescribable and can age for a long time.

Finally, what does the future hold for Jakob Tennstedt?

I hope for countless beautiful moments in nature. I hope to retain an endless curiosity, to remain open minded and to still be healthy and full of energy in my vineyards when I am a hundred years old.

…