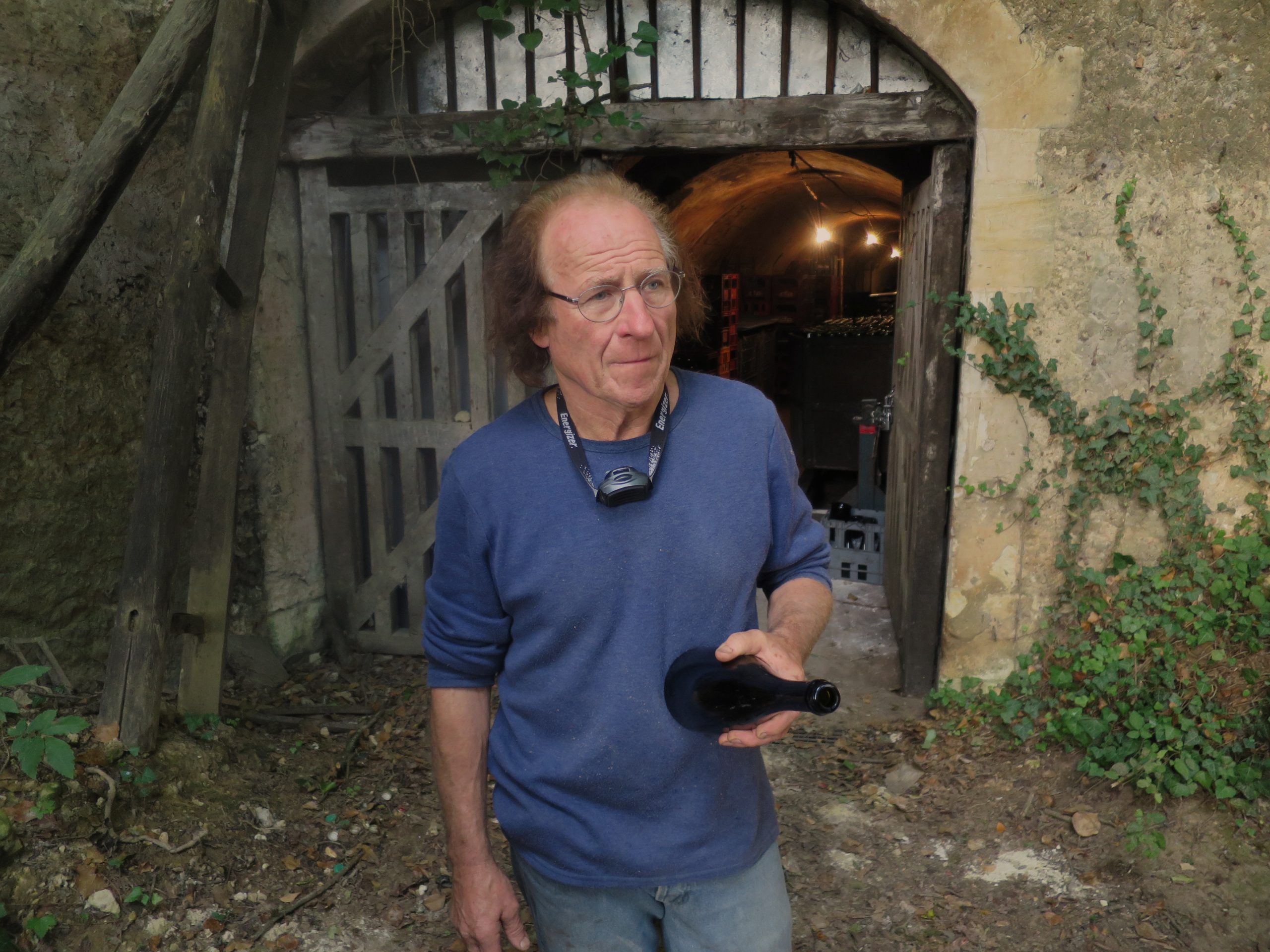 In our circles, the name Jean-Pierre Robinot is legendary. 
Having falling in love with wine at a young age, Jean-Pierre became one of the natural wines true pioneers, opening one of the first bars dedicated to such wines and going on to found one of France's premier journals on the topic, 'Le Rouge et le Blanc'. Over the last two decades, he has garnered a reputation for producing sublime, genre-defying riffs on Chenin Blanc and Pineau d'Aunis.
Jean-Pierre's passion, energy and generosity make a seat at the his farmhouse table a real treat and while we haven't been able to make our annual pilgrimage this year, we sat down for a rare interview to hear the story of how he fell in love with wine, moved to Paris and then came full circle, returning to the Loire to grow grapes in the little village where he grew up.

Hello Jean-Pierre. How is the situation with the pandemic there in Chahaignes? 

Here in the countryside we have not experienced the virus yet, we wear masks only to go to the shops, so here things are good. We are sad that we are unable to have visitors come and taste our wines and also to not have you here with us this year. Let's consider your trip postponed!

Could you tell us a little us about last year, how was the harvest?

The 2020 harvest was good, we managed the ripening of the grapes well and picked with a good level of acidity. The weather was wonderful and we harvested mainly during the morning as the afternoon was too hot. Both the reds and the whites were perfectly ripe with a very good balance. It was a superb harvest.

The story of your journey in the world of wine is a great one, could you share it with us?

The story of my beginnings with wine is funny, it goes right back to my childhood. My parents used to drink wine but for us children, it was not allowed. Sometimes, as we cleared the table after our meals, while the adults were out for a walk in the garden, I had the chance to taste the wine left in the bottles and I liked it. Back then I was ten. 

At sixteen, with some friends I found a bottle of Jasnières in an old cellar hidden in the rocks and it was wonderful. I still remember as if it were today. On the cork it was marked 1947, a really great vintage. We drank this bottle between the four of us and then opened a second one. It was magic. 

At age twenty, I arrived in Paris and I started looking around for good wine. Around the age of twenty five, while reading the wine guide by Raymond Dumay, I discovered the classifications of Bordeaux, Burgundy as well as the rest of France. 

Then in 1970, in Paris, there was a big sale of wines on auction. Before the sale I had the chance to taste Pichon Longueville Comtesse de Lalande 1964 and Cheval Blanc 1964. It was a great discovery, the wines were magnificent and I bought some. I still have some of these bottles stored in my cellar at ten degrees. 

That day changed my life, because that's when I met the greatest wine journalist of the time, Michel Dovaz, who knew Jasnières and the Coteaux du Loir very well. He introduced me to his collection of around five thousand bottles from all of France's appellations. This was the time of the Académie du Vin in Madelaine with Steven Spurrier.

What was the first wine that really caught your interest?

It was around 1983, at my friend Bernard Pontonnier's bistro 'Le Cafe de la Nouvelle Mairie' in Paris. I was tasting blind, the wine was elegant and showed an exemplary complexity so I said: 'it is a Côte de Nuits, Pinot Noir!', but I was mistaken. It was the first wine without sulphites I had tried, a Morgon from Marcel Lapierre. I was in a trance, it was a wine of such purity, I understood right then that there existed a new world of wine. It shook me and shaped the way I see wine.

Your bistro, L'Ange Vin was one of the first places to sell natural wine in Paris, could you tell us a little about what was going on in the city back then?

Until 1985 I worked as a plumber and all my friends were opening their wine bars. In 1985 Bernard Passavant opened Le Passavant, while in 1986 Bernard Pontonnier opened Le Cafe de la Nouvelle Mairie, Olivier Camus and Raquel opened Le Baratin, François Morel opened Les Envierges and in 1987 Luc Desrousseaux opened L'Echanson. I learned the job by helping out these friends in the evenings after work and then opened my first bistro à vins, L'Ange Vin in Rue Richard Lenoir in 1989.

We were a small group of people starting to serve natural wines and we used to go together to visit the winemakers in the vineyards. Jules Chauvet's wines were sometimes served in these bistros. His wine had new aromas of horse leather and were sometimes in autolyse, which I liked. All the other bistros at the time were still of the old tradition, corking the wines themselves in their cellars and adding sulphites.

What kind of dishes were you serving?
At L'Ange Vin, Daniel Bourguelat was the chef and he was cooking all the classic bistro dishes: Petit Salé aux Lentilles, Pot-au Feu, Filet Mignon de Porc, Daube de Bœuf and so on. Everything was homemade and all the cheese was aged properly.

In 1997, I opened my second restaurant and the cooking was more refined. The chef was Olivier Pierpaoli and he had come from a starred restaurant. The cuisine was more elaborate: Marbré de Volaille en Gelée de Moutarde Ancienne, Tarte de Rougets et Andouille sur lit de Poireaux et Jus Corsé au Cumin, Lièvre à la Royale and so on.

Cooking is a creative form that I love, I always had a chef in my bistros and I really enjoy cooking for my friends.

Which winemakers were you working with at the time?
Back then, the greatest winemakers were Marcel Lapierre and Pierre Overnoy, both friends of Jules Chauvet. It's them who influenced me most and they were educating all of us. Then there was Jacques Neauport, a student of Jules Chauvet, who went to make wine with all the winemakers we loved such as Marcel Lapierre, Guy Breton, Jean Foillard, Jean Paul Thevenet, Yvon Métras, Jean- Claude Chanudet , Pierre Overnoy, Dard et Ribo and Domaine Gramenon.
What was it that made you want to leave Paris and return to the village of your childhood and start marking wine?

I moved to Paris when I was seventeen with five hundred francs in my pockets, around seventy five euros in today's money. Paris, my love, gave me everything: culture, art, knowledge. The reason why I left it, although I go back often to see my friends in all the bistros, is that I wanted to make natural wine in these beautiful lands.

I came back to live what I had lived in my youth: the country, the birds, the woods, nature. I knew that in Chahaignes, the village of my childhood, and in the nearby villages, there were great terroirs with two great varieties: Chenin and Pineau d'Aunis.

You only work with those two grapes, what is it that you love about them grown in this terroir?

In Chahaignes the weather is cold in spring, hot in summer and then in autumn it's cold again. The soil is a complex mix of clay, limestone, tuffeau and silex. The wine is saline because millions of years ago there was a sea here, you can find a lot of fossils in the soil. My job is to allow the plant's roots to dig deep to find the wonderful and complex resources of this soil.

Along with Riesling and Savagnin, I think Chenin is one of the great white grapes. I was eager to make wine on this unique terroir which is one of the greatest in the Loire, as well as in France. On this terroir, the Chenin is very elegant and has a great complexity, with magnificent aromas. We can make a pétillant naturel with the ancestral method, dry wines, off-dry wines, and even moelleux and liquoreux.

Pineau d'Aunis is also a great variety which is exalted by a great terroir and it is in the Coteaux du Loir that Pineau d'Aunis expresses itself best. Tasting some vintages of Nocturne or Camille we could think we were tasting a Pinot Noir.

I keep the wines for between one and seven years in barrels on the lees, they are vin de garde(made for long ageing) and I love both of these varieties, I don't have a favourite, they are both sublime.

For the first few vintages you often experimented with bottling a particular wine with and without sulphites, which has provided some fascinating tastings for us over the years. What was it that made you stop using them completely?

When I started, I had been drinking wine without sulphites for a long time already and I knew that this was what I wanted to drink. But when you are just starting out as a winemaker, you are scared of failing. In 2002, my first vintage, I made two barriques of Juliette Robinot without sulphites with élevage on the lees and from that point continued to make some wines without sulphites. I kept tasting my wines with sulphites, to which I was adding between 1 and 2 grams at bottling and I was struggling to drink them. I didn't feel good about them. In 2006, I made 20,000 bottles without adding sulphur and since then I've never used any. I am very happy.
Through the likes of S.A.I.N.S and your participation in countless wine fairs, you've inspired many young vignerons to work with a respect for nature in the vineyard and the cellar. How does it make you feel to see so many people making, drinking and enjoying the kind of wines you love?

What I love about it is that the winemakers that understand the meaning of wines without sulphites, made it known that wine is vegetable water made magic by the vine which gives birth to clusters of fruit that man can then turn into something pure.

Then it's up to the drinkers to understand what is alive within a wine.

Wine lovers, especially today's youth, are not wrong, they have understood the complexity of what makes life in a wine. It makes me happy to bring joy to all those who are excited about my wine. It's a reward when you're not using tricks with a living wine. It is an extraordinary gift.

I love my wine but I adore all the wines made by all the friends that work the same way, it is a philosophy of life.

You have more energy than most people half your age. Where does it come from and what does the future hold?

The energy comes from feeling immortal, to only focus on life and the future. We are pioneers of life on earth each moment of our life. No one has lived tomorrow. So each new day, each day of life, it is a day of happiness.

There is more than one future. The first future, it's fantastic, it's my daughter Juliette who is totally passionate about natural wine without sulphites. She's studying viticulture and works with me. It's amazing. We are going to build a big wine storage together using organic materials.

I also am an artist and I live for art. I make abstract photography. At the moment I am un illustre inconnu(a nobody from nowhere) but in the last twenty years I have made around twenty thousand abstract photos and I am having them printed by a professional printer. I need to be more proactive so people can learn about me. I'm completely absorbed by all photographic art.

…