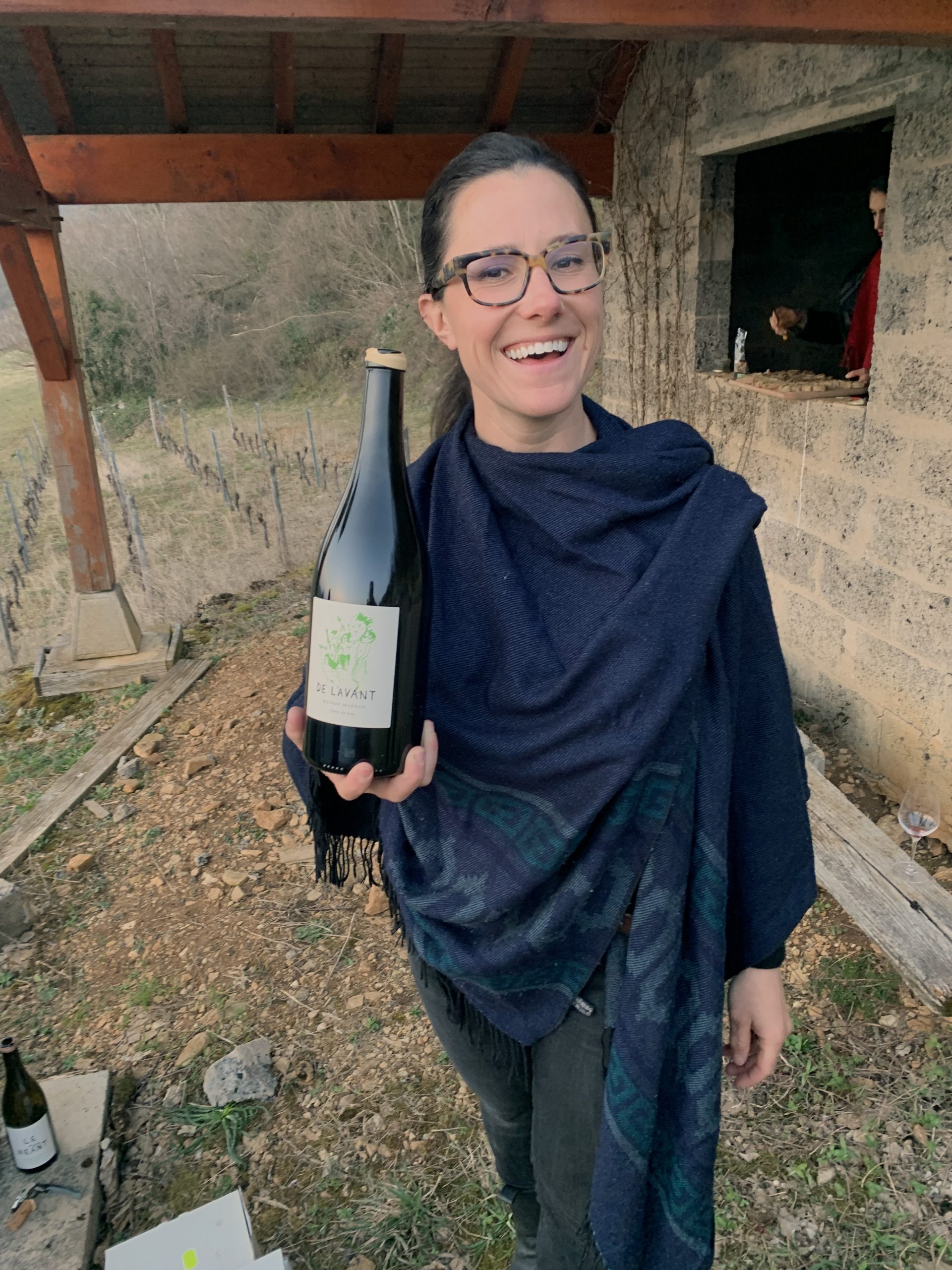 For the next in our series of grower interviews, we sat down with Katie Worobeck of Maison Maenad to learn about her journey from Ontario, to working alongside the Ganevats in Rotalier and finally, diving deep into her own project in the Jura's South.
As a young woman who grew up in Canada and moved to a sleepy village in France to follow her dream of making wine, teaching herself a new language and immersing herself in a new culture in the process, Katie is uniquely placed to offer an insight into the trials and tribulations that any citydwellers who harbour a desire to make wine in France one day might expect to face.
Katie is already making some of our favourite wines in all of the Jura and is incredibly good at articulating what inspires and challenges her, making this one of our most interesting interviews to date.
Hello Katie. Could you tell us a little bit about where you are from?
I'm from Ontario, Canada. I'm originally from the capital, Ottawa, but I moved around for school and work. Most recently I was living in a small wine region on Lake Ontario.
How did you first get into wine and what were your first experiences like?
My path into wine has been a cumulation of many interests. First I studied peasant farming cultures and practices in graduate school, after which I became more interested in the practical side of farming. A few years later I was working in both hospitality and on an organic farm which gave me the opportunity to expand my wine education and understanding of organic agriculture. I wanted to understand winemaking in the same practical way I had pursued organic farming, so I left the city for a summer job with a nearby winery. I ended up staying there for four years and when I left I was the assistant winemaker.
When was it that you moved to France? What brought about the move and more importantly, what made you stay?
During my time at the winery in Ontario we had the opportunity to drink some really special wines thanks to friends that would come and share their cellars! A friend of mine started to come every year with a car packed full of natural wine. I can still remember the first time I had a wine made sans soufre: it was completely different than anything we were drinking and it felt emotional in a way I hadn't experienced with wine before. I knew right then that this was the path for me.
In the winter of 2017 I quit my job and went looking for internships in France. By sheer luck and with the help of good friends I landed at Ganevat. Not speaking French, and being all alone in the Jura, it was more than a culture shock, but the kindness and the generosity of the Ganevats has now made this place my home. Thanks to them, but also my hard work, I have had the opportunity to slowly, bit by bit, acquire vineyards and start making my own wines. There's something beautiful and magical about the Jura countryside: it's a little bit wild, but also has an incredible warmth from the people that live in this out of the way place. I couldn't think of anywhere else I'd rather be.
You've spent the past few years in the Jura working Chez Ganevat. If at all possible, could you sum up what it has been like to work side-by-side with one of the world's great producers?
That guy! He's larger than life. I feel the years I've spent in La Combe have been some of the most formative of my life. It feels like a world of dichotomies: both working at an incredibly minute scale to give attention to even the smallest details, but all within a larger vision of the special wines we produce and the domaine as a whole. Working with Jean-François and Anne has given me the opportunity to expand and hone my palate, to have a clear understanding of the challenges of natural wine making, to practice the type of agriculture that I feel is important for the future and more than anything shown me the importance of hospitality, generosity and kindness.
Is there anyone else that has had a profound influence on you and the way you work?
The part of winemaking that interests me the most is ecology and its relation to climate change. So in that vein the people that have influenced me the most are not necessarily always winemakers, but farmers, scientists, and everyday people that are advocating for a truly sustainable vision of agriculture: people who are practising regenerative agriculture, people who are using the power of photosynthesis to capture carbon, people who are stewarding their lands not only for now but for the future, those voices talking about the power of soil and its very important architecture. Ecological justice, social justice, these are the ideas that move me the most, along with the many people that are proponents of these ideas globally.
Could you tell us about your own project, Maison Maenad?
How did it come about, where does the beautiful name come from and what are your hopes and dreams for the project?
Maison Maenad was born in the cellar of my home. In 2019 I made two barrels of reds, one from hybrid grapes and one from négoce gamay. These barrels gave me the start to, in 2020, take over a parcel of Chardonnay in [the famed lieu-dit] 'Les Varrons', which would be the first harvest in my own cellar. I'm doing all aspects of this project on my own: from farming, practicing biodynamics, winemaking, to the commercial aspects. It's both incredibly joyful and sometimes overwhelming!
I came to the name Maison Maenad because firstly I love the idea that it's a maison: a house or a home, the place where you share and live with your loved ones, and secondly the Maenads are these very wild women from the stories of Dionysus. I love the slightly subversive and subtle feminism of these women.
My two greatest hopes are firstly to make something of beauty and to make wines of integrity; I hope when you drink them you feel something of my work, the love I've put into them and of course the place that they come from. My second dream is to create a vineyard that has ecology at its heart, with grasses sequestering carbon, animals, trees, birds: to create an ecosystem.
What have been the biggest challenges so far?
Every day has new challenges! Certainly setting up a business and living in France has been a whole new world for me, being a woman in a rural agricultural milieu is another! This past year was particularly challenging working full time and also making wine in whatever spare time I had. This season where I'm working for myself fully there are already some growing pains, finding balance and organising myself and my time, but at the same time I feel an incredible freedom working for myself and being fully committed to the vision I have.
For the last couple of years you've tended a little one hectare plot in one of the Jura's most iconic parcels, Les Varrons, and have recently acquired a further three hectares near Grusse. Could you tell us about the two sites, the differences in terroir and the grapes you are growing at each site?
It's been really special to farm and make wines from Varrons and have all of a sudden found myself neighbours with all the incredible winemakers of the Sud Revermont. Varrons for me has this super red clay and calcaire. But I can see variations in the top soil even within the parcel, one part being more heavy in calcaire and white clay while the other part is bright red with iron rich soil.
At Varrons I have exclusively Chardonnay and a small parcel of hybrid grapes. The hybrids are a funny parcel: planted often by marcottage, on their original roots and a really diverse selection of very old hybrid vines. It's sort of the ugly duckling next to the old Chardonnay of Varrons but I really love it and have so far been blown away by the wines that came out of it.
The new plot is just above Grusse, on the road up to the village of Saint-Laurent-la-Roche. It's actually a dream, my dream. I used to be working on the hillside across the valley staring at this parcel and hoping that one day I could have something like that for myself.
It's a three hectare plot very high on the hill, with parcels within it of all the Jura varieties: Chardonnay, Savagnin, Pinot Noir, Poulsard and Trousseau. It's incredibly beautiful, surrounded by forest. My long term plan is to plant trees, shrubs and the like and hopefully fence it in to be able to rotate animals through. The terroir is equally impressive with veins of marnes and limestone throughout. I feel such peace and joy spending my days on that special hillside.
How would you describe your approach to work in the vineyards?
I want to be a lazy grape grower! I want to work with nature, not against it. Letting grasses and indigenous plants grow, with the focus being on soil health. This of course takes a tremendous amount of work and reflection but I truly believe above all in strength in diversity, whether that is species living in and around my vines or bacteria in the soil and on the plants. I want to create a super resilient system in my vineyard.
How about in the cellar?
I try to do the least amount of actual technical winemaking and instead am extremely detail oriented in any cellar work, cleaning, and movement of the wine, so that the wine is a reflection of the grapes, the vintage, the place where they come from and less about any stylistic winemaking choices.
I hope to always be thoughtful and conscientious in my winemaking, to be able to work without additions but always with integrity. I really put my fullest and best self in any work I do with the vines or wines and I hope that the wines encapsulate this sort of magical joy I feel being here and being able to practice this craft.
What do you look for in a great wine and which producers do you look up to?
Honestly there are so many great wines and producers, and I'm continually finding new producers that I never knew about. I, of course, have a special place in my heart for the wines of Jura, and in a general sense these are the wines I love: whites with really bright energetic acidity, and light, somewhat ethereal reds. But I think there's excellent wines of every kind or category and of course some that fit in no category. I love wines that have that hard to define character of digeste, that somehow feel good to drink. I love drinking the wines of people who are also in their vines and connected to their lands.
What are your interests outside of wine?
Since being in Jura my life has simplified in many ways. In the winter I try to practice some art of some kind, pottery or drawing. In summer I try to make it to the lake as often as possible. I am also a very neglectful bee keeper.
What's next?
I really want to build a wood fired oven in the vines so we can have pizza parties soon.