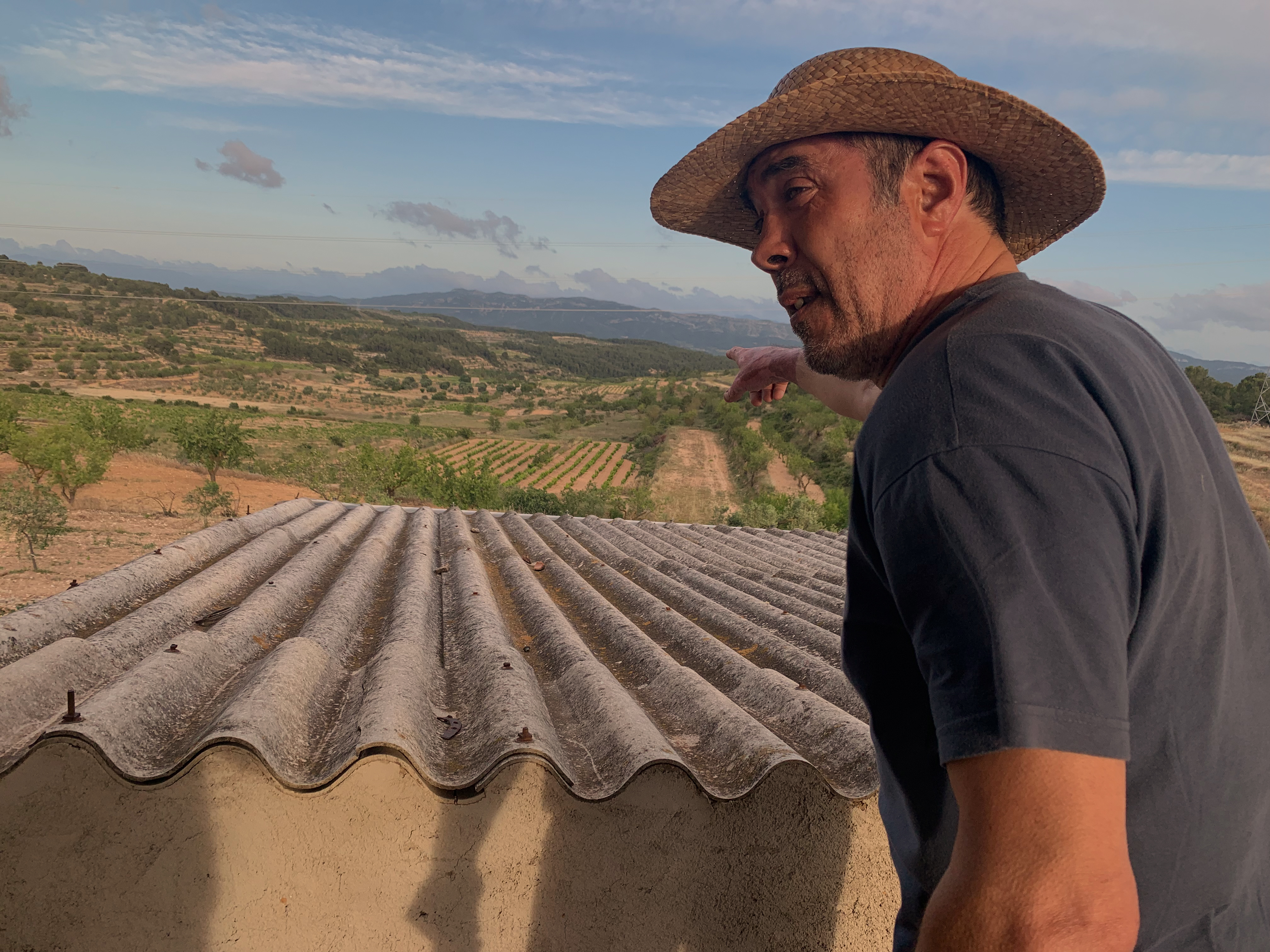 Laureano Serres is a man of rare warmth, generosity and enthusiasm. What he has done for wine in Catalunya and beyond over the past few decades has been remarkable, leading by example to encourage many young growers to return to the ways of old.

The wines he produces under his Mendall moniker are thrillingly unique expressions of the Terra Alta, it's wonderful local grape varieties and most importantly, Laureano's infectious energy. 
We sat down with him to learn a little more about his journey into wine, why he finds the place he calls home such a special place to grow grapes and his recollection of the evening the Brutal Wine Corporation was born.
Laureano's wines are available on Tutto a Casa

Hey Laureano. Could you start by telling us a little about where you are from?

I was born in El Pinell de Brai and throughout all of my life I have kept a connection with this place. It's been twenty years now since I moved back, but even during the times when I was living somewhere else, I would always come here on weekends.

When I was young, between the ages of ten and eighteen, I was at boarding school in Tarragona. Later on I went into working as an electronic engineer. This was in the late eighties and I was working with the early computers.

Then in 1991 I started working with a Catalan Building Society and soon after moved to Madrid where I worked at the IT department of the Social Security Insurance firm.

What was it that made you decide to start growing grapes and making your own wine?

In 1997 I was convinced that the future of computers was the internet, although nobody believed me at the time. I was fed up with living in Madrid and I wanted to spend more time with my mother. Since my grandparents were farmers and merchants, I used to come back here on weekends to help my family in the farm, working the fields or harvesting.

The first couple of years back in Pinell I was involved in the local co-operative of wine-growers where we developed a project for quality wines. I soon became the president there, but there was so much politics and bullshit involved that I decided to quit and do my own thing.
So during the first two or three years of the 2000's I was making wine at home with our family's grapes, pretty much just by reading manuals, but also working in a more intuitive way. I was just adding a little bit of sulphur and that's it.
At what point did you start bottling the wines without sulphites and why did you decide this was the best way forward for your wines?
In 2006 after meeting a few French winemakers I stopped adding sulphites. I was still working in IT until 2010 and for the first few years I continued working my family's vineyards in the evenings and on weekends. Then I started gradually spending less and less time with computers and more on the farm, until I completely quit the office job after the financial crash of the late 2000s.
While working at the co-operative, which was historical, I started to think about how to make wines that really had a taste of the place where the vines are grown. I figured that the best way to experiment was with my grandparents' old vines of Cariñena and Macabeo, planted in the 1940's. I was trying to make a wine that reflected the grapes, the soil, the climate and the hand of the person that made it. In order to achieve this I had to keep interventions in the cellar at a minimum.
At the very beginning I didn't know that I was going to end up working this way, when I moved back all I knew was that I wanted to make wine. I wanted to make a wine that reminded me of what I knew as a young guy, the type of wine my family and the people around here were making and drinking.
Were there any winemakers that were a big inspiration to you at that time?
When I heard about the 'revolution' going on in Priorat at the beginning of the 1990's, I was tasting things like Vega Sicilia or Tinto Valbuena and I liked these wines. I was going the extra mile to try this kind of stuff, at the time I really thought that these were good wines.

However, what really influenced me was later on when I met a collective of French vignerons that were making natural wines. They were so good.

When you started making wine, what was it like in Catalunya? Was there anyone making the kind of wines we love at that point in time?

In Catalunya I didn't know anybody. A few other friends left the co-operative around the same time and they asked me to join them in a new project, but I didn't want to be part of a collective, I wanted to make wine on my own.

I knew that there was another way to make wine. Although I didn't have a direct inspiration, other than an idea of getting old vines and rediscovering an ancient taste of wine. 

When I started making wine in Catalunya there wasn't any focus on natural wine in the region. Here there was the Denominacion de Origen. I was viewed as the black sheep because people didn't get the wines I was making, so in 2006 I quit the appellation.

What made you decide to settle in the Terra Alta?

I'm from Pinell de Brai so obviously it was important for me to stay in the Terra Alta. My wife is from Vilalba des Arcs, where most of my vines are. I have always worked in her family's vineyards and have since had the chance to plant an extra hectare nearby. 
The other important reason why I moved here is the terroir, Terra Alta is at 470 metres above sea level. It's a limestone plateau with mother rock straight under the ground. It experiences a very extreme climate, if you compare it for example to the vines I have in El Pinell de Brai. 

In fact, Pinell technically isn't really part of Terra Alta as the conditions are slightly different, the altitude here is only 150 metres above sea level and there are some mountains that separate the vines here from my vines in Terra Alta. However, for administrative and appellation reasons, Pinell is in fact considered to be part of the Terra Alta. At the end of the day I do believe that each terroir has some interesting peculiarities and there's something good to bring out from each.

What makes it so special to you in terms of the terroir, the grape varieties and so on?

The Terra Alta is a windy area, blessed by the South-Eastern Garbí wind blowing from the Mediterranean, a very humid wind which helps bring some moisture, in particular in the month of August, when the nights tend to be shorter. 

The difference in temperature between day and night during the ripening season is very interesting and I find it amazing to see how the wine from the vines in the higher part of Terra Alta ferment in a different way from the ones in the lower part of Terra Alta, such as those in Pinell de Brai. 

The composition of the region is quite varied, with lots of pockets of little valleys and ravines that certainly influence how the wine tastes. This depends on where the vineyard sits, some have more shade, whilst others are more exposed.

Finally, of course there are the limestone soils. Once, when (legendary Beaujoais vigneron) Philippe Jambon was here he kicked a stone whilst walking in a vineyard. The stone broke in two and he picked it up and said "Hey Laureano, your wine smells like this!".

It seems that wines from the region have a wonderful capacity to age. Why do you think that is?

Yes, I think that the wines of Terra Alta can age well. One reason is the fact that we get to a good alcohol level thanks to optimum ripeness of the grape. At the same time there is also a great phenolic ripeness so if the juice ferments to the potential alcohol content while reaching a good phenolic structure, this definitely helps having wines that can mature nicely over the years.

Obviously the varieties we work with, think of Garnacha and Macabeo, are an important factor too. For example, in the Rioja where you have the likes of Viña Tondonia, they have white wines that age really well and those are made mostly with Macabeo with a bit of Malvasia, which there they call Viura. All these factors as well as the altitude, and the freshness derived by it, influence the potential of ageing of the wines.

In regards to my wines I believe that if a wine is alive then it'll have a life and it's always going to be alive. The question is what stage of its life is it in. It is the same as with a person: the wine has its youth, a crazy part of it's life which could be short or long, a little crazy or very crazy. After it reaches an older age which might be nice and agreeable, or perhaps not. If we treat children well at the beginning, they tend to have a chance of a better life as they leave their youth.

Has the way you approach making wine changed over time?

I don't believe it has, but in reality it must have. I don't feel that I made big changes in my approach, but what I can surely tell you is that over time I've become very pragmatic as a wine-grower, essentially observing nature and trying to adapt to every season and vintage, which are inevitably different year after year.

These days I'm putting my energy into trying to be as respectful as possible to the plants in order for them to give me healthy grapes, this is my main goal.

Largely thanks to yourself, Catalunya seems to have an incredible family of people celebrating the wines we love. There are many great winemakers, amazing places to drink like Bar Brutal and Bar Cortijo and wine fairs like your own H20 Vegetal. How does it make you feel to see how much things have changed over the years?

I'm not sure whether my work has influenced the work of others, but if it did I hope it was a positive influence. I believe that inspiration is real only if there's a will from the person to take direction with their work. 

Surely a lot has happened in Catalunya in recent years, but I feel it happened because there were a few growers that decided to take a similar approach to mine with their work more or less at the same time and therefore now many make this kind of wine.

I remember a conversation I was having with a French vigneron at an early wine fair in France, probably around 2006. I told him that I thought I was the only one here making this kind of wine back then, but his answer was that it was impossible, there were probably other winemakers doing something similar and I just wasn't aware. Time proved that he was right. 

Where do you see the future for Mendall?

I hope to develop a project to have a cellar near the vineyard. I'm not so sure about the future, but it looks like my daughter is becoming interested in the wine world and she might study enology, so if someone will continue the Mendall project in the years ahead, that is certainly a positive thing.

Finally, our friends would never forgive us if we didn't ask, but could you tell us again about that night at the home of Antony Tortul of La Sorga. How did the 'Brutal Wine Corporation' come about?

The Brutal Wine Corporation was born many years ago after a very drunken night. I was in the South of France with Joan Ramón Escoda, Remi Pujol and Antony Tortul. It was late at night after a long dinner, some people were sleeping under the table. 

Remi and Antony confronted us asking us why me and Joan didn't like their wines. Earlier in the afternoon we were tasting at the La Sorga cellar and at every wine Antony was pouring us something we were shouting 'Es Brutal'. It  turns out in French the word has a negative meaning.  We explained to them that for us 'brutal' meant 'amazing' and we were loving every wine we tasted earlier that day.

Once the mystery was solved we decided there and then that it would have been fun if every year the four of us made a wine called 'Brutal'. A small cuvée of two or three hundred bottles, essentially with a wine of that vintage that was 'Brutal', meaning something particular that surprised us. Afterwards Antony rushed upstairs, jumped on his computer and drew the Brutal label which you are all familiar with now.

…