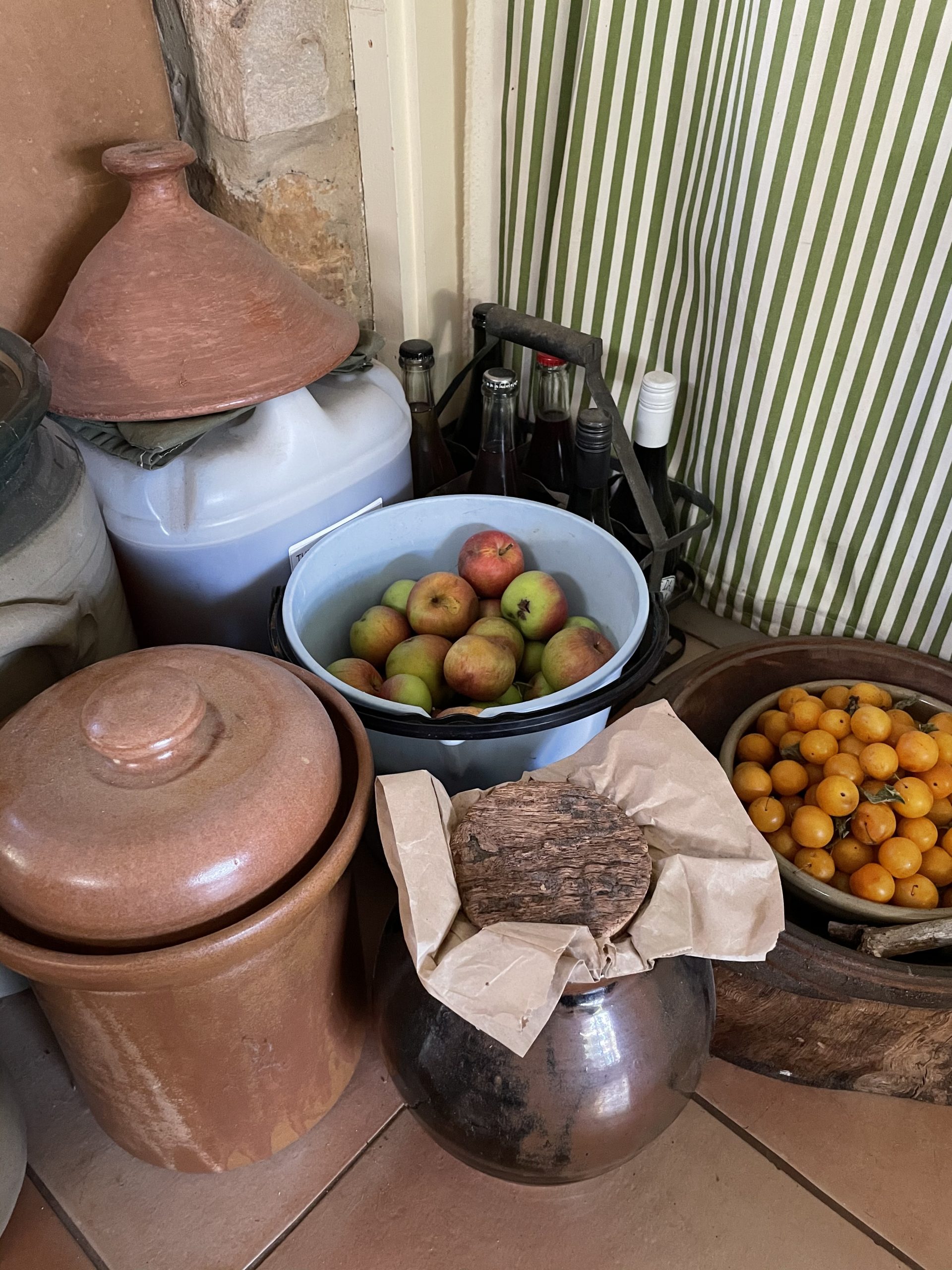 Tim Webber and Monique Millton are two of the most talented young growers we have the pleasure of working with. Their farm can be found on a ridge in the Forest Range, one of the highest parts of the Adelaide Hills and from this beautiful place they eke out a simple life from the land, producing delicious, nourishing wines, fruit and vegetables that are as good as any we have tried from Australia.

After Alex's visit at the beginning of the year, it was a pleasure to catch up with Tim and Monique to hear about their journey, what's new on the farm and the people, books and music that inspire them. Finally, as the wonderful meals one enjoys on a visit to the Hills have become legendary, the two were kind enough to include a couple of recipes for you to try at home.

The wines of Manon are available on Tutto a Casa

Tell us a little about where each of you are from. How did you end up making wine in the Adelaide Hills?
Monique – I come from a beautiful island called Aotearoa. My birth place is the small village of Mantuke, on fertile river flats on the East Cape called Tairāwhiti. I travelled to Australia for a bit of an adventure and funnily enough, to see what else was out there outside of the wine.

Tim– I grew up just north of Sydney in the coastal city of Newcastle. I studied and apprenticed as a cook and then had the good fortune to land a job at Sean's Panorama in North Bondi. It is a gem of a place that serves beautiful food right by the beach. Sean and Manoo were huge influences guiding me on the path I travel now.

After a while I began to grow restless so I headed off on a journey all over the place, just exploring and immersing myself in traditional cookery. I actually ended up at the River Cafe in London for a while but was lured away by more travel and eventually ended up opening a small wine bar in Darlinghurst Sydney serving some natural and some classic wine and simple food, it was called Love, Tilly Devine and it is still going today.

I was keen to get out to the country so I moved to the Adelaide Hills around the end of 2011. Monique and I met at the first Rootstock festival in Sydney as we were pouring wines on tables next to each other. The tables were arranged in alphabetical order, so Millton Vineyards was next to Lucy Margaux, where I was working at the time. We shared a beer for breakfast whilst setting up and it grew quickly from there.

Monique -Tim was growing vegetables in the Basket Range. I had been in Sydney but after returning from harvest in New Zealand he asked if I would come and spend some time with him in South Australia. Not being a city girl I said yes and we spent our time together market gardening, supplying a few restaurants, a local farmers market and dreaming some dreams.

In 2014 we moved to New Zealand for a year to continue to grow vegetables, flowers and to further our learning at my family's farm, The Millton Vineyards, which has been farmed biodynamically for nearly forty years. Here we made three or so barrels of wine from fruit grown on the farm. The wine was made in the style we still make today. These remain some of our favourite wines, as they are very unique expressions of wine from that country. Seven years on they still taste wonderful and have evolved in such a youthful way, seemingly preserved by the fertile volcanic soils.

We returned to Australia in 2015 without any pennies in our pocket and began collecting some fruit from abandoned vineyards that had been left to the birds. We also tried purchasing some fruit, but there was a deep, personal struggle with the disconnect we felt from the grapes that we hadn't grown. We learned it was important for us to decide where to settle and to spend some time planning our journey.

We used to come up to the ridge where we live today to collect wild mushrooms, so we recognised the property. The farm had been on the market for many years without much interest due to its big mix of grape varieties, steep slopes and rocks soils. We were lucky enough to get a mortgage, moved into the house in April 2016, began pruning shortly after and made our first harvest in 2017.

Was there anyone in particular that had an influence on you when you were starting out?
Monique – Firstly, my family, but also the people that they brought together to work alongside them. The season of 2014 when Tim & I returned to New Zealand there was a group of French gypsies mostly from Loire & Brittany – they lived below our house in a stand of very large walnut trees in their hammocks. Life was simple, bread cooked in the earthen oven, joints passed along by an impressive pulley system that wound up the tree and conversations under the bright stars of a simple life. I spent some time in Italy and had the absolute honour of spending time with Trish of Gazzetta, Jacopo of Ajola and Clementine and Gianmarco of Le Coste. I found the beauty of the countryside, the people and characters here very inspirational.

Tim – There have been some important influences on my journey as I am entirely untrained when it comes to making wine. I guess the first would have to be Anton from Lucy Margaux, who taught me the physical side of winemaking and how to go about it. Over the course of about three years he introduced me to the soulful, sensual and creative side of it too. I am also forever grateful to Mon's dad James Millton who through careful observation over the years I have gleaned a lot of useful practical knowledge on how to grow grapes, tend the vineyards and look after a winery.

As ever, you've clearly been very busy during the pandemic. What is new on the farm and what do you have planned in the coming years?
Monique – Tim and our friends Jack & Jonny built a little studio for myself. We have been collecting and milling timber from trees that had outlived their time and space on the property. This is a space outside of our little one bedroom stone cottage to sink a little more into our passion for our new garden of culinary and medicinal herbs.

I have a large copper still I am starting to work with for making hydrosols, or plant water, essential oils and to distill wine for tincture base. It is another area of interest to capture the plant and its pure essence. These will be used on animals and humans but also become a large part of our treatments for the vines alongside biodynamic preparations, compost teas and plant fermentations.

Tim – We planted some more Savagnin because we had a small parcel that we both felt it would suit. We took cuttings from our own happiest Savagnin vines and grew them for two years in the veggie patch before transplanting them there. Alongside, we planted half an acre of Gamay and a sprinkling of Trousseau, Pinot and Mondeuse.

We've also planted some Aleatico, a variety that has been here in South Australia for over a hundred years but is very rarely used. We found a nursery that had about twenty vines and grew the cuttings in the veggie patch and now we have almost five hundred. They grow alongside a small amount of Malvasia, along with some vines we are experimenting with growing from seed.

The third vegetable garden was opportunistic with all the spring rains. So far we've grown that as annuals, which I really like, whereas Mon is more into growing the long lived perennials. We grew a big crop of rambling pumpkins and melons, a couple of hundred kilos of potatoes, beans for drying and enough corn to make polenta for the next couple of years. If Mother Nature is kind next Spring we may be able to do a big crop of bush tomatoes and make a few years worth of passata.

In the future we would like to build a little cellar. A place to be able to store the biodynamic preparations, our wines, root vegetables, seeds and so on. It would be great to be able to hold the wines in their vessels for as long as they need. This is Australia mate and we have to bottle most things before summer as at the moment we are working out of a tin shed and most years the temperatures exceed forty degrees.

Do you feel you are starting to see the benefits of your work on the farm?
Monique – The land we care for today was not farmed organically and so we have had to take it through a very long period of detox. When I was very young I remember Nicolas Joly visiting and talking about the conversion of land from chemical to organic or biodynamic farming. He explained something along the lines of that it was like caring for a person who had a drug addiction. You cannot just give them a glass of orange juice and say there you go, now you shall heal. It takes time, sometimes something will work one season, but the next season it is no longer the right thing to do.

While we are beginning to see snippets of its potential, we don't expect to see the actual benefits for years to come, as the land continues to go through its cleansing process. The next few years will be the biggest phase in our work where we attempt to bring balance and harmony to the place as a whole, while keeping the chaos rolling. We have worked very well with the 'dis-ease' aspect and during our growing season we do not have any problems with this. However, there are issues with snails, wildlife, soil health and structure and so on that we are hoping to improve.

The weather was uncharacteristically cold and windy when we visited in February. Such a cool growing season must have been a welcome relief after three years of drought so extreme that it is almost incomprehensible in Europe?
The last few summers we have been riding some pretty big heat waves and the land was in need of some respite, so it was amazing to see a break in that pattern. The heat and harsh elements make it very tough to retain life on the farm and the drought can be unrelenting sometimes. Farming in Australia has always been unpredictable, everyone continues to apply the four seasons of the Northern Hemisphere to our year and all the expectations that come with that, but sometimes the rain just doesn't come.

What impact has this had on yields?
It is hard for the vines, especially as we do not water them. Australia has always had variable cycles of wet and dry weather that can last up to ten years. The last really wet period we had was around 2016 and 2017, then we had the drought and now we have had a wet end to 2020 and it looks like it will be a wet 2021.

The yields reflect this. We picked 33 tonnes in 2017, had 25 tonnes in 2018, 16 tonnes in 2019, then 12 tonnes in both 2020 and 2021. The drought started in 2018 and hit its peak in 2020. This 2021 growing season was a wet one with beautiful big bunches and we were expecting better yields, but we lost a lot of grapes early in the season because of the Kangaroos.

Could you tell us a little more about the influence of the Kangaroos?
The Kangaroos are here in force and we do like them being here, apart from them eating the shoots and grapes. They bring a spirit to the land and help mow and manure the place. They have lost a large area of habitat due to the recent bushfires in our area. They were here before ourselves, so we just have to find harmony together. Our property has plenty of grass and herbs and is surrounded by a vast forest, so it is a blissful place for the 'Roos.

We will start fencing this winter and we will ask the kangaroos very politely to keep to their tracks. We will put gates on their tracks then they can be with us all year round without having to jump and break fences but when it is the moment of the buds bursting and the grapes are almost ready to be picked, we can close the gates and they can stay in the forest for a few weeks.
Tasting the wines from the last two vintages, there is a pronounced concentration, depth and intensity compared to previous years. What do you put this down to?
The first thing that comes to mind is that we do not water the vines and we care for the land. We also don't add water to the wine, which is legal in Australia and common practice across all wine making styles. As the years have gone on you may feel, and we would hope, the wines are becoming more site specific and a more direct image of what we are doing, whilst allowing the fun side of experimenting and the forever changing seasons to express themselves too.

Finally, since we started, the amount of grapes we produce has reduced by between fifty and seventy percent due to the way we farm, prune, drought and so on.

Even at the age of four, Felix's connection to and understanding of the farm is beautiful. Is that something that comes naturally to him?
Felix was born in the spring of 2016 and from that point he has been with us every moment, immersed in the daily rhythms and seasons of the farm. We don't have family here so it has just been the three of us attempting to make it work. Felix seems to be completely into what we do. He is involved in most aspects of what makes the wine that fills your glass.

We have thought about naming a wine after him but in reality he has an influence over each of them. He had his own row of grapes to look after this year and it was the first row we harvested. It is hard to keep the wild child from eating the whole vineyard. He also loves harvesting from the gardens, collecting eggs and picking in the wild, especially mushrooms and all of that goes into his passion for cooking. Nature is a really good teacher for children. It allows children to be children.

Every time we visit we love delving into your incredible collection of books and music. Can you share a few of your favourites?
Tim – I'm a massive book nerd and have taken a lot of my knowledge from them – reading, figuring it out and then putting it into action on the farm. An early influence was One Straw Revolution by Masanobu Fukuoka, such a revelation on natural farming written in the 1970's after a life of practical experience. Geoponika was important in helping to understand traditional grape growing, while Honey From a Weed by Patience Gray is a book that solidified feelings I already felt about life that I've found hugely inspiring.

I'm currently reading The Biggest Estate on Earth by Bill Gammage for the second time. This is a detailed look at how Australia's Aborigines cared for, farmed and created the country we call home. This book naturally leads onto Dark Emu by Bruce Pascoe and also Sand Talk by Tyson Yunkaporta, revelatory books by incredible First Australian authors. It is important to remember that sovereignty has never been ceded and no treaty has ever been signed in this country.

In terms of records, I am always changing and rediscovering random things. Alex you shined a spotlight on Melodies by Tatsuro Yamashita whilst you were here and I agree it has got some big tunes on it, we love it. I must have bought this a good twenty years ago, apparently for $9 as the sticker tells me.

At the moment I am also loving Delta Horizon by Eleventeen Eston. It is killer and John is one half of the ambient group Wilson Tanner with Andras, that we love. Monique has been giving the new album Promises by Floating Points, Pharoah Sanders and the London Symphony Orchestra a good rinse as well as her favourite show on NTS – Time is Away.

Finally, as we always eat so well when we come to see you at the farm, could you please share a recipe for a couple of the dishes we enjoyed on our last visit, so people can open a couple of bottles of your wine and try these at home?
Tim – We made some fantastic scallopini as we'd just got half a cow from one of our neighbours. When making scallopini, you can use different cuts, but it is all in the way you slice the meat, it has to be sliced thin. Dust the slices in some seasoned flour, melt some butter in a pan, throw in some sage and cook them ever so briefly.

A coleslaw is the kind of salad that comes together when the garden is really peaking and a chopped salad is perfect alongside this kind of dish. We took half a cabbage, the first wild apples, young turnips, onions and plenty of herbs, shredded them together and dressed them with apple cider vinegar and some good olive oil. We never cook the same thing twice at the farm and that is the beauty of growing veggies and harvesting from the wilds.

Monique –I make crostata most seasons but late summer is the best time and we often enjoy it during a break from harvesting grapes. We use blackberries or strawberries when they are ripe, or perhaps stone fruits. The recipe is from a fellow Kiwi, Carter Were, whose recipes I like because they remind me of rural New Zealand and the beauty of simple food.

2 cups flour
1/4 cup sugar
125g butter chilled
1 egg
1 tbsp milk
zest of 1 lemon
lemon curd
blackberries

Rub the butter into flour and sugar, mix the egg and milk then add to the sugar mixture with the lemon zest. Bring together gently forming a disk so it is easy to roll out. Leave in the fridge for at least thirty minutes.

Heat the oven 180 degrees celsius, or 160 degrees with the fan. Roll out pastry on a dusted surface into a rough circle, spoon over the curd and top with the blackberries, or whatever fruit you are using. Fold over the edges to hold all the goodness in and bake for 20 minutes or until golden.

…