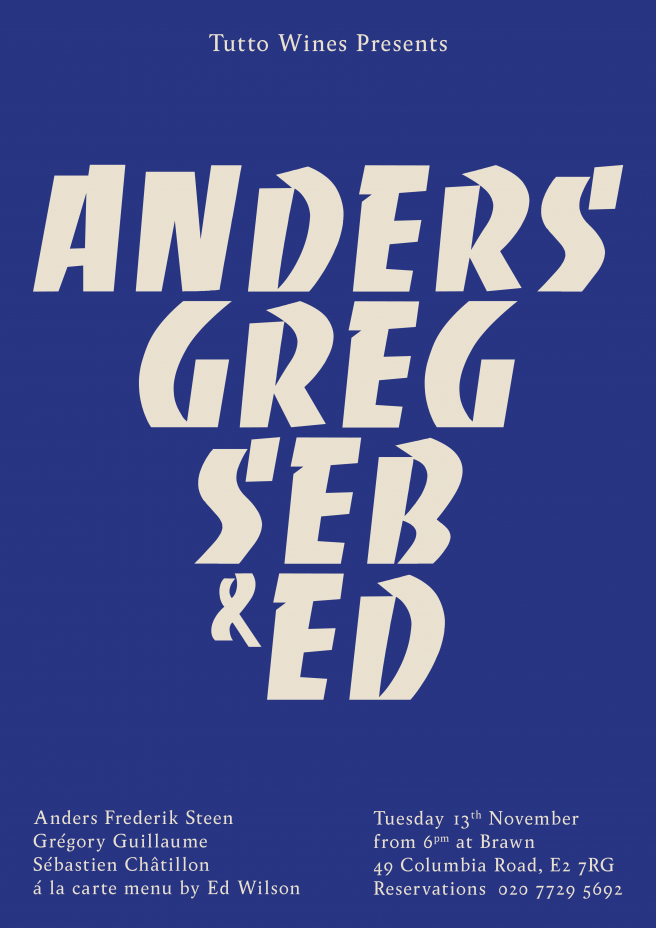 On Tuesday 13th November Anders Frederik Steen, Grégory Guillaume and Ad Vinum's Sébastien Châtillon are joining us in London.
If you work in the trade join us at Brilliant Corners, where Anders, Greg and Seb will be sharing their wines from 10am-4pm. This is a fantastic chance to meet the guys and taste through over twenty new releases from three of France's most talented young winemakers. If you'd like to come along, just RSVP be emailing us at info@tuttowines.com
After dark, everyone is invited to join the guys for dinner at Brawn on Columbia Road. All three will be pouring their wines, with an incredible selection available by-the-glass from bottles big and small. On the night, chef Ed Wilson will be delving deep into the canon of Southern French cookery and has written an à la carte menu packed with classics. Expect the likes of Pissaladière, Brandade de Morue, Caillette Ardéchoise, Tourte de Blettes, Civet de Lièvre, Gigot d'Agneau with Flageolet & Romarin and Tarte à la Châtaigne. Deep, soulful cooking suited to the dark days of November and these pure, vibrant wines.
This promises to be a great night and as such we expect tables to fill up fast. To book yours, call the restaurant on 020 7729 5692.