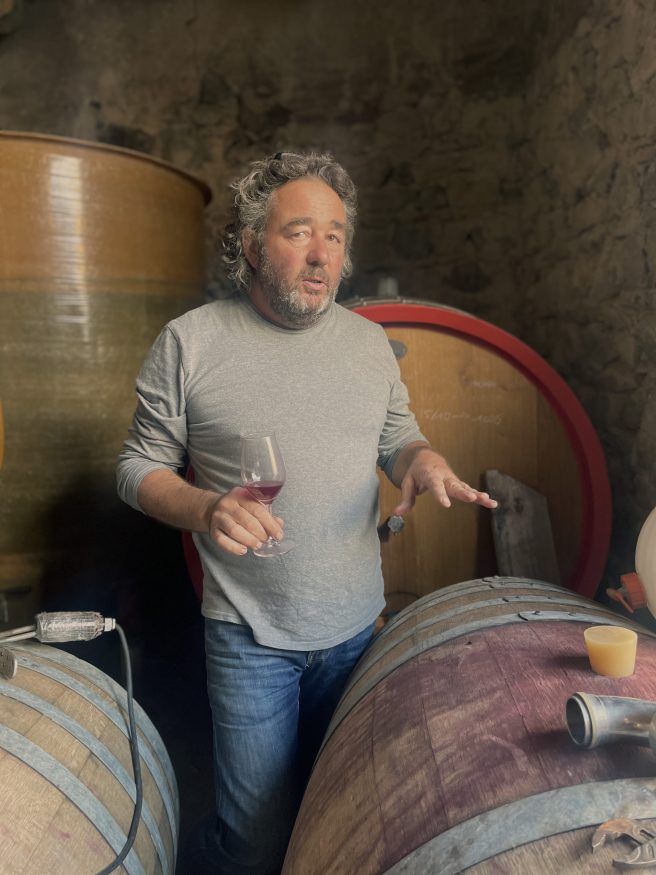 The time has come to offer the fruits of last year's vintage from one of the most exciting names in Beaujolais, Romuald Valot.
Originally from Burgundy, Romuald has spent the past decade forging a new path high in the hills above Beaujeu. He now farms a total of eleven hectares in the region, along with a hectare in the Côte de Beaune's Ladoix in his native Burgundy, from which he produces his sublime Pinot Noir.
Romuald has become well known for his extreme take on organic agriculture. He eschews the use of even copper and sulphur in the vines, experimenting without ploughing and pruning in certain parcels. In the event he does treat the vines, he does so with his own infusions of wild plants, which he gathers and mixes with spring water, whey and clay.
Beaujolais is a place where the effects of climate change threaten more than any other, with increasingly common hot, dry years such as 2022 presenting a challenge to even the most experienced vignerons to retain in the wines some of the light, bright and fragrant character for which the region is so well known.
After the catastrophic weather of 2021, it is fair to say Romuald has navigated the warmth of last year with aplomb. The wines show an increase in depth, density and material, without sacrificing any of the uplifting and joyful spirit we look for in great Beaujolais. The wines should age beautifully over the coming years.
Romuald's wines are now available on Tutto a Casa