The next stop of our recent trip to Italy was to see the guys at Cantina Giardino. We arrived in Ariano Irpino just as the sun was setting and headed straight down to the cellar with Antonio to pick out a few bottles to drink over the next few days. Half an hour and a dozen cases later we were done and it was time to back up to the house for dinner.
Dinner with Antonio and Daniela is always a highlight of any trip to Italy and this was no different. There were a couple of dozen bottles open spanning their many labels, with several vintages of each to try. In the middle of the table were huge pots of rabbit braised in orange wine.
Amongst the many highlights that will soon be in London were the 2013 Sophia, still Fiano aged in amphorae but more delicate, shy and spiced than previous vintages. The 2011 Adam is knockout good, dense and compact, a remarkably structured white that was just so spot on with the rabbit and at this time of year. We look forward to having in London for the first time.
After missing out the last few vintages, we are happy to say we have scored a little 2013 Volpe Rosa which is also a real treat. Made mostly from the extremely rare Coda di Volpe Rosso, while still young it is bright, vibrant and impossible to put down. In terms of Aglianico the 2011 Le fole and 2006 Nude continue to impress and we'll be stocking up on both of those.
At some point we called it a night and upon waking the next day we popped down with Trish to the cellar to check on a few of the ferments and punch down the 2014 Sophia, below. The thick cap was fizzling away with the sweet sounds of fermentation and the wine will remain here in amphorae for another 6 months on its skins. The clay amphorae used at Cantina Giardino are fashioned from the clay found in the soils of the vineyard uses for Paski, Drogone and Volpe Rosa, which we would visit the next day.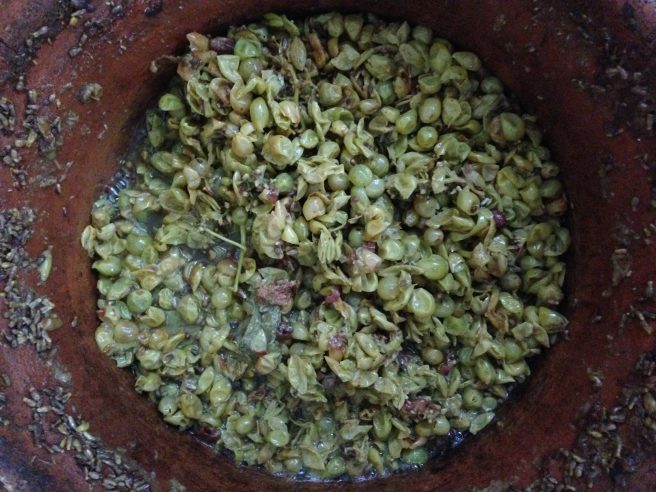 Form there we headed to nearby town of Melito Irpino to one of our favourite restaurants on earth, Antica Trattoria Di Pietro, for what was to be amongst the most epic lunches any of us have had. We are not sure if anyone has ever seen a menu here and I have no idea why you would want to because across multiple visits each and every plate that has come from the kitchen has been nothing short of remarkable.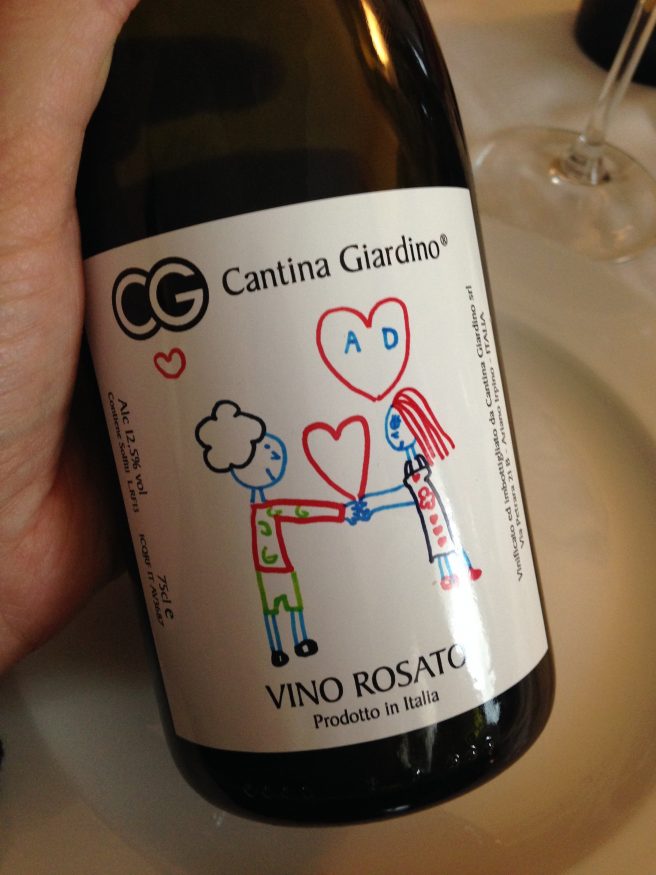 We had a bunch of customers over from London and were joined by some of Antonio and Daniela's family and friends from overseas and kicked off with some bubbles in the form of this tart, extremely refreshing sparkling rosato of Aglianico and waited for the antipasti to arrive.
Antipasti at Da Pietro takes a couple of hours. It arrives on trolleys and features various focaccias and pizze, local prosiciutto, sausages and cheese. Some mozzarella, a killer plate of pumpkin algodolce, braised lamb's liver, so on and so forth. We punctuated the wines Antonio and Daniela had brought along with some older vintages of theirs, a few bottles of the cracking 2006 Volpe Rosa and some old Sophia too.
Some time passed and it was time for the first of two soup courses. A broth of vegetables studded with prosciutto and salsiccia with little squares of fried polenta to dunk. Amazing with a bottle of sparkling Aglianico and even more so with the condiments. The son of the family that owns Da Pietro is a keen gardner and one can choose from a couple of dozen chillies he grows laid out on a table in the centre of the dining room, grab a couple and a pair of scissors and add add them as they wish to each dish. Good for keeping one alert in what was to be a 9 hour lunch.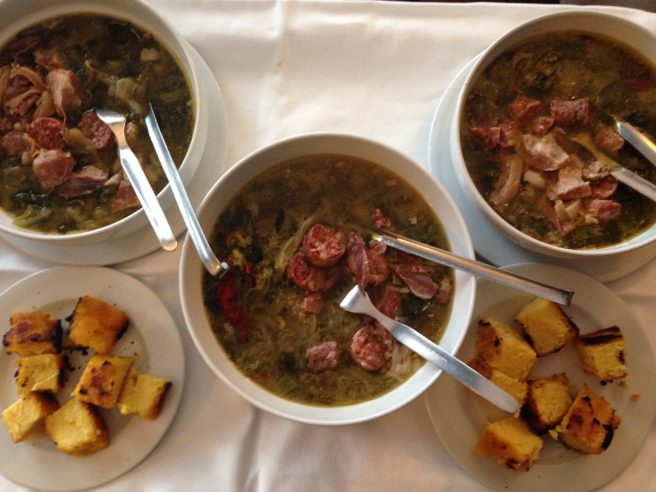 Things got a little hazy as the afternoon wore on but we recall huge plates of pasta with fresh tomatoes and pungent wild mint, along with more rabbit, veal chops and lamb ribs from the grill. We had a brace of remarkable wines, 1998 and 2000 from the late Ezio Voyat, a 1993 Bartolo Mascarello and a Biondi Santi Brunello from the same year. At some point it seemed like half our party were either in the cellar or the kitchen, grabbing the next bottle to open or learning to make focaccia.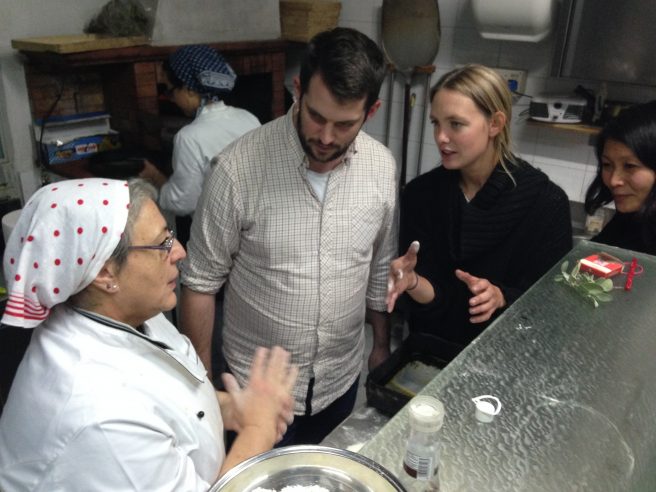 They took it all in their stride and kept feeling us slices of pizza topped with tomatoes and wild mint until eventually we decided with harvest on the agenda the next morning after nine hours of eating and drinking we should probably leave.  So it was back to Antonio and Daniela's place, where we foolishly drank a little more and ate a whole caciacavallo in Trish's tiny upstairs kitchen, the soon-to-be-famous Bar di Trish.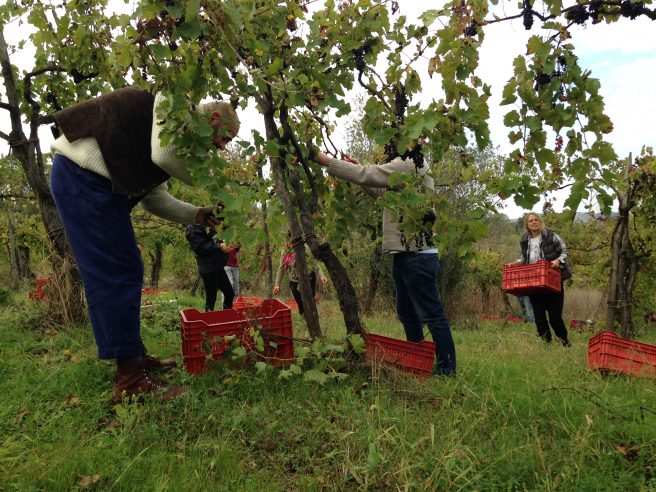 After being lost for a few hours we eventually made it to Taurasi and to the beautiful old Aglianico vineyard we were to pick that day. The vines here are trained in the traditional manner, which basically means upwards and then outwards, the canopy sitting above your head as if it were a tree. Importantly it offers the fruit great ventilation but also makes harvesting a dream. A day spent here picking fruit high up in the hills was just what we needed after the excesses of the day before.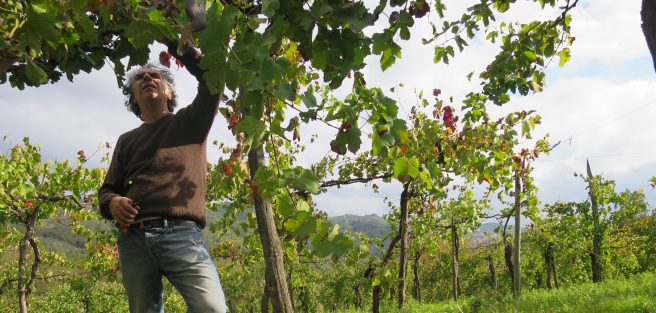 That's Antonio grabbing some fruit, Aglianico is a late-ripening varietal with a long hang time and some of the bunches were as beautiful as we have seen.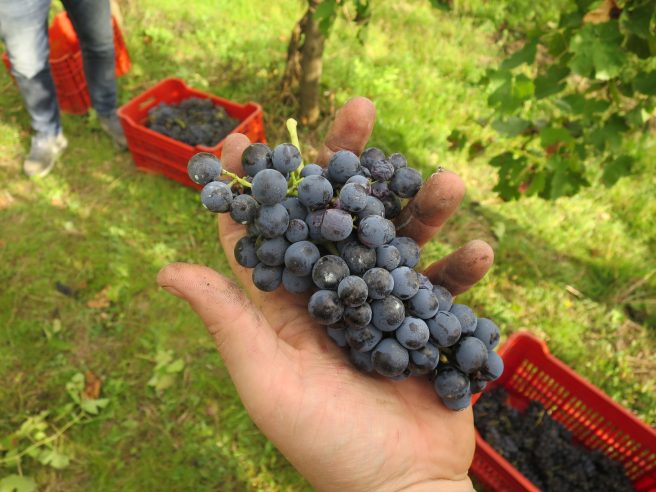 Lunch in the vineyard was a cracker, great salumi and cheese and this wonderful bread studded with anchovies from Cetara along with plenty of wine. After a few more hours of picking we piled into the cars and headed for the hills just before sunset to visit this beautiful vineyard Antonio and Daniela bought a couple of years ago which is planted with the Coda di Volpe & Aglianico for the Paski, Drogone and Volpe Rosa wines.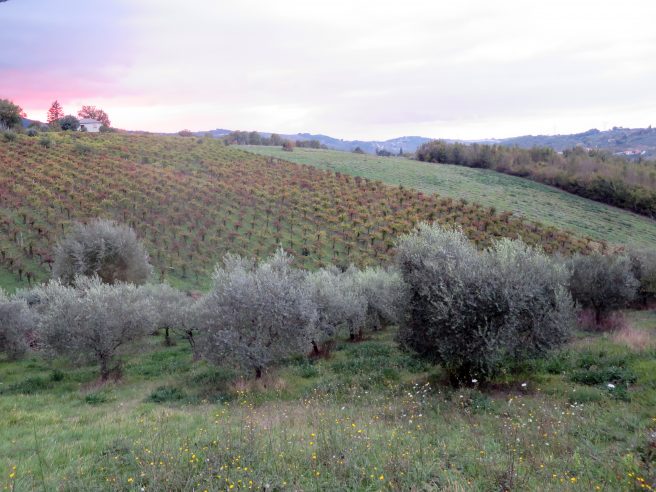 Sat amongst woods and olive groves, here the old vines are exposed almost full south. Like the Aglianico vineyard we had been picking earlier the soil is mostly clay of volcanic origin, though here it is littered with fragmented limestone. In the picture below are the two oldest vines in the 2.5 hectare plot, which happen to be planted in the exact same place. They are both around a 100 years old, yet the Coda di Volpe (green leaves) is almost four times as thick at its base as the Aglianico (red leaves), a difference that often becomes apparent over time, Antonio says.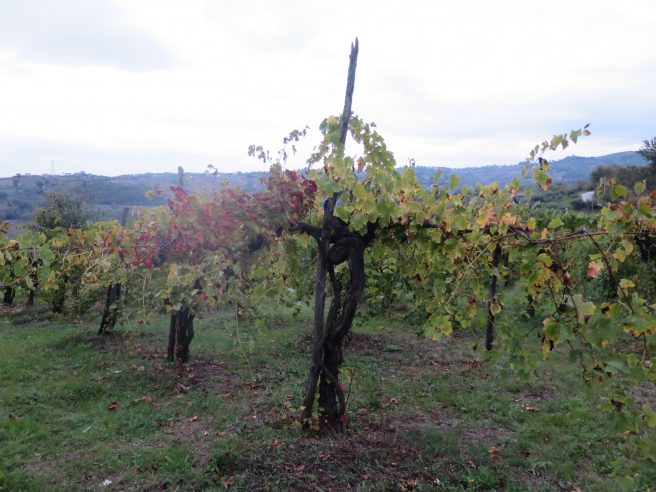 We headed back home and down to the cantina, where the fruit had just arrived and it was time for our friends from London to jump in the vat and get stomping to kick off the ferment. It was seriously cold in there that night, but when a bottle of 2010 Sophia was offered everyone obliged.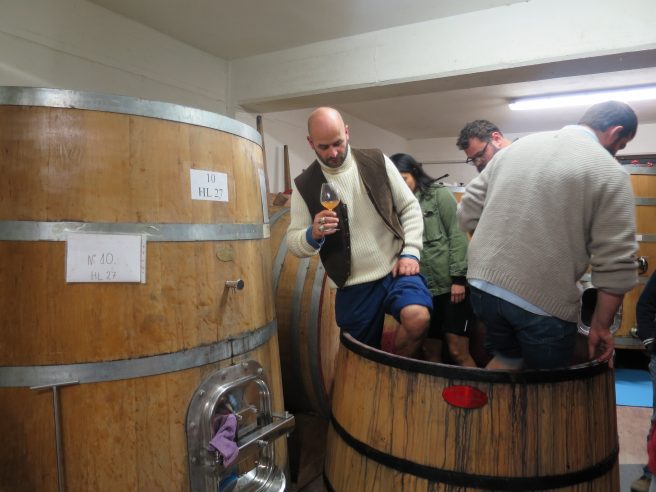 Everyone was a little zonked and and after a great meal at another local trattoria and a couple of bottles of Montegioco's excellent beer at Bar di Trish it was off to bed and in the morning, sadly time to say goodbye to Cantina Giardino for another year.