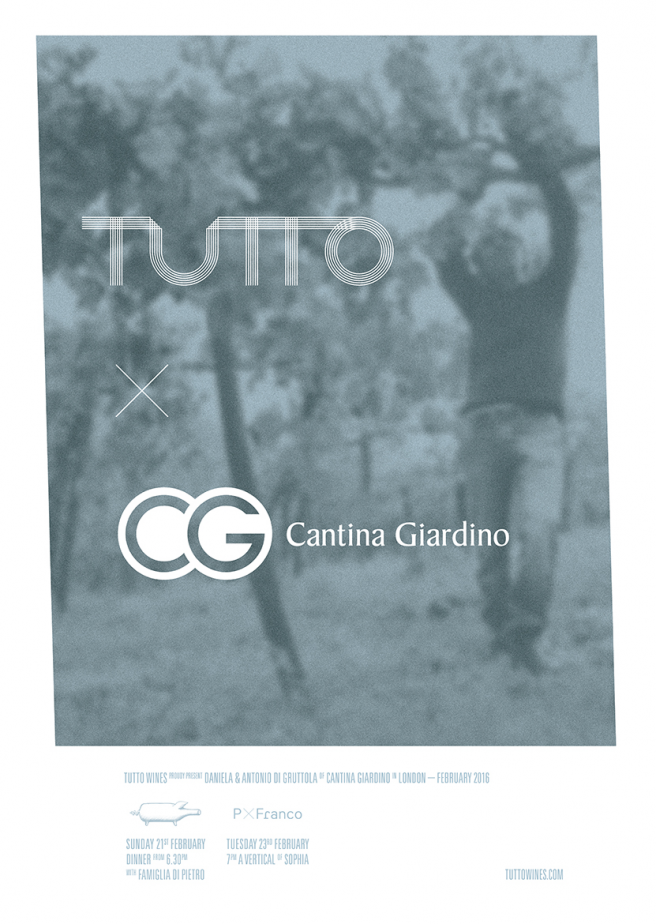 Cantina Giardino might just be our most popular producer. Each time a new shipment of their wines arrive in London there is a palpable sense of excitement, with everyone looking to quench their thirst for these vibrant wines from the hills of Campania.
Antonio and Daniela Di Gruttola's work is bound by several principles. They are focus purely on native grapes, old vines and an age-old way of tending them. They make wine organically, by hand. They champion and cherish these grapes and traditions and in the process make some of the most delicious and unique wines in Italy. They are also some of the most open, lovely and generous people we know and it is of little surprise to us that their wines can now be found in the best wine bars, shops and restaurants around the world.
Not only are we extremely happy to work with them, they are also great friends. We are not  sure how it is taken us three years to get them to town to do a little tour of London, but we are very happy to announce they will be joining us in February for the following events.
Antica Trattoria Di Pietro and Cantina Giardino at Brawn – Sunday 21st February 2016
The highlight of our yearly pilgrimage to see Antonio and Daniela at their home in Ariano Irpino is always lunch at the Antica Trattoria di Pietro in nearby Melito Irpino. It is a lunch that seems to increase in length each year to the point that it now lasts as long as a good Italian wedding.
Enzo di Pietro's family have been running this simple, wonderful trattoria since 1934. Like all great restaurants the food is based on tradition and the products of the region, is nourishing and absolutely delicious, but it is the people that really make it. The family exude a passion, respect and warmth that makes dining here one of the most memorable experiences we have had in a restaurant. After coming here with the guys from Brawn late last year we were all in agreement, if Cantina Giardino were coming to London, so were the Di Pietros.
On Sunday 21st February join Enzo, Teresa and Anita as they take over the restaurant to serve classics from their trattoria such as cicatielli con puleio (handmade pasta with tomatoes and wild mint) and their minestra marinata, the most resorative soup known to man, alongside a number of dishes inspired by the region. A visit to the trattoria is not complete without something from Cantina Giardino to drink and for the first time ever in London we'll be pouring every wine we have from the guys by-the-glass. Wines old and new, from bottles big and small, with Antonio and Daniela there to enjoy them with you and make it a night to remember.
Tables at the trattoria will be available from 6:30pm and reservations must be made in advance by calling 0207 729 5692
A Vertical of Sophia at P.Franco – Tuesday 23rd February 2016
Cantina Giardino's Sophia is the wine they make in amphorae crafted by a friend from clay found in one of their vineyards. At the beginning the composition of grapes varied, but now they have settled on Fiano. The fruit always spends a long time on it's skins resulting in a remarkable wine, the most intense and thrilling of their whites.
We have quietly spent the last four years holding back a few bottles from each vintage waiting for the right time to share them with you all and on Tuesday 23rd February at P.Franco we will be offering six consecutive vintages (2009-2014) of Sophia by-the-glass, with Antonio and Daniela on hand to explain the nuances of each.
Chef William Gleave will be offering a special menu for the evening inspired by this joyful drink and the things he would like to eat with it. There is no need to book for this event and you are welcome to pop by for a glass and a plate of something, or to do as we suggest and experience the vertical in full.  However, we do expect things to get pretty busy and as we only have a few bottles of each of the older wines, we'd recommend coming by early to avoid disappointment.