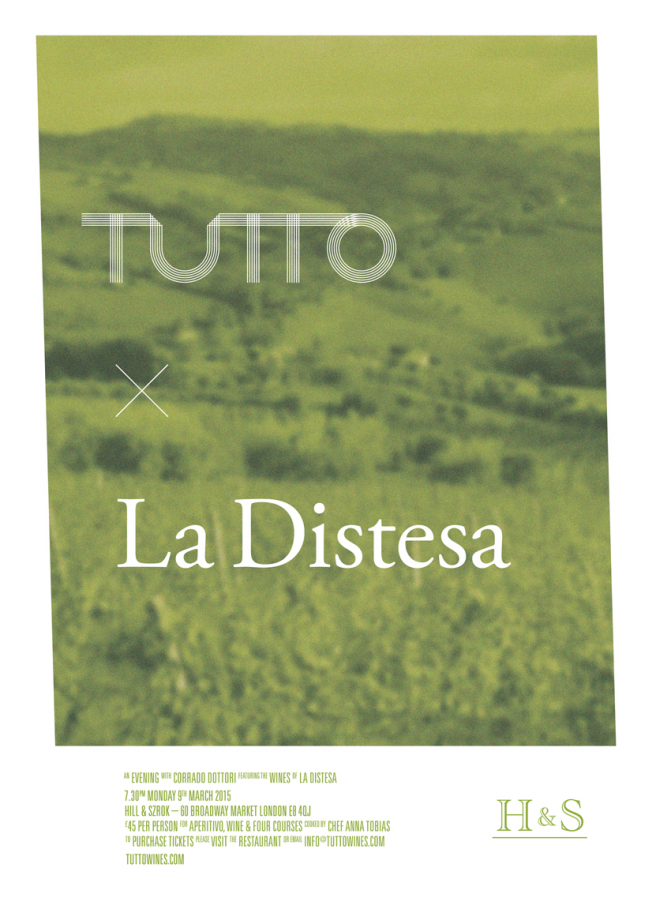 We are pleased to announce that Corrado Dottori of La Distesa will be joining us for the first time in London in March and to celebrate, we are hosting a couple of events at Hill & Szrok and P.Franco. The wines that Corrado makes from vineyards set in and around the hillside town of Cupramontana in Le Marche, in particular his riffs on the local Verdicchio grape, are fast becoming some of our favourite in Italy.
He is a prominent figure amongst the country's artisan growers and as the author of the book Non e il vino dell'enologo and his participation in director Jonathan Nossiter's follow up to Mondovino, Natural Resistance offers a passionate, articulate voice for those who practice real agriculture and the trials and tribulations technology and modern tastes place on the kind of wines he loves. To sit down and chat with Corrado over a glass or two is a real treat. We hope you can join us at one of the following events.
On Monday 9th March, Corrado will be joining us at Hill & Szrok to present four of his wines alongside a menu cooked by our friend Anna Tobias, head chef of one of our favourite London restaurant's, Rochelle Canteen. Corrado will chat a little about himself, Le Marche and his wines over aperitivo, before we move onto the meal proper. The menu and wines are as follows.
Mauro Vergano's Americano & Soda
Snacks
La Distesa, Marche Bianco Terre Silvate 2013
Cuttlefish in ink
La Distesa, Marche Bianco Gli Eremi 2012 (from magnum)
Baccala, Chickpeas & Chicory
La Distesa, Marche Rosso Nocenzio 2013
Fried Rabbit & Contorni
La Distesa, "99" Solera
Panna Cotta & Rhubarb
Full details are below, tickets are £45 for aperitivo, four courses & wine. To reserve a spot please email us at info@tuttowines.com
On Tuesday 10th March we are heading up to P.Franco in Clapton, where Corrado will host an intimate tasting of his wines and chat a little bit more about his book, the Natural Resistance film and the issues facing artisan winemakers and farmers in Italy today. Given that Corrado's book or the film are not yet available in the UK, the night will provide a rare opportunity to hear these stories first hand.
Over the course of the night Corrado will pour guests a glass of each of the following wines, to be served alongside the bar's roster of top-notch salumi and cheese.
La Distesa, Marche Bianco Terre Silvate 2013 (from magnum)
La Distesa, Marche Bianco Gli Eremi 2012
La Distesa, Marche Rosso Nocenzio 2012

Meet the Grower: Corrado Dottori at P.Franco
Tuesday 10th March 2015 – 7:30pm
P.Franco, 107 Lower Clapton Road, London E5 0NP
Tickets are £20 for three glasses of wine, salumi & cheese and can be purchased in advance by visiting P.Franco or Noble Fine Liquor, or calling them on 0208 533 4660