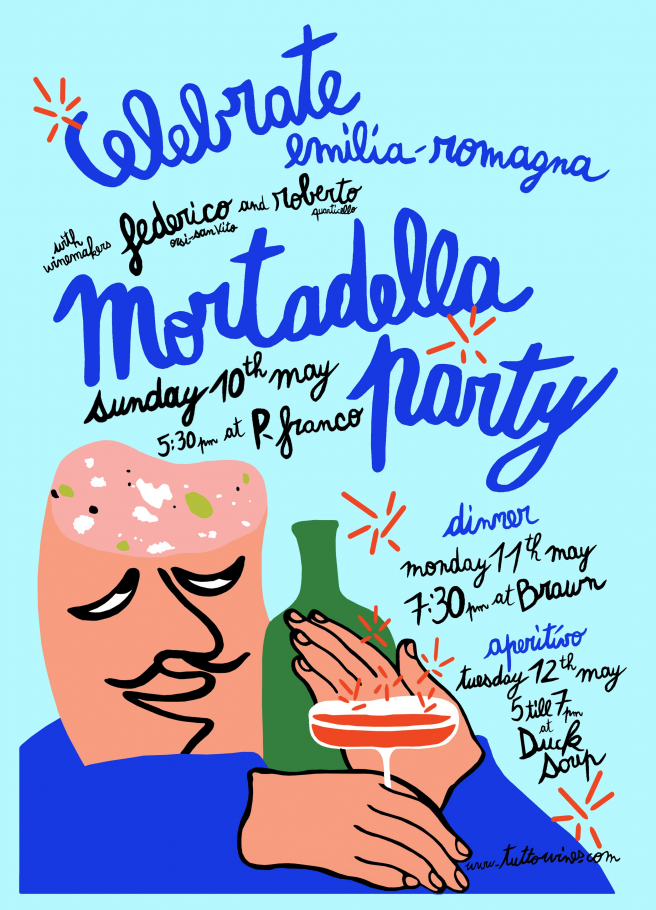 We are bringing our growers Federico from Orsi-San Vito and Roberto of Quarticello to town for a series of events celebrating their native Emilia-Romagna, its vibrant (often fizzy) wines, love of food and good times.
On Sunday 10th May we are welcoming the guys to London with a party at P.Franco where the centrepiece will be a whole mortadella Federico makes from a local breed of pig. All killer, no filler, this is the best 'della known to man. We'll be slicing it thin, stuffing it in panini and pouring glasses of fizz from the boys from 5pm until late. There is no need to book just come by for a few glasses and a sandwich. Federico might even bring some cigars.
As many of you will have heard one of our favourite chefs Ed Wilson has recently made home at one of our favourite restaurants, Brawn and is now a permanent fixture behind the stoves (and record player) on Columbia Road. On Monday 11th May, he'll be cooking dinner for Roberto & Federico, pairing the best of the British spring with their wines. Join us for aperitivo on the terrace, before a dinner that is all about long tables, honest food and having a good time. If you have been to one of the dinners we have done with Ed before, you know what to expect, you are in for a treat. Tickets are £50 for food and wine and can be purchased by shooting Brawn an email
On Tuesday 12th May join us at Duck Soup in Soho from 5-7pm for aperitivo with Roberto. He'll be manning the bar with a couple of magnums of Quarticello, pouring glasses for a fiver. There will be plates of salumi because it would be silly to drink Lambrusco without some cured pig. No need to book, just pop by, close your eyes and pretend you are in Parma.