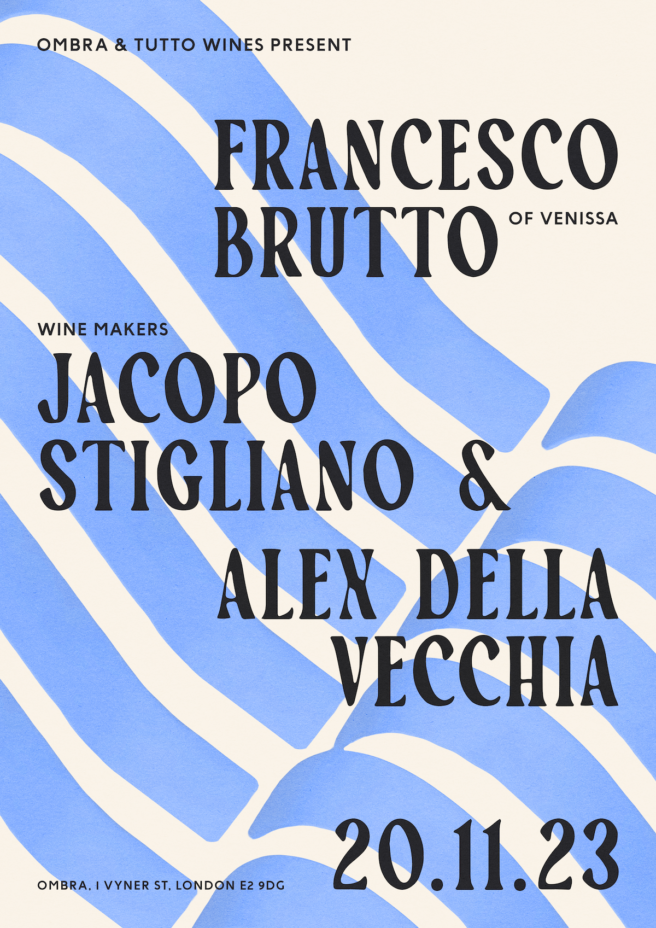 Next Monday 20th of November, we welcome chef Francesco Brutto of Venetian restaurant Venissa and winemakers Jacopo Stigliano and Alex della Vecchia to London for a special dinner at Ombra.
In a beautiful setting on the tiny island of Mazzorbo, over the past decade Venissa has become one of the most talked about restaurants in Italy, offering a highly original take on Venetian cuisine based on the unique ingredients found in the lagoon, the Adriatic and further afield in the Veneto. Their commitment to sustainability has seen them earn a green star from Michelin and this passion extends to the wine list, which is one of the best in Italy at championing the kind of wines we love.
Alex and Jacopo are part of the next generation of young Italian growers who work with a deep respect for nature and the ways of old. They make pure, soulful and decidedly old fashioned wines that carry a wonderful sense of place and we can't wait to welcome them back to London.
On the night, Francesco and Ombra's chef, Mitshel Ibrahim will be cooking on a special, one-off menu taking advantage of the best ingredients our isles have to offer.
The price is £50 for 5 courses and please note that unfortunately, given the nature of the event, the chefs are unable to accommodate dietary requirements on this occasion.
Alongside the menu, a large selection of Alex and Jacopo's wines will be available to purchase both by the glass and bottle, with the guys on hand to share the story behind each.
The evening will begin at 7pm with aperitivo, before everyone sits down for dinner at 7:30.
Tables can be booked via Ombra's Resy page.
We hope you can join us for an evening with some of the best young talents in Italy today.