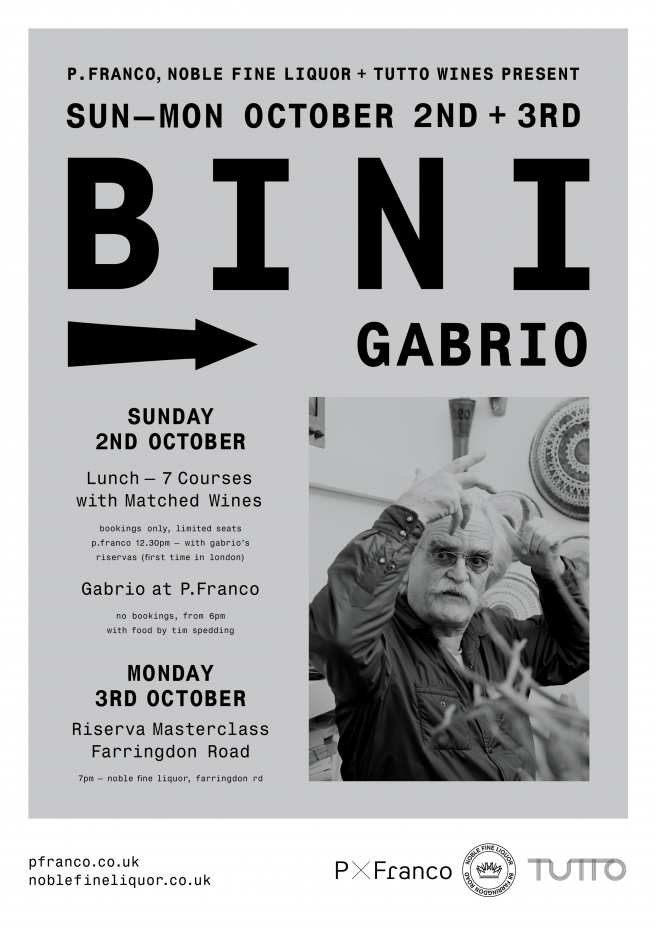 Gabrio Bini is perhaps our most known and loved producer. The wines he produces from the old vines and ancient terraces of his farm, Serragghia on the island of Pantelleria taste like no other. They are amongst the most pure, expressive and delicious we have tried.
It is always a pleasure to have Gabrio in London, but this visit is really going to be something special as he will be sharing four new wines for the very first time. Named after members of his family, the four 'riservas' include a remarkable new Zibibbo from pie franco vines ('Genevieve'), a Nerello Mascalese ('Agung'), a Pinot Noir ('Gabrio') and Carignano ('Giotto') and Gabrio made just 300 bottles of each.
To celebrate their arrival, we are hosting a series of very special events. These will be the only opportunity to taste the wines  in London. We hope you can join us.
Lunch with Gabrio – P.Franco, Sunday 2nd October at 12:30pm
We have never been as excited for an event as this. Next Sunday, join Gabrio at one of the dozen seats around the bar at P.Franco as he and P.Franco's chef Tim Spedding host a lunch for the ages.
Guests will enjoy seven wines from Gabrio and seven courses from Tim pairing the best of Britain's larder with products from the Serragghia farm. Wines will include his Zibibbo and Fanino, the four riservas and a rare, nine year old Moscato direct from Gabrio's cellar.
Cuttlefish, Celery, Shallots & Serragghia Capers
Gabrio Bini, Serragghia Zibibbo 2014
Crudo of Seabass, Apple, Shiso & Serragghia Colatura di Alici
Gabrio Bini, Serragghia Riserva Genevieve 2014
Cornish Mackerel, Quince & Wild Fennel
Gabrio Bini, Serragghia Fanino 2012
Mallard, Beetroot, Blackberry & Thyme
Gabrio Bini, Serragghia Riserva Agung 2014
Tamworth Pork Jowl, Flageolet & Oregano
Gabrio Bini, Serragghia Riserva Gabrio 2014
Yorkshire Grouse, Chanterelle, Black Fig, Orange & Clove
Gabrio Bini, Serragghia Riserva Giotto 2014
Plums, Citrus & Almond
Gabrio Bini, Serragghia Moscato 2007
Tickets are £200 for seven courses of food and wine. They are strictly limited and must be purchased in advance online
For those that miss out on a seat at lunch, from 6pm the man himself will be behind the bar pouring a bunch of his wines by-the-glass. Tim will be cooking a few snacks using products from Gabrio's farm and we expect it to be a hell of a good time.
A Pantelleria Masterclass – Noble Fine Liquor Farringdon,  Monday 3rd October at 7pm
On the Monday, Gabrio will be hosting a masterclass at Noble Fine Liquor on Farringdon Road. This intimate tasting will provide guests with an opportunity to taste all four of his riservas side-by-side, with Gabrio on hand to share the story behind each of the wines and tales from the wild and wonderful island of Pantelleria.
Gabrio will be pouring the following wines, presenting them at a tasting in the UK for the first and probably the last time.
Gabrio Bini, Serragghia Riserva Genevieve 2014
Gabrio Bini, Serragghia Riserva Agung 2014
Gabrio Bini, Serragghia Riserva Gabrio 2014
Gabrio Bini, Serragghia Riserva Giotto 2014
Tickets are £30 and must be purchased in advance online