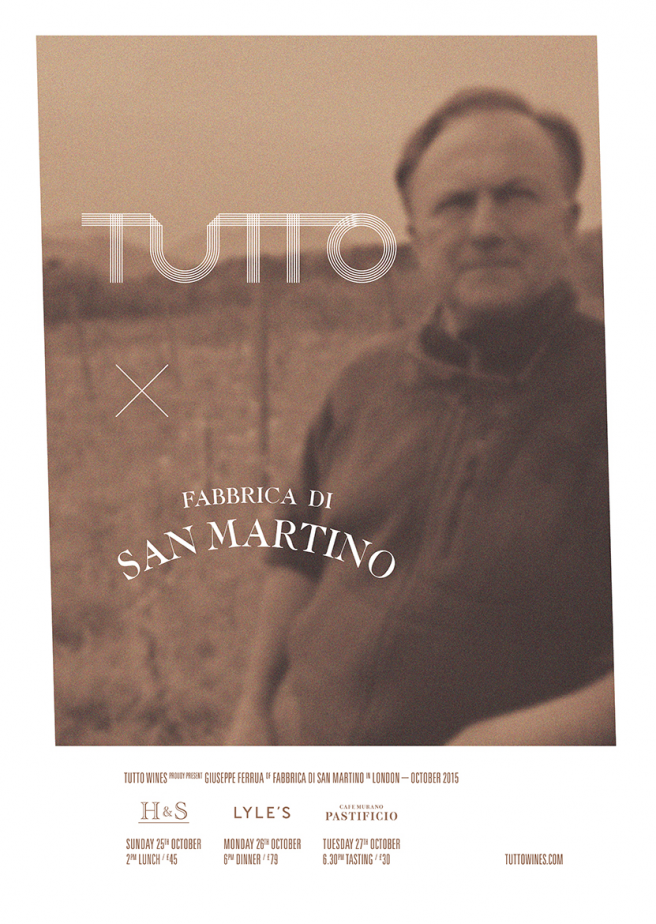 We are very excited to announce that Giuseppe Ferrua of Fabbrica di San Martino will be joining us in London in a couple of weeks time. From his biodynamic farm in the Colline Lucchesi just outside Lucca, Beppe crafts some of the most delicious wines being made in Tuscany today.
His story is an interesting one, having run one of Lucca's favourite trattorias for many years, Beppe begun tending the vines here some 20 years ago. Without any formal training, he learned by working alongside and watching carefully the ageing contadini who had looked after the land for many years. Historical documents indicate that this has always been a place where biodiversity is championed and the land is worked honestly and it remains so today. The family's Arcipressi vineyard is testament to this philosophy, comprising less than one hectare of 70 year old vines that is home to over a dozen heirloom grape varietals with a centuries old olive tree at it's heart.
Having discovered that this isolated vineyard had never been subject to chemicals, Giuseppe decided to continue this way of growing organically, later converting the farm to biodynamics. As is so often the case, a healthy vineyard makes for vibrant wines and these are wines of real purity and drinkability, two characteristics sadly missing from a lot of wines in the area these days. We hope you can join us for one of the following events.
A Winemakers Lunch at Hill & Szrok
Sunday 25th October – 2pm
As well as making great wines, Beppe is also pretty handy in the kitchen. To celebrate his arrival in London, before the main event at Lyle's the following evening he'll be cooking a simple winemakers lunch at Hill & Szrok, just like he did for us when we visited in the spring. There will be a little salumi, some handmade pasta with ragu, slow roast pork with Tuscan beans and pears poached in his wine. Tickets are £45, with just a handful of spots up for grabs. If you would to join us, please send us an email
The Bar Series with Giuseppe Ferrua of Fabbrica di San Martino and Tutto Wines at Lyle's
Monday 26th October – from 6pm
The following evening we will be at Lyle's in Shoreditch to host a dinner pairing Beppe's wines with chef James Lowe's excellent British food. Over the last year or so, Beppe's wines have found a real home at Lyle's with their savoury, pure character having a natural affinity with James' food. Guests will be treated to a seasonal menu from James to be paired with the following wines:
Fabbrica di San Martino, Arcipressi Bianco 2014
Fabbrica di San Martino, Arcipressi Rosso 2014
Fabbrica di San Martino, Fabbrica di San Martino Rosso 2012
Fabbrica di San Martino, Rubino Riserva 2011 (from magnum)
Tables are available from 6pm onwards. Tickets are £79 all inclusive, are already selling fast and can be purchased in advance by calling the restaurant on 020 3011 1547 or sending them an email
Meet the Winemaker: A Tuscan Masterclass at Cafe Murano Pastificio
Tuesday 27th October – 6:30pm
For the last hurrah, Beppe will be hosting a masterclass at Cafe Murano's Pastificio in Covent Garden. After welcome drinks, Beppe will spend an hour or so teaching guests about the finer points of biodynamics, the Colline Lucchesi and his farm while enjoying four different wines from the Fabbrica farm. Those who wish to stay for dinner afterwards will be able to pick up a bottle of Beppe's wine from the pastificio and drink it next door in the restaurant free of charge. Tickets are £30 and can be purchased in advance via Eventbrite.