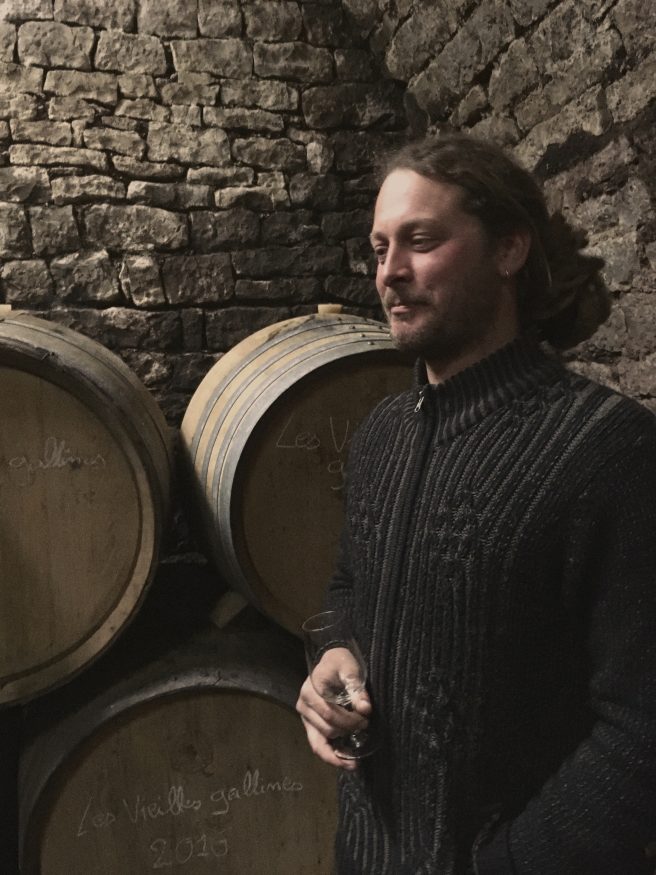 Arnaud Greiner farms just under a hectare of old vines planted over six remote parcels and a variety of terroirs around his home in Liesle.
The micro plots are spread out between the Jura and the neighbouring Doubs and planted with a heady mix of Chardonnay, Savagnin, Melon à Queue Rouge, Ploussard, Pinot Noir, Trousseau, Gamay and ancient varieties.
Given that his day job is working alongside Etienne Thiebaud of Domaine des Cavarodes, it is needless to say that Arnaud works with a real respect for nature in the vines. Tending them by horse and hand, he is certified organic by Ecocert.
Our tastings in the cellar with Arnaud have revealed a real talent, his wines display an incredible amount of clarity and focus and we look forward to following his work in the coming years.
ARNAUD GREINER Les Vieilles Gallines 2017
From an old vineyard of Melon à Queue Rouge, a Jurassic kind of Chardonnay, here planted over pure limestone. The grapes are pressed directly as whole bunches and ferment in cuve, before being transferred to a combination of old barrels and cuve for two years of élevage. This is an incredibly layered take on the grape, with complex notes of salt, stone and spice.
ARNAUD GREINER La Cart'ouche 2018
A blend of around eighty percent Pinot Noir with a little Ploussard and Trousseau from four parcels around the village of Liesle. Destemmed by hand and fermented in cuve on the skins for around a month, before being pressed off to old barrels for a year. A delicate, savoury wine that pairs little red fruits with just the right amount of earth and spice.