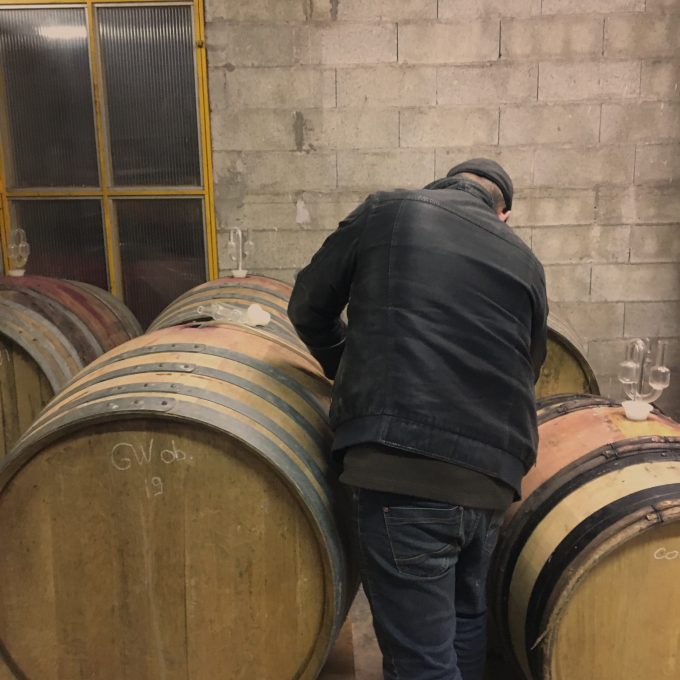 We are thrilled to introduce the wines of Lambert Spielmann.
We first met Lambert at his home in the Alsatian village of Saint-Pierre last December. The roads were covered in snow, the temperature well below freezing and we were at the end of a marathon jaunt visiting growers in the Jura, Doubs and Alsace. It's safe to say that we were lacking a little enthusiasm. Thankfully Lambert is one of the nicest guys we've met and his sincerity, passion and strikingly pure, vibrant wines were a breath of fresh air.
Unlike many in the region, Lambert wasn't born into a family of vignerons and while continuing to work alongside others, he now farms two hectares of vines split over eight parcels and various terroirs in and around the village of Epfig. The vineyards have been certified organic for over twenty years and he tends them by hand, following the biodynamic calendar and principles.
In the cellar, Lambert displays a real lightness of touch. Presses are soft and slow and he macerates the grapes gently, to create infusions. Movement is by gravity and the wines are bottled with no additions. His wines are perfumed, textured and full of life. An undeniable talent, we are very proud to be sharing his work with you. 
These following wines are now live on Tutto a Casa
LAMBERT SPIELMANN Poing Levé 2019
This Riesling comes from a parcel of vines up to seventy years old planted over clay and limestone. The grapes were pressed directly to vat, where the wine aged for ten months. Compact and elegant, this impresses with remarkable purity of fruit and a dense, stony minerality. A wine where every little thing appears to be in place.
LAMBERT SPIELMANN This is Muska 2019
This is a field blend of young vines planted with three kinds of Muscat (à Petits Grains Blanc & Rouge and Ottonel) planted over clay. The grapes fermented as whole bunches for a fortnight, before being pressed off to vat for nine months. The aromas really jump out of the glass, with lifted notes of citrus zest and herbs. Lithe and lively, this is wonderfully refreshing.
LAMBERT SPIELMANN Mariage Plus Vieux 2019
This blend of Sylvaner and Gewurztraminer comes from a parcel of sixty year old vines planted over clay. The Gewurztraminer is destemmed and macerates in the juice of the Sylvaner for seven months in vats. Perfumed and intense, the nose is thick with spice. The tannins are fine and a beautiful bitterness to the finish adds real intrigue.
LAMBERT SPIELMANN Red Z'Epfig 2019
This is an even blend of Pinot Noir planted over clay and limestone and Pinot Gris planted over clay, fermented together as whole bunches for two weeks and pressed off to a big old cask for nine months of élevage. Delicate and nuanced, with complex notes of red berries, minerals and spice, there is an almost weightless, fragile character to the fruit that makes this incredibly compelling drinking.