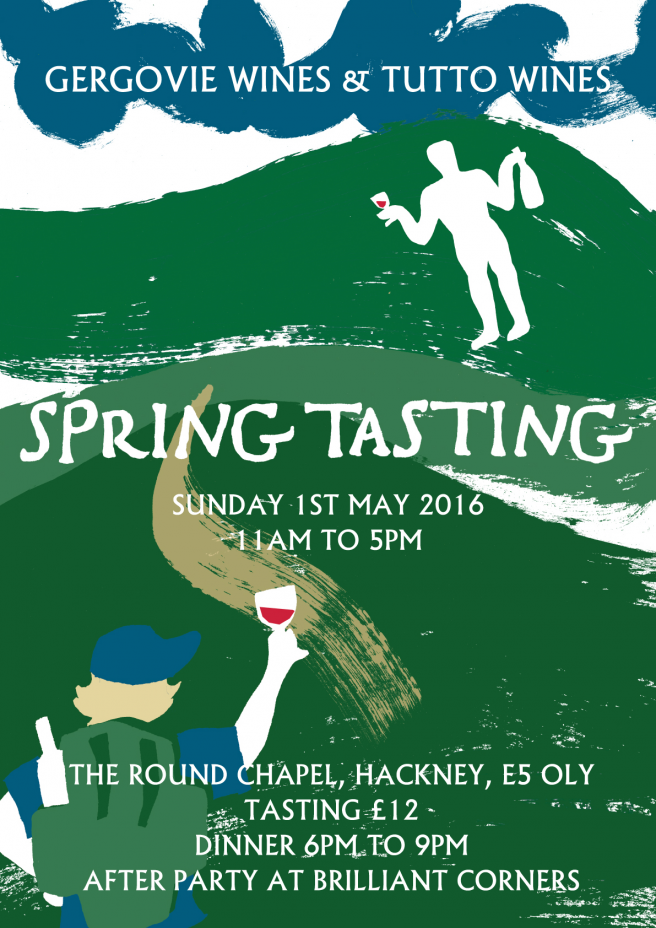 On Sunday May 1st of the bank holiday weekend we are teaming up with our friends Gergovie Wines to host our annual Spring Tasting
This year the tasting will take place in the wonderful surrounds of Hackney's Round Chapel. You can taste with some of Europe's best vignerons, enjoy a bottle a two of their wine from the bar and stay for dinner by the guys from 40 Maltby Street.
Afterwards, join the growers to dance the night away with a glass of their wine in hand and sweet, sweet music filling the room at everyone's favourite London bar, Brilliant Corners.
The plan for the day is…
Tasting
11am – 5pm – £12 on the door
Dinner
6 pm – 9pm – no reservations, a la carte menu
Party
9pm 'til late at Brilliant Corners
The following growers are already confirmed and we will announce more in the coming weeks. We are just a little bit excited about this.
Aurelien Lefort
Barranco Oscuro
Cantina Giardino
Cascina Tavijn
Catherine Bernard
Cristiano Guttarolo
Daniele Piccinin
Domaine Bobinet
Domaine Sauveterre
Gabrio Bini
Jean-Pierre Robinot
Jerome Lambert
Jolly Ferriol
Klinec
La Grapperie
Lammidia
La Sorga
Le Coste
Les Capriades
Les Hautes Terres
Les Vignes de Babass
Marco Buratti
Mauro Vergano
Monteforche
Mylene Bru
Olivier Lemasson
Pacina
Petit Domaine de Gimios
Potron Minet
Skerlj
Vincent et Marie Tricot
Vinyer de la Ruca