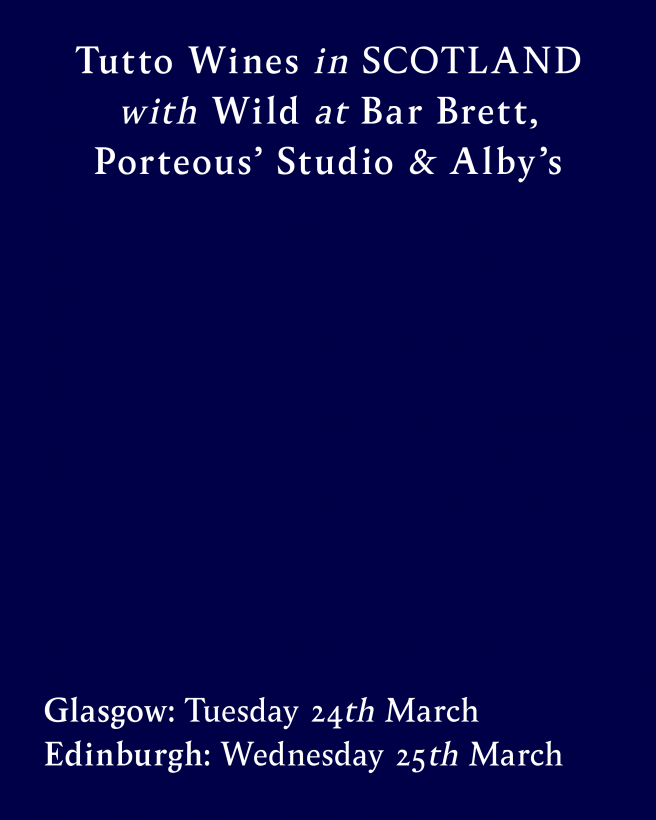 In a few weeks time we will make our first trip of the year to Scotland.
Our friends India and Jo of Wild have been instrumental in putting the kind of wines we love on the map in their beautiful country and we are thrilled to be joining them in the north.
On Tuesday 24th of March we will be heading to Glasgow for the very first time for an afternoon tasting at Bar Brett. If you work in a restaurant, bar, pub or wine shop and would like to meet us and taste some wines, feel free to drop by anytime from 1pm to 4pm.
On Wednesday 25th we are heading back to Edinburgh for a portfolio tasting in the beautiful surroundings of Porteous' Studio. The tasting will run from 10am-4pm and we'll be opening plenty of new releases. If you work in the trade and would like to join us, please RSVP via info@tuttowines.com
In the evening everyone is welcome for a very special event at Alby's in Leith. We'll be digging up rare old gems from Timberyard's incredible cellar, pouring them from bottles big and small. Expect beautiful wines, aged impeccably from the likes of Cantina Giardino, Julie Balagny, Frederic Cossard, Cristiano Guttarolo, Jean-Pierre Robinot and Farnea and a lovely little menu of sandwiches and snacks with a Mediterranean accent to wash it all down.
The night will run from 5pm until 11pm. You can book a table by calling the restaurant on 0131 285 3720 and there will be plenty of space for walk ins if you'd just like to drop by for a glass or two.
We hope to see you then.
Alex , Damiano & Stefania