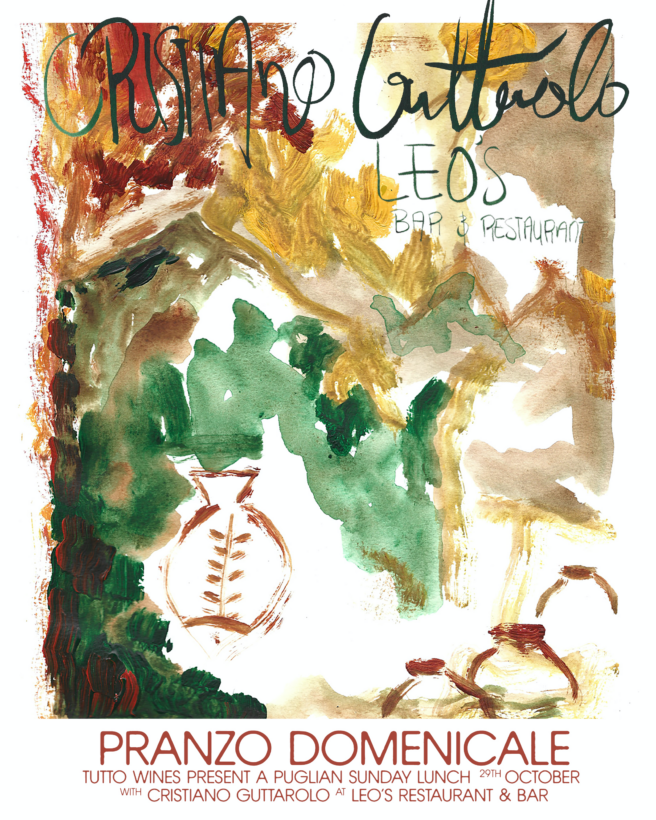 On Sunday 29th of October we welcome Cristiano Guttarolo back to London for a long Sunday lunch at Leo's in East London.
Cristiano's farm is just outside the village of Gioia del Colle, where his vineyards and olive trees are planted some four hundred metres above sea level over the rugged karst terrain of the Murge Plateau. Here, daytime temperatures are cooler than usual thanks to a strong breeze from the Adriatic and the site's elevation brings cool evenings. The unique landscape produces wines that are thrillingly unique. Heady with wild, sunkissed fruit, they retain a lightness so often missing in this part of the world.
Like all great Italian wines, Cristiano's are best enjoyed alongside the region's cuisine, and for our lunch Leo's chef Giuseppe Belvedere has written a beautiful menu of classics to accompany the wines. There will be capocollo, fave e cicoria and vegetables sott'olio to start, then crudo and cozze, a mixed grill of lamb, pork and homemade sausages served alongside patate al forno, just like they do in the Val d'Itria and Peppe's wonderful gelato to finish.
The set menu is priced at £45 and tables can be booked at either 1pm or 3pm via the restaurant's OpenTable
To wash it all down, a large selection of his Cristiano's wines both young and old will be available to order by the glass or bottle, and Cristiano himself will be on hand to explain the story behind each.
If you'd like to join us and can't make lunch, or would like to linger after your meal, the bar at Leo's will be open into the evening, offering Cristiano's wines alongside snacks from the kitchen.