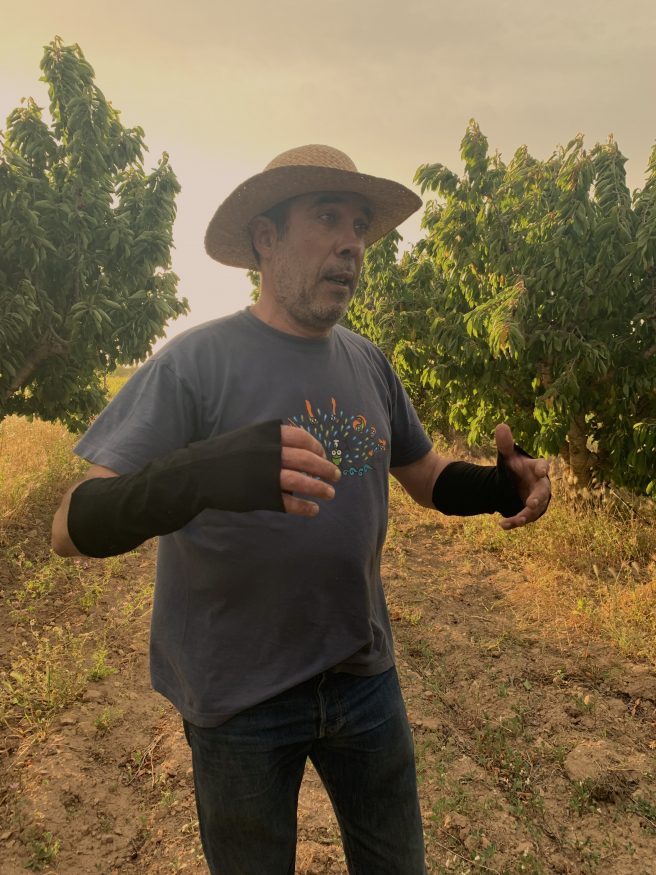 Laureano Serres is a legend of the Catalan wine scene. His home and cellar are based in El Pinell de Brai, a hot, dusty little town that looks like something out of a Spaghetti Western and serves as the unlikely ground zero of the region's lively wine scene.
A pioneer who has been influential in inspiring others in the area to return to their winemaking roots, Laureano was also there the night the Brutal Wine Corporation was founded and is an organiser of one of Europe's most talked about wine fairs, H20 Vegetal. His spirit, sense of community and love of life are both legendary and infectious and like so many before us, when we visited for the first time we were welcomed with open arms.
Laureano was working as a computer programmer in Madrid when he decided a change of scenery was necessary and returned to his hometown to head the local winemakers cooperative. A couple of years later he set off on his own, bottling wine under the Mendall label from the 1999 harvest. He has worked with organic fruit from the very beginning and since 2002, after forgetting to add any sulphur to the wines and liking the result, he has never looked back.
He now farms six hectares of vineyards spread over parcels in El Pinell at around 170 metres of altitude and higher up in the Terra Alta, where they reach some 500 metres above sea level. There is little topsoil, meaning the vines dig right into the limestone bedrock below. The terroir lends the wines a freshness and complexity that is not always common in this part of the world.
Wines are made in all manner of vessels in his small cellar and while limited space dictates that the majority of wines are bottled before the following harvest, Laureano practices a unique kind of wine making which combines creativity and restraint to great effect. They are wines which are truly one-of-a-kind, vivid expressions of man, grape and place.
We have just received a small amount of the following wines.
MENDALL Terme de Laureano 2 2018
Macabeo from forty year old vines planted some 470 metres above sea level in the Terra Alta. The fruit was given a direct press and fermentation and elevage took place in stainless steel. Delicate, with a gentle nose of white flowers and minerals, and a lovely lightness on the palate.
MENDALL Terme de Guiu La Plana M 2018
Macabeo from a young vineyard planted 470 metres above sea level on his highest plain in the Terra Alta. A part of the wine is racked off after a short maceration on skins and the remaining fruit is pressed off at the end and added to the final blend in a single 2000 litre amphora for a few months of elevage. Light peach in colour, it has a beautiful nose of citrus and spice, flesh, grip and a pleasant, cleansing acidity.
MENDALL Brutal 2018
Macabeo from a forty five year old vineyard some 470 metres above sea level in Abuerador. The first half was a direct press which spent six months in amphora, the other half saw a week of maceration with the skins and was aged in steel. This is a complex, textural wine that pairs ripe fruit and a pleasant saltiness to brilliant effect.
MENDALL La Thierrica de Barri 2018
From a single old barrel gifted to Laureano by his friend Thierry Puzelat. This is a blend of Garnacha from a twenty year old vineyard in El Pinell de Brai and Carinyena from a thirty five year old parcel in the Terra Alta. The Garnacha spent a couple of days on skins, while the Carinyena was given a direct press. Both fermented in cuve and were moved to the old barrique for a short elevage. The result is a wonderfully expressive wine full of wild, brambly fruit, fistfuls of spice and a wonderful lick of acid on the finish.
MENDALL Terme de Laureano 2018
Carinyena from vineyards around 470 metres above sea level in Terra Alta. The grapes were destemmed and spent 10 days on skins with no pigeage before ageing in cuve. A beautiful expression of the grape, compact and elegant with lots of little red fruits and a line of acid keeping things fluid. This was only bottled in magnum and just a handful made it to the UK so you'd best be quick.