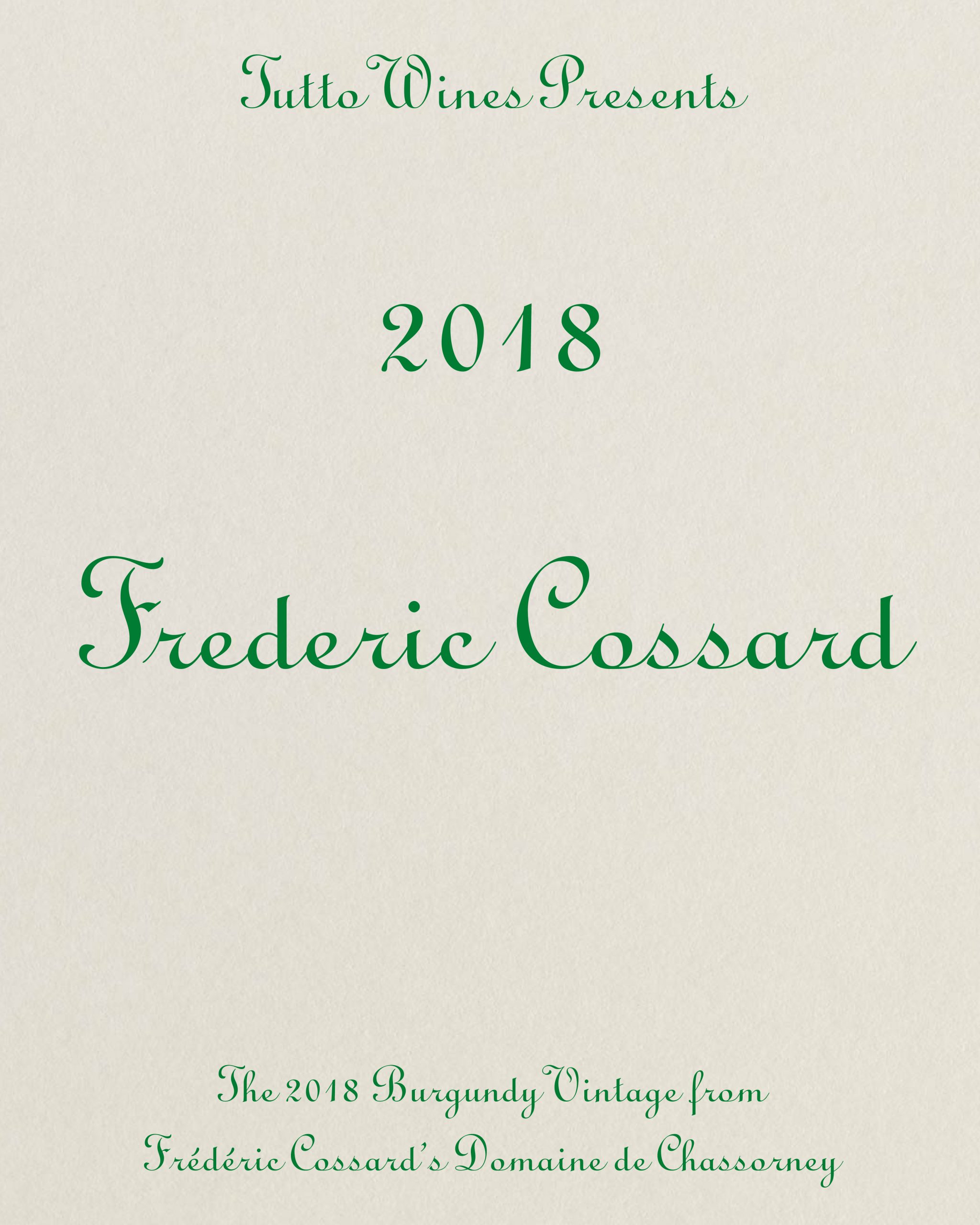 We are thrilled to have received the 2018 vintage of Burgundy from Frédéric Cossard's Domaine de Chassorney.
Fred, a larger than life character who wasn't born into a family of vignerons, started the domaine in 1996 and has built it up little by little. He has worked organically from the outset and over the last few decades has garnered a reputation across the world for producing Burgundy of rare liveliness, purity and detail.
The 2018 harvest was the first with a semblance of normality here in almost a decade. A wet spring was followed by a long period of drought and while the Cossards expected all the hallmarks of a hot vintage, instead they harvested fruit that was healthy, generous and perfectly ripe.
Fred's quest for purity has led to him eschwing the use of sulphur and having grown tired of the trappings of oak, experimenting with concrete eggs and qvevris for élevage. The qvevris were made by a master ceramicist in Georgia and range in size between 900 and 1400 litres. They are sealed with beeswax on the outside only and submerged in earth inside the cave in Saint Romain.
These are the first wines from the region we have tasted from these vessels and they are simply a revelation. This is Burgundy in a different guise – open and expressive in its youth, tactile, fine and alive.
Fred's wines are in increasingly high demand across the world and as a result we have only received a small amount of some of these.

Please let us know what you'd like and we will do our best.

Prices can be found in our a Casa list

We offer 10% off orders of 6 bottles or more and free shipping on all orders over £150 in England and Wales.
FREDERIC COSSARD Bourgogne Blanc 'Bigotes' 2018
Chardonnay from forty year old vines planted over clay and limestone near the village of Puligny. A wine that is quickly becoming one of our all time favourites, this is already remarkably open and displays everything we love about Burgundian Chardonnay, with great balance, gorgeous stone fruits and a clean, salty finish.

DOMAINE DE CHASSORNEY Saint Romain 'Combe Bazin' 2018
From a single vineyard of Chardonnay planted high on the steep slopes of Saint-Romain, where you find a lot of limestone. This is perhaps the domaine's most iconic wine and it is easy to see why. A Chardonnay of real verve, it displays beautiful balance, with a lovely mineral imprint from those limestone soils.

FREDERIC COSSARD Beaune 'Les Bressandes' 2018
Chardonnay from a fifty year old vineyard better known for its premier cru red wines, the terroir here is a combination of sand and clay, producing a classically Burgundian Chardonnay with balance and detail. This is a little leaner and racier than previous vintages, with a real saltiness to the finish.

FREDERIC COSSARD Puligny Montrachet 'Voitte' 2018
An example of just how wonderful Chardonnay from the best vineyards in this storied village can be. A little masterpiece from Fred that while no doubt opulent, displays that tightrope balance of power, precision and poise that is so difficult to find.


FREDERIC COSSARD Bourgogne Rouge 'Bedeau' 2018
Pinot Noir from a number of plots of forty year old vines in and around the village of Volnay and a parcel of fifty year old vines in Nuits-Saints-Georges. This is everything we look for in a Bourgogne rouge and then some, with gorgeous fruit, a hint of earth and just the right amount of wildness to pile on the charm.
DOMAINE DE CHASSORNEY Hautes-Côtes de Beaune 'Puits de Chaux' 2018
From a single, 1700 litre concrete egg, this was one of the highlights of our tasting last year. You really feel that little increase in elevation here and this is one of the most lifted and fragrant expressions of Pinot you are likely to try from the region.
DOMAINE DE CHASSORNEY Bourgogne Rouge 'En Carran' Qvevris 2018 [1.5L]
From a tiny parcel of twenty year old vines of Pinot Noir farmed in the limestone rich area of Saint-Romain. The élevage in qvevris has really allowed this site to sing, producing a compact, elegant wine with gorgeous perfume. With the site occupying just a third of a hectare, they've decided only to bottle magnums of this.
DOMAINE DE CHASSORNEY Saint Romain 'Sous Roche' 2018
From fifty year old vines of Pinot Noir planted in one of the steepest, shallowest parts of Saint Romain. This year the élevage took place in 1700 litre concrete eggs and true to site and form, this is a lively, lean and vertical wine that really blossoms in the glass.

DOMAINE DE CHASSORNEY Volnay 1er Cru 'Les Roncerets' 2018
From seventy year old vines in the lauded premier cru of 'Les Roncerets', it is the first time in a long time that Fred has been able to produce this wine, which he counts amongst his very best. This impresses with its gorgeous perfume, gentle spice and a mineral finish.
FREDERIC COSSARD Nuits-Saint-Georges 'Les Damodes' 2018
This beautiful Pinot Noir comes from a lieu dit of sixty year old vines right on the border with Vosne-Romanée, meaning it has a little more limestone in proportion to clay than one might expect to find in Nuits-Saints-Georges. This might explain the striking tightrope balance of power and finesse.

FREDERIC COSSARD Gevrey-Chambertin 'Les Genevrières' Qvevris 2018
Another first for Fred, this is a stunning village Gevrey. From a parcel of forty year old vines, this is taut, powerful and a little sanguine, the time spent in qvevris seems to have added real nuance to its layers of dark fruits and spice.
FREDERIC COSSARD Morey-Saint-Denis 'Les Champs de la Vigne' Qvevris 2018
From a sixty year old parcel planted with the rare Pinot Fin that is farmed by the same grower as the premier cru 'Les Monts Luisants'. The élevage in qvevris has really allowed the aromas to soar, while the palate displays delicate fruit wrapped around a mineral core.
FREDERIC COSSARD Morey-Saint-Denis 1er Cru 'Les Monts Luisants' 2018
From a tiny parcel of seventy year old vines planted with the rare Pinot Fin at the top of the village which borders Clos de la Roche. This is a hauntingly complex, beautiful wine that will continue to garner detail over a long, long time.