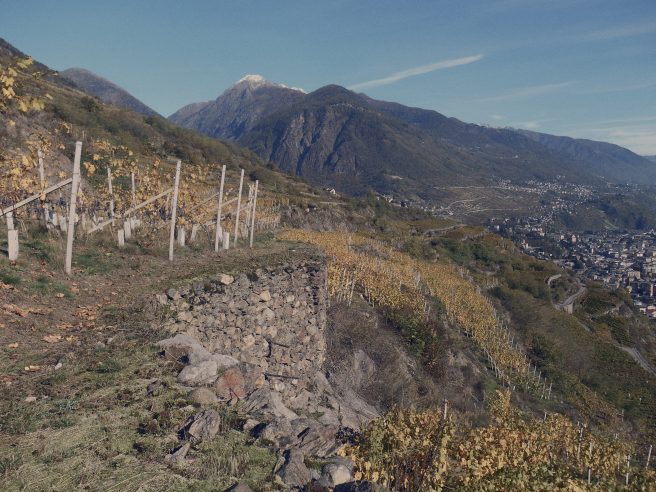 ArPePe were one of the first producers we worked with and we are very happy to have their new releases in London.
Her family are renowned for the decidedly old-school, soulful Nebbiolo they produce high in the alps of Valtellina. Here the steep, south facing terraces provide a dramatic backdrop that produces delicate, fragrant expressions of the grape.
We have just received the following wines.
ARPEPE Rosso di Valtellina 2017
As always a wine that over delivers in every way. From vines more than fifty years old planted over granite, fruit is sourced from the lower parts of their parcels across the various crus at around 350-400 metres above sea level. The grapes undergo a long, gentle maceration with the skins in tini, before being pressed off to big old chestnut casks. This is a perfect introduction to the kind of lithe, perfumed Nebbiolo they do so well. We have plenty of magnums too.
ARPEPE Grumello Riserva Buon Consiglio 2013
At 350 metres above sea level, this dramatic fifty year old vineyard sits directly above the family's cantina, which is artfully carved into the granite bedrock. After a long maceration with the skins, the grapes are pressed off to large chestnut casks for a long, gentle élevage that lasts four years. This is a beautiful example of mature mountain Nebbiolo, with sweet, delicate fruit, fine tannins and a wonderful herbaceous note.
ARPEPE Sassella Riserva Rocce Rosse 2013
From a unique terroir, even by this dramatic valley's standards. On a single plot of fifty year old vines planted over red granite near the top of the Sassella cru at nearly 500 metres above sea level. The wine sees a maceration of forty days in tini and rests in huge old chestnut casks for four years before bottling. It is complex and intense, with a wild, sanguine note from the iron in the soils and a pronounced minerality. A wine with an uncanny sense of place.
ARPEPE Sassella Riserva Ultimi Raggi 2013
From a parcel in the very highest part of Sassella, around 600 metres above sea level, this is what the great sforzato wines once were and perhaps what they ought to be. The Perego's believe that a true expression of grape, place and vintage is lost when one dries grapes away from the vineyard. Instead they harvest their fruit late, allowing the grapes to dry on the plant. The wine spends thirty days on skins in tini and four years in huge old chestnut casks and is impossibly deep.