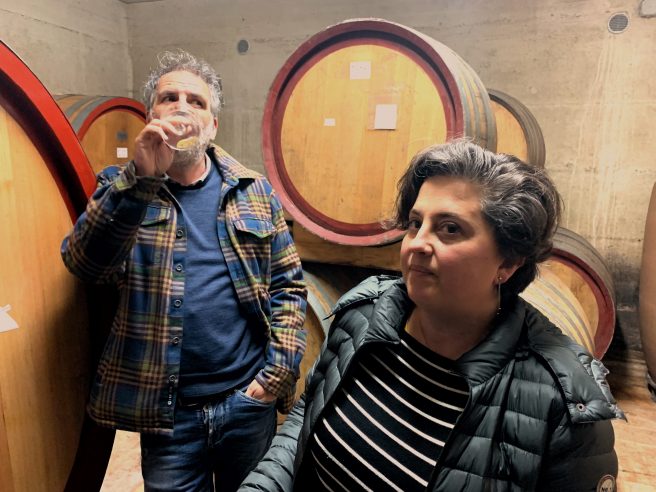 An arrival of wines from Antonio and Daniela of Cantina Giardino is always cause for celebration and given how these wines were tasting on our visit last year we could not be happier to have them in London.
These new releases are all from the 2018 vintage, where cold and wet weather led to delicate grape skins, early picking and shorter macerations. Reflecting these conditions, the resulting wines are pure and delicate, low in alcohol and unusually approachable at this age.
We have just received the following wines.
CANTINA GIARDINO Paski 2018
From seventy year old vines of Coda di Volpe planted around 450 metres above sea level. In this cooler vintage it spent just a couple of days on skins before being pressed off to chestnut casks for a year. Clean as a whistle, with impeccable balance and a hint of spice. We have a handful of magnums and jeroboams available too.
CANTINA GIARDINO Tutu 2018
Fiano from a thirty year old vineyard some 400 metres above sea level in Montemarano. It spent four days on skins and a year in old cherry wood casks. This is a more delicate expression than previous years, though that savoury, herbaceous note is still very much at the fore.
CANTINA GIARDINO Volpe Rosa 2018
From just two rows of seventy five year old vines planted with a rare kind of pink Coda di Volpe some 500 metres above sea level. This spent two days on skins, before being pressed off to sandstone amphorae and chestnut casks for élevage. Reflecting the vintage, this is a compact, elegant rosato with delicate flavours of blood orange, minerals and spice. There are a few magnums and jeroboams available if you are quick.
CANTINA GIARDINO Vino Rosso 2018 [1500ml]
From a parcel of 80 year old vines planted some 500 metres above sea level in Montemarano. A blend dominated by Aglianico and complemented by ancient varieties and about ten percent of Coda di Volpe, this spent three weeks on the skins, before being pressed off to chestnut casks for a year. A riot of black and blue fruits, it has light tannins and a beautiful, cleansing acidity.
CANTINA GIARDINO Le Fole 2016
Aglianico from a remote vineyard around seventy five years old, planted at almost 500 metres above sea level. It sees a month of maceration and two years élevage in old chestnut casks. Full of old vines complexity, reflecting the cool vintage this is a little more linear and fresh than previous vintages.