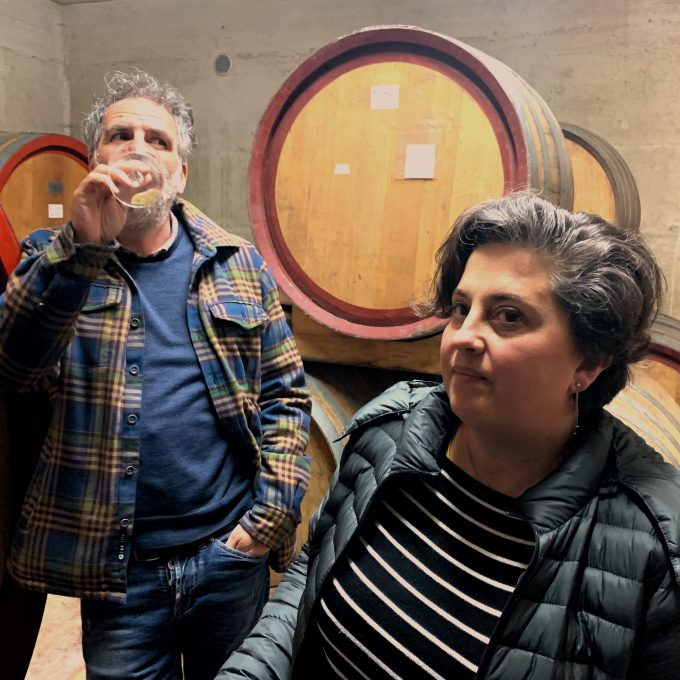 Even in these strange times the arrival of the new wines from Cantina Giardino always puts a smile on our face.
Antonio & Daniela were supposed to join us in London a few weeks ago to present these wines alongside older vintages and new experiments and while it is sad they couldn't make it, we'll be sure to do something special on the other side.
Like the wines released earlier in the year, these are all from the 2018 vintage, where cold and wet weather led to delicate grape skins, early picking and shorter macerations. As a result they are delicate, low in alcohol and very approachable at this young age.
We have just received the following wines along with plenty of magnums and jeroboams of each and after years of waiting, some of their incredible olive oil.
Prices for all formats can be found in our wine list
If you'd like some of these new releases to enjoy at home we are offering a bottle of Gaia, Sophia and T'ara rà 2018 for £95, or the wines and three litres of their wonderful olive oil for £150. Prices include delivery anywhere in England or Wales.
To place an order just send an email via info@tuttowines.com with a name and address for an invoice, along with a name, address and contact telephone number for the delivery.
CANTINA GIARDINO Gaia 2018
Fiano from a 90 year old vineyard planted some five hundred metres above sea level. This spent two days on skins, then a year on its lees in big, old chestnut barrels. It is incredibly open, with complex aromatics and a wonderfully textural palate.

CANTINA GIARDINO T'ara rà 2018
Greco from Santa Paolina and one of the highest vineyards in Campania at 650 metres above sea level. It spent two days on skins, before a year of ageing in old barrels of chestnut. From soils of tufo, this is a savoury, complex wine with beautiful structure and a pronounced scent of smoke.

CANTINA GIARDINO Sophia 2018
Greco from the same vineyard as T'ara rà, planted at elevation in Santa Paolina. This spent six months on its skins in small amphorae, before being pressed off to acacia and chestnut casks to rest for a further six months. This is the lightest and most delicate Sophia we can remember, a beautiful haze of amber, with delicate flavours of citrus, minerals and herbs.

CANTINA GIARDINO Olio 2018 [3L]
A beautiful olive oil from the volcanic hills of Irpinia. Made in tiny quantities from local variety Ravece, much like their wines this is intense, vibrant and truly one of a kind.