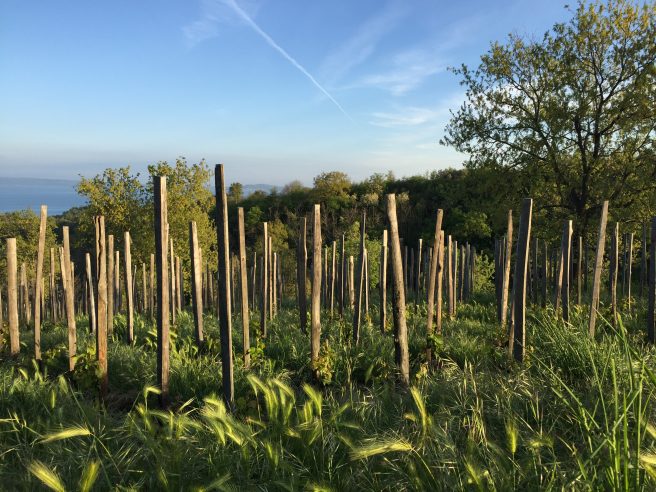 Plenty of excitement surrounds any new release from Clementine and Gianmarco of Le Coste.
These latest arrivals include the new vintages of some of our all time favourites, many of which have spent several years resting in their cellars. They are complex, intricate wines that represent the work of a producer at the top of their game.
Next Monday 9th March from 12noon-8pm we will be pouring a selection of these wines alongside a host of other great producers at the Winemakers Club in Farringdon.
If you work in the trade and would like to come along, please RSVP by replying via tasting@thewinemakersclub.co.uk
LE COSTE Le Bomb'bulle 2011
Bomb'bulle has returned and this time it is Procanico. A petillant naturel that spent seven years on lees before disgorgement last year. This has a delicate bead and complex notes of citrus, salt and spice. Our allocation was just three cases so this won't be around for long.
LE COSTE Bianco 2017 [1500ml]
A blend of Procanico and Malvasia from vines of various ages planted over volcanic soils. It spent two weeks on skins before being pressed off to old barrels to rest for a year. In this warmer vintage we find a slightly deeper, darker and more structured wine that reveals itself slowly over time. Just a dozen magnums made it to the UK.
LE COSTE Bianco R 2017
A 'Riserva' which comes from a selection of their best Procanico from vines young and old. The grapes were destemmed and spent three weeks macerating, before being pressed off to old barrels for two years of rest. A wine of truly impressive structure, power and balance that doesn't want for detail.
LE COSTE Due M 2017
Moscato from two different vineyards, Le Coste and Vigna Grande, with two different macerations: one carbonic, the other just on the skins. It was aged for twenty months in old oak and in this warmer vintage we find a heady wine with pristine fruit, soaring aromatics and a pleasant, herbaceous note to reign it all in.
LE COSTE Paino 2014
Procanico from a selection of the most concentrated fruit on plants of various ages. The grapes were destemmed and spent three weeks macerating in tini. The wine is aged for two years in old barrels and then a further three years of bottle before release. From a cold vintage, this is a more restrained Paino, displaying subtle power alongside a saline character of real appeal.
LE COSTE Rosato 2018
Aleatico from a fifty year old vineyard, planted some 500 metres above sea level. The cool, wet vintage produced delicate fruit that spent just a couple of hours in contact with the skins before being pressed into tank. A year of elevage has rendered a rosato of rare elegance. Lithe, almost fragile with gentle aromatics, it begs to be drunk. As always we have plenty of magnums for those with a thirst.
LE COSTE Lot 20 2016
Grechetto Rosso, the ancient local strain of Sangiovese, from a single vineyard of forty year old vines. The grapes are destemmed and spend three weeks on skins in cuve, followed by a year resting in chestnut casks and two years in bottle before release. This is a wine so typical of the area, a unique expression of Sangiovese that is both mineral and fine.
LE COSTE Alea Jacta Est 2016
From a cool vintage, the fruit comes from forty year old vines of Aleatico and is fermented as whole bunches for two weeks in cement, destemmed and spends a further two weeks on skins, followed by another two years in 500 litre casks. This really shows the freshness of the vintage, with beautiful scents of wild flowers and mint.
LE COSTE PNT 2016
From their 'Piancabella' vineyard, a natural amphitheatre some 500 metres above sea level exposed south east. Here, Pinot Noir is planted on soils made up of small volcanic stones named 'pianca' at a density of 7000 vines per hectare. The grapes are fermented in tini as whole bunches for three weeks, destemmed to macerate for a further three weeks, then pressed off for a year in old casks. This is a delicate, fragrant Pinot Noir with complex flavours of earth, smoke and little red fruits. As always our allocation was tiny and this won't last long.
LE COSTE Olio 2019
Last year's olive harvest was a beautiful one at Le Coste. A blend of local varieties Moraiolo, Frantoio, Leccino and Canino from three parcels, harvested separately and cold pressed that day. This is perhaps the best oil we've tried from the guys and is available in three litre containers.