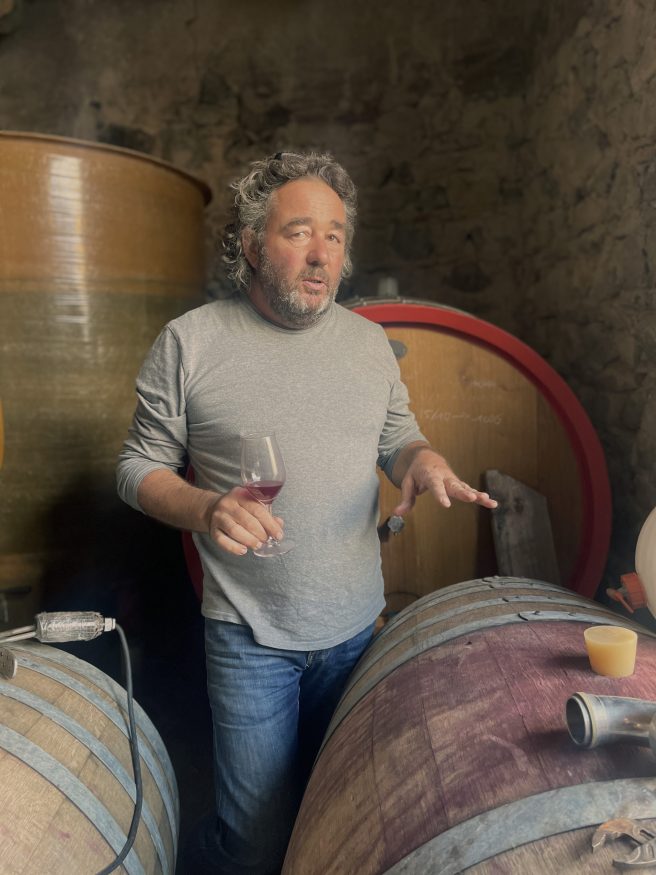 After a beautiful visit and tasting late last autumn, we are thrilled to offer last year's vintage from one of Beaujolais' true originals, Romuald Valot.
Romuald has spent the past decade forging a new path high in the hills above Beaujeu, way out in Beaujolais' west. He now farms a total of eleven hectares in the region, along with a hectare in the Côte de Beaune's Ladoix in his native Burgundy, from which he produces a sublime Pinot Noir.
Romuald practices his own extreme take on organic agriculture. Refusing to spray even copper and sulphur on the vines, he experiments farming without ploughing or pruning in some parcels. In the event he does treat the vines, he does so with his own infusions of wild plants, which he gathers and mixes with spring water, whey and clay.
Romuald's winemaking is comparatively simple. He picks early in the morning, fills each cuve with whole bunches and fastens the cap. After a fortnight of infusion the grapes are pressed slowly over several hours and the wine is moved to old barrels for élevage.
These wines all come from last year's vintage, an uncommonly and unfathomably difficult one in which Romuald's already painstakingly low yields were reduced further by a veritable nightmare of frost, hail and disease. This forced him to get creative, blending parcels and crus to fill the barrels, and whilst quantities are miniscule, the vintage has produced light, bright, delicate and perfumed wines which hark back to the Beaujolais of old.
Romuald's wines are now available on Tutto a Casa