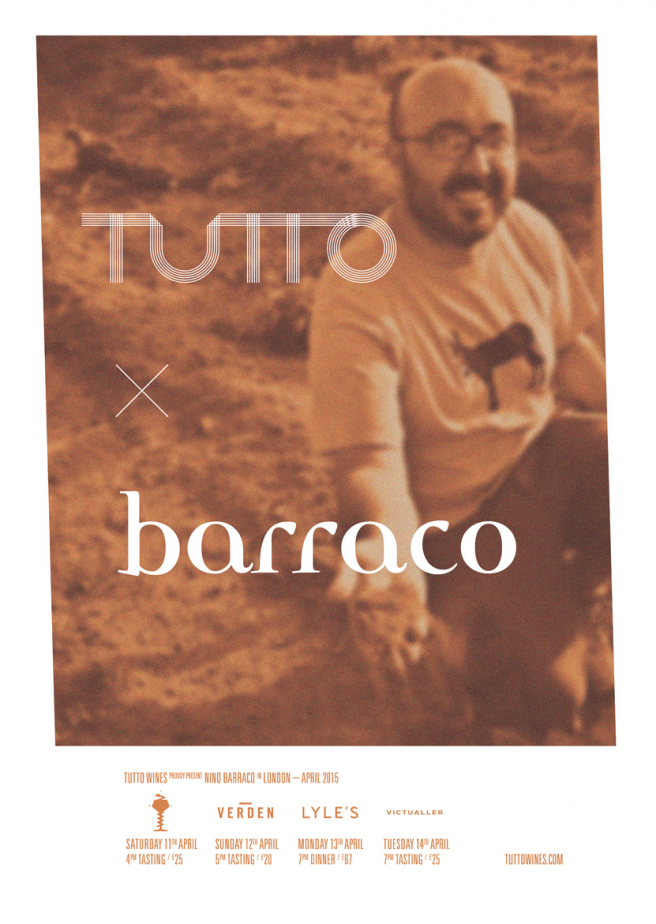 In just under a fortnight one of our favourite winemakers, Nino Barraco will be joining us here in London for a series of very special events. From remote vineyards along Sicily's barren western coast, Nino crafts some of the most vibrant, thrilling wines we have found in Italy.
His riffs on local grapes like Zibibbo, Catarratto, Grillo & Nero d'Avola are aromatically intense and possess a wonderful saline note that speaks of a proximity to the sea. Nino's knowledge of Marsala, it's grapes and vineyards is second to none, we hope you can join us at one of the following events to meet the man and his wines.
A Tasting of Wines Old and New at The Remedy
Saturday 11th April – 4:00pm
On Saturday 11th April we will join our friends at The Remedy in Fitzrovia  for a fascinating tasting comparing vintages of Nino's wines young and old. Guests will taste the following pairs of wines, with Nino on hand to explain the effect that time has on each of the grapes.
Grillo 2012 & 2007
Catarratto 2013 & 2006
Zibibbo 2011 & 2005
Tickets are £25 for wine and snacks from the kitchen. They can be purchased in advance from the restaurant, by calling the on 020 3489 3800 or via email
A Vertical Tasting of Catarratto at Verden
Sunday 12th of April – 5:00pm
The following day we head to Verden in Clapton where Nino will present a vertical tasting of six consecutive vintages of his Catarratto. We will be pouring the following wines, while Nino will be giving an account of each of the vintages in your glass.
Catarratto 2008
Catarratto 2009
Catarratto 2010
Catarratto 2011
Catarratto 2012
Catarratto 2013

Tickets are £20 for the wines and some of Verden's excellent salumi & cheese. They can be purchased in advance by visiting the restaurant, calling them on 020 8986 4723 or via Eventbrite
The Bar Series with Nino Barraco & Tutto Wines at Lyle's
Monday 13th of April – from 7:00pm (SOLD OUT)
On Monday we will be at Lyle's in Shoreditch to host a dinner pairing Nino's vibrant, savoury wines with chef James Lowe's excellent British food. Guests will be treated to a seasonal menu from James, to accompany the following wines.
Vignammare 2013
Zibibbo 2011
Catarratto 2013 & 2009
Grillo 2012 & 2007
Milocca 2006
Tickets to this event are £67 for food and wine but sadly have already sold out on Lyle's pre-release. If you would like to join the waiting list please send us an email
A Tasting Redefining Marsala at Victualler
Tuesday 14th of April – 7:00pm
On Tuesday evening we are joining the good people of Wapping's Victualler to present a tasting of Nino's full range of current releases. Nino will run through each of the following wines, painting a picture of Marsala, it's unique landscape and grapes.
Vignammare 2013
Rosammare 2013
Zibibbo 2011
Catarratto 2013
Grillo 2012
Tickets are £25 for a taste of each of the wines, alongside Victualler's own almonds, bread, cheese & charcuterie and can be purchased by visiting the restaurant or online