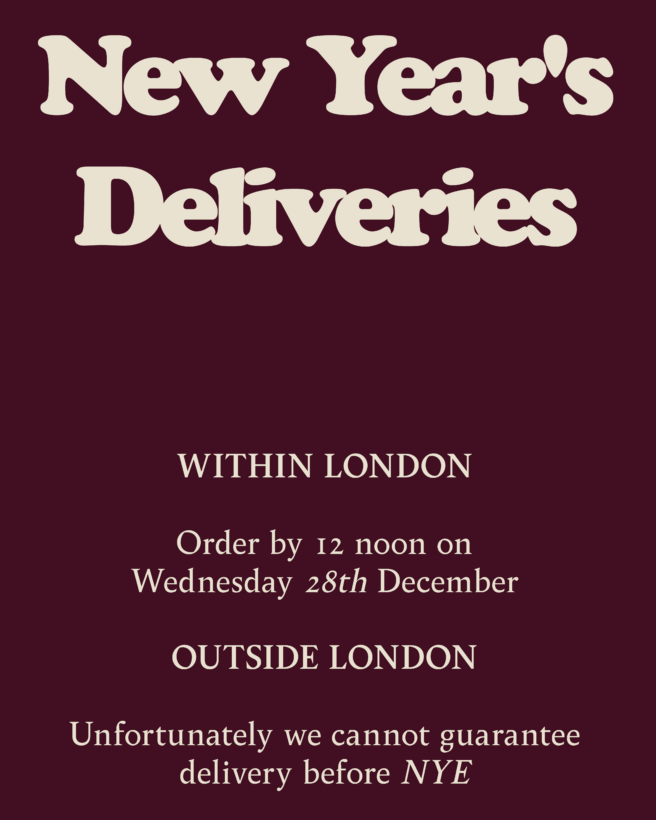 We hope you had a wonderful Christmas and are enjoying some much needed rest catching up with family and friends.
Looking towards the ongoing festivities, we've kept a celebratory feel to the selection of bottles on offer.
Whether you'd like to start the evening with Chinati Vergano's iconic Americano, some beautiful fizz or an aromatic white, there is plenty of joy to be found here. We've also got some special wines at the higher end for those wishing to forget the year that was and toast the new one in style.
For those within London you have until 12 noon on Wednesday 28th of December to place your order and receive your wines before New Year's Eve.
For those outside London unfortunately given how busy our warehouse is at this time of year we want to avoid disappointment and are unable to guarantee delivery before New Year's Eve.
However, if you live in a major city, do feel free to get in touch via email if you have any questions and we will see what can be done.
We hope you have a wonderful evening and look forward to sharing a glass next year.
Alex, Damiano, Jack & Justina