We have recently returned from a short but sweet trip to visit our growers in Lazio and Toscana. It was a joy as always to see the guys from Le Coste, Podere Santa Maria & Fabbrica di San Martino, three charismatic, driven producers working with vastly different terroirs, and vastly different visions of the sort of wines that they hope to make.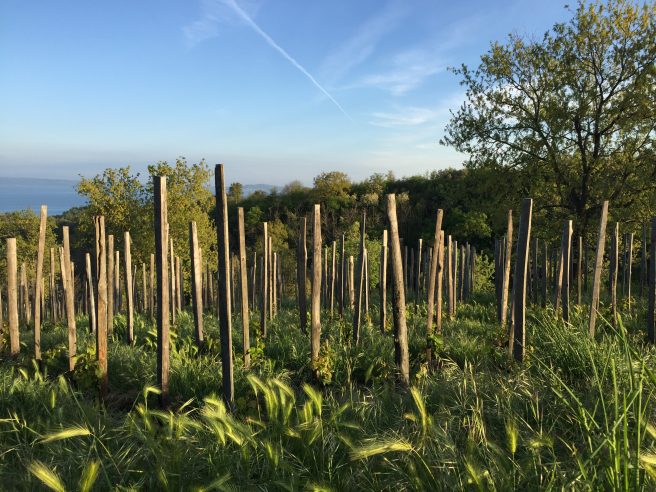 Our first stop was to see Gianmarco and Clementine at Le Coste in Gradoli, Lazio. Here is their eponymous vineyard in all its glory. Biodiversity is king here, with vines planted amongst wild flowers, olive groves, shrubs and oaks. Like a big garden peering down at the lake, plant density is high and the vines benefit from the region's vibrant, varied volcanic soils and a proximity to the Lago di Bolsena and it's moderating influence on temperature.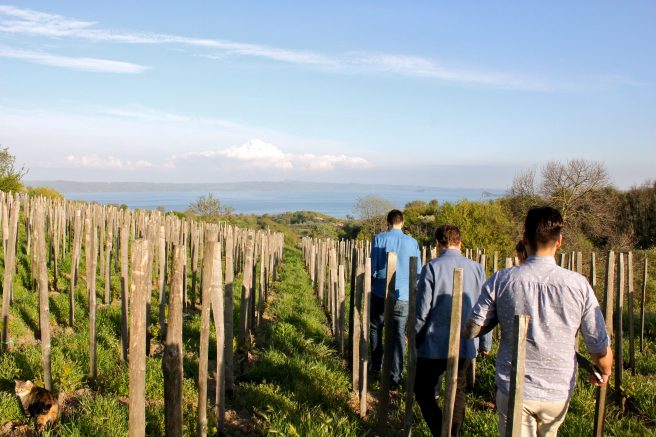 Clementine (hidden) leading the guys through Le Coste, a vineyard where you can really see the fruits of their labour. Vineyard work is holistic, obsessive and remarkable, with each plant tended to individually, depending on it's needs. In Gianmarco's words the work he and his small team undertake in the various plots ranges from "not normal" to "insane". Because of this, even in horrific vintages like 2014, they are able to craft wines of real energy and finesse without resorting to tricks in the cellar. In fact, the wines we were to taste from that vintage the next day were nothing less than stunning, with lifted aromatics and real detail.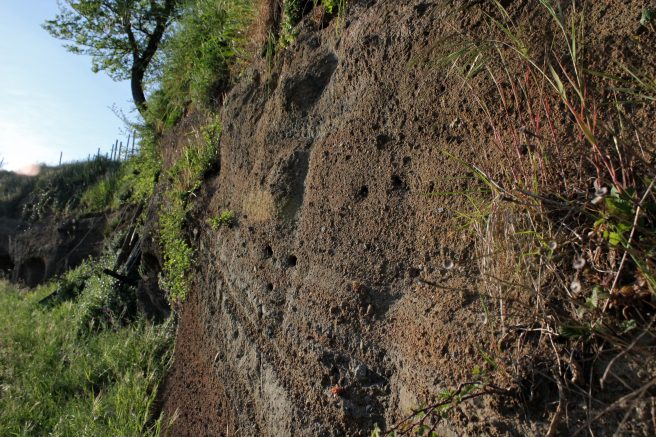 A cross section of volcanic and basalt soils typical of the vineyard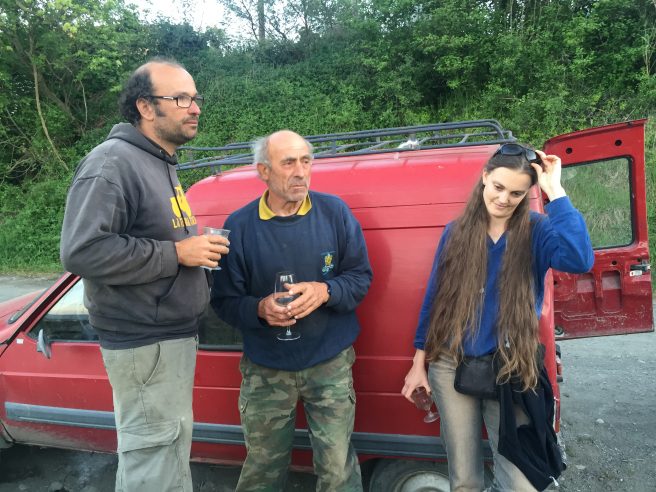 Joining Gianmarco, Clementine and vineyard workers for aperitivo at a vineyard they are planting close to the lake.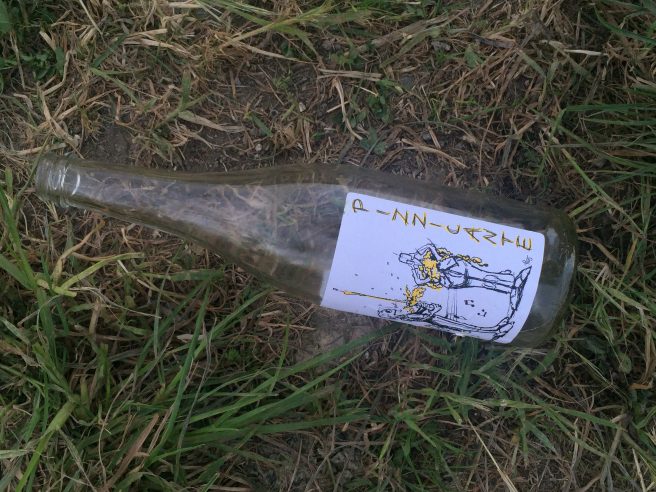 To quench our thirsts, Pizzicante! Basically a sparkling Litrozzo. Procanico and friends refermented in the bottle by adding a little must. Bone dry with citrus in spades, our group polished off a bottle each in about half an hour. We expect to see plenty of empty bottles at barbecues this summer.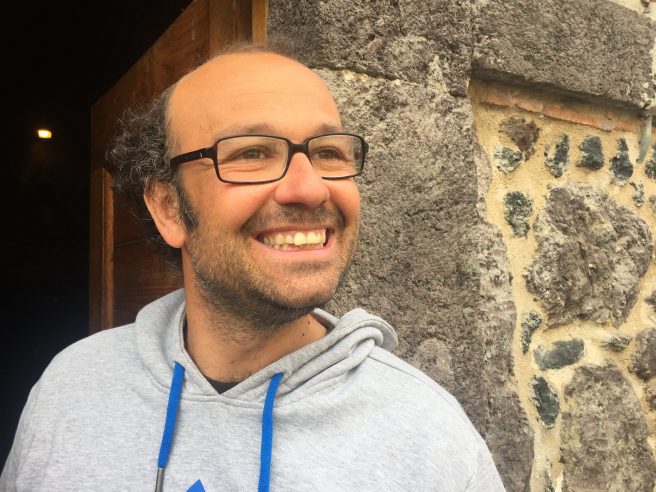 After a wonderful dinner cooked my Clementine, exploring various vintages of Gianmarco's wines until the wee hours, we met the man himself outside their cantina in the centre of Gradoli for what was to be one of the most wonderful barrel tastings any of us had enjoyed. The room used for elevage here is over 400 years old and was found by accident.
Gianmarco had purchased a warehouse, found a loose wall, had it knocked out and discovered this ancient cantina. After a lot of time and effort, they managed to clear the place up and it is now filled with barrels of various ages, types and size, where wines across many vintages wait, living and breathing until Gianmarco believes it is time for them to begin their life in the bottle.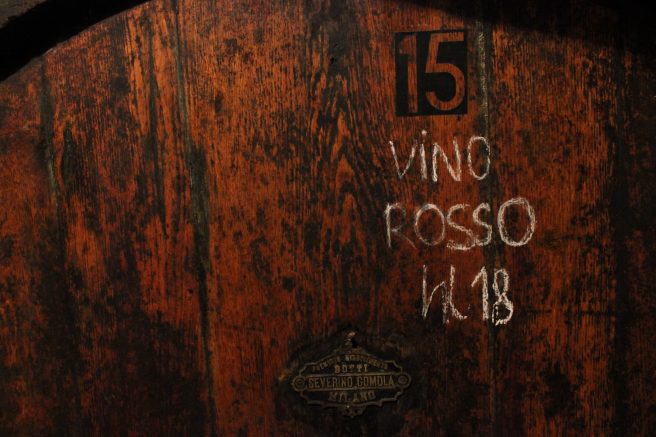 Gianmarco believes that when you work well in the vineyard and are careful during the harvest, getting the fermentation right is easy, whereas the elevage requires the winemaker to draw upon all their knowledge and skill, to guide the wine beyond something merely good, to something great. Tasting here again confirmed what we already knew, he is a true master of the art, with an obsessiveness, vision and taste few in Italy can match.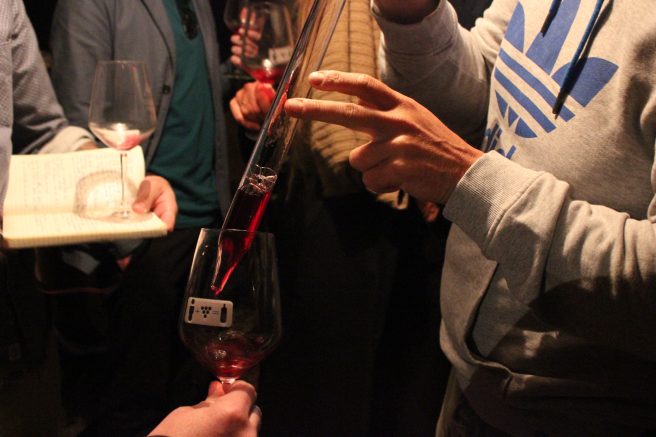 Gianmarco pouring us a remarkable expression of the aromatic Aleatico, which will go on to be the 2013 bottling of 'Alea Jacta Est'. The level of clarity, definition and poise that these unsulphured wines have during their time in the cellar here is incredible. After a much needed lunch of fresh pasta with tomatoes from garden the garden and plenty of peperoncino we jumped in the car a drove a few hours north to meet up with Marino and Luisa Colleoni in Montalcino.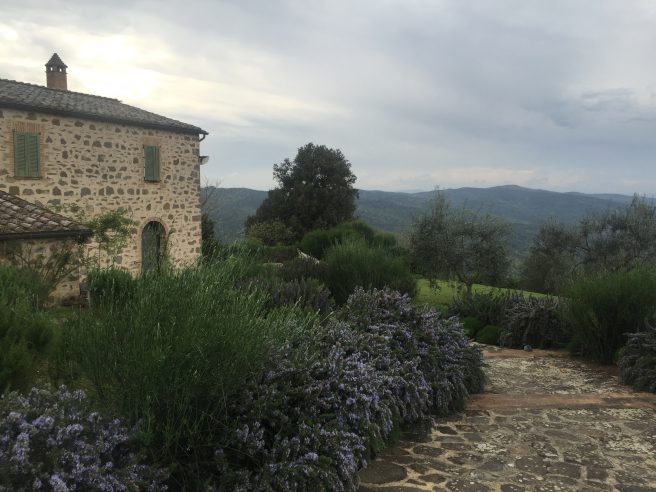 This is the spot they call home on the northern reaches of Montalcino and on this day the unusually drab spring weather, rainclouds and random rays of sunshine made things pretty dreamy. We headed straight for the vineyards to hear the story of these vines that surround the Colleoni's home, that is a true fairytale for any lover of wine.
Having purchased a home here back in 1994 Marino and Luisa were taken an afternoon stroll a saw what appeared to be a vine poking out from the forest. It turned out to be an abandoned vineyard that a previous owner had given up on because it did not produce wines that were ripe enough for their liking, being unfashionably north-facing and at the time considered to be planted too high up the hill.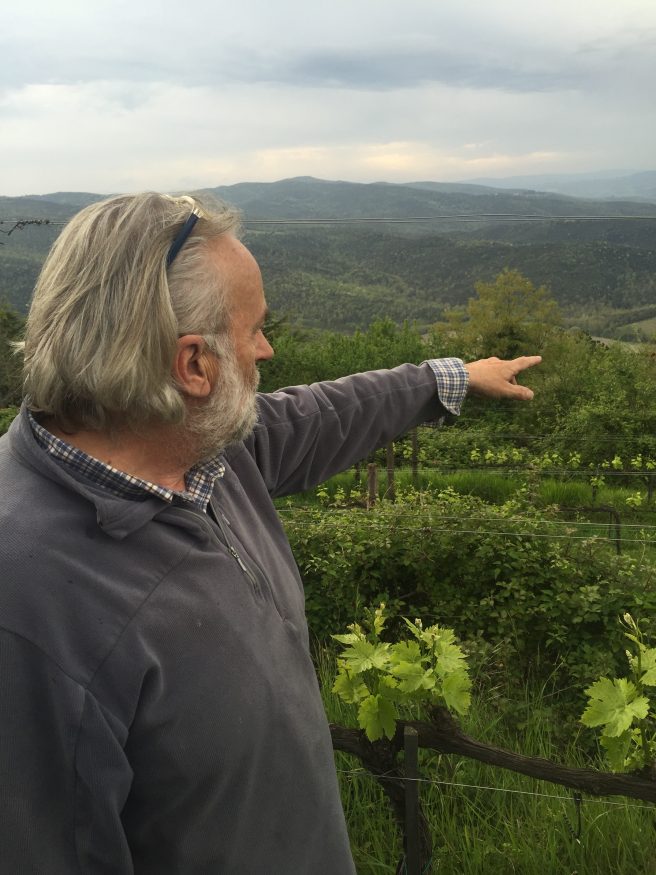 Marino pointing out the forest that remained after they had cleared the bush covering the old vineyard, repaired the terraces and planted the vineyard of their dreams. The area in the distance was once a sea and Montalcino an island and the complex marl that lines the Colleoni's vineyards is littered with ancient shells.
At some 500 metres above sea level, these vines planted from ancient clones of Sangiovese Grosso are among the highest in Montalcino, are very well ventilated and unusually face almost entirely north. The irony is that this once undesirable spot for making Brunello is now better equipped than nearly any to handle the impact of global warming, meaning Marino can craft wines of real elegance and precision even in the warmest of vintages like 2011.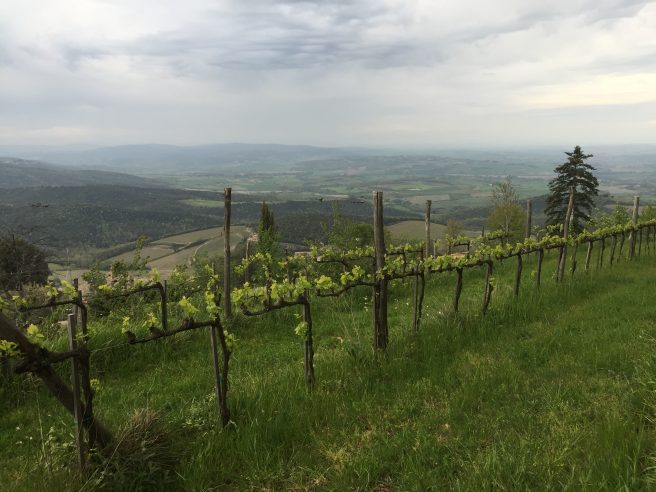 The view from the Colleoni's highest plot in Montalcino, where everything combines to create Brunello of unusual finesse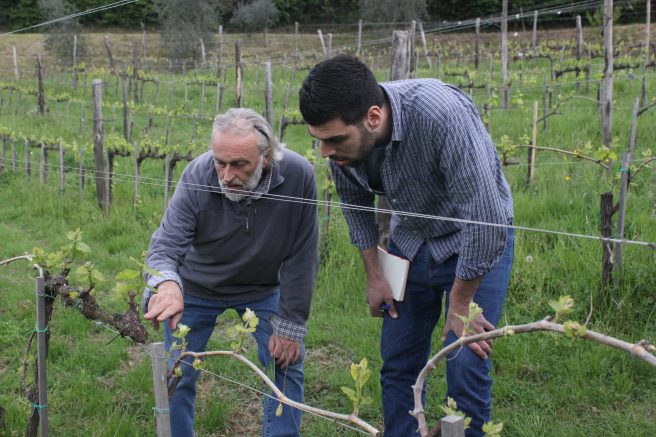 Marino explaining his decision to return to single guyot training after several years forming doubles. His approach in the vineyard is intelligent and reasoned. A particularly thoughtful, articulate guy, he is not afraid to admit when he has done something wrong and takes that knowledge into the next vintage.
Marino believes that time and gentle hand in the cantina guides a wine from being a Sangiovese to a true Brunello. To illustrate we jumped right from tasting from tini a bright, primary 2014 before moving to a hauntingly beautiful 2011 Brunello Riserva from botti that had seen no sulphur and will rest here for several more years before being considered for release. This wine had everything that minutes before Marino had said he looked for in great Brunello, a contradiction where the wine is powerful and elegant, with a nose that brings to mind a gasoline station and a palate replete with flowers and fruit. It is staggering to think where this wine will be given some more time.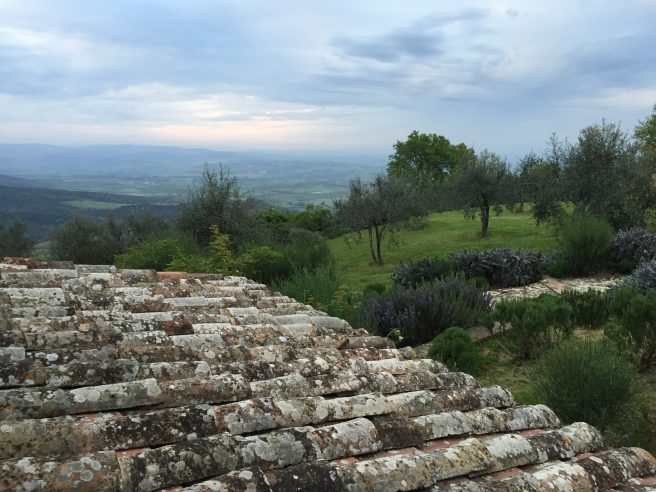 For aperitivo we went back to the terrace for a bottle of Marino's 2014 Rosato, perhaps the best rose we have tried this year. The fruit here comes from the first pick of his Brunello vineyard, yielding bright and crunchy fruit. It spends just a couple of hours on skins, is given a gentle press and bottled with no additions. A remarkably textured, pure fruited wine that offers a completely different riff on this site. After a wonderful dinner and a long night of great wine, old Grappa di Brunello and Toscana cigars we bid our farewells and drove to Lucca to meet up with Giuseppe Ferrua and his family at Fabbrica di San Martino.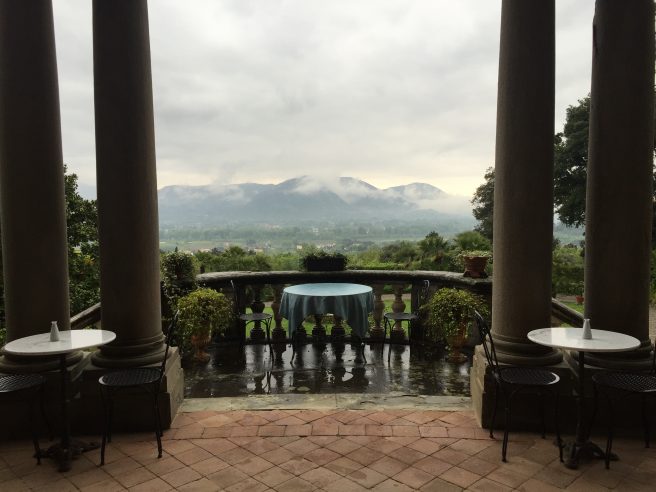 Comprising a grand old villa, a cantina and agricultural land, the Fabbrica di San Martino has been a fixture here, surrounded by woodlands in the hills outside Lucca since the turn of the 17th century. Historical documents indicate that this has always been a place where biodiversity is championed and the land is worked honestly and it remains so today. Through the introduction of biodynamic farming, a love of the region and a quest to uphold its traditions, Beppe has ensured that the land is as healthy and vibrant as it has ever been and that the wines are better than ever.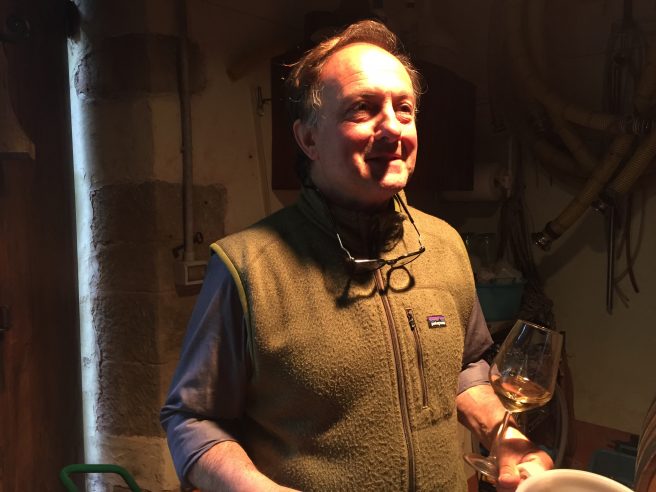 A tasting in the cantina of wines from the 2014 vintage went along much the same lines as our previous two visits, where some heroic work in the vineyard saved what could have been an utterly disastrous year. Yields were way down, but what remained had a real charm, with moderate levels of alcohol, a gentle, playful nature and savouriness that gave them an instant appeal. Likewise, both the 2012 and '13 Fabbrica Rosso that we tasted direct from their old casks were absolutely singing. Pure, old school Sangiovese of real class.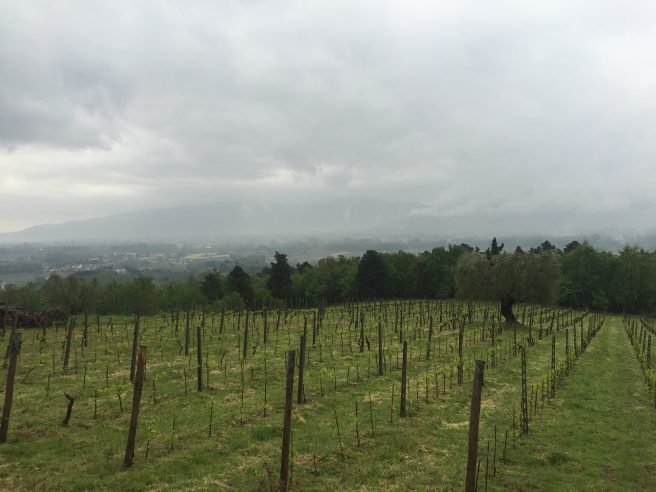 The Arcipressi vineyard at Fabbrica. A symbol of everything Giuseppe cares for, here less than a hectare of 70 year old vines are planted as they used to be, with over a dozen heirloom varietals, with a centuries old olive tree at it's heart. Giuseppe explained that some, like Moscato Nero, are not even legally allowed to be made into wine anymore, which is ridiculous, given that documents he has studied at the botanical gardens in Lucca speak of a wine being made from the varietal in this very vineyard, hundreds of years ago. The fruit from this vineyard goes into an aromatic field blend, a wine that sees just a few days on skins and a short time in vat but is characterful, joyful and true.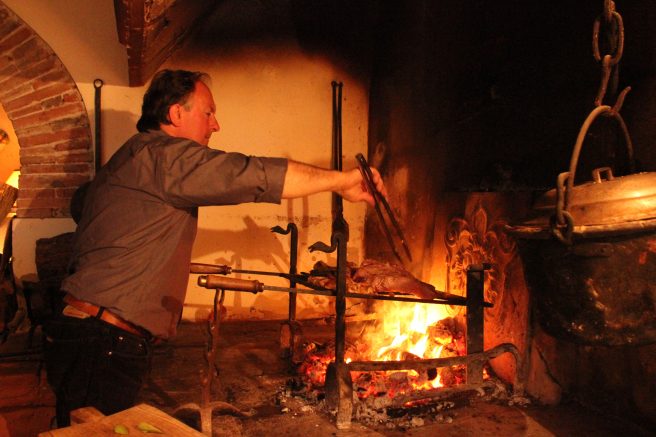 As the rain begun to fall we moved to the dining room, where we were about to discover that Beppe was a man of many talents. We started with some tagliatelle he had made that morning with a Tuscan sausage ragu, followed by veal ribs, zucchini and an epic Fiorentina cooked in the fireplace. To finish, pears cooked long and slow in his wine and spices, with perhaps the best zabaione we have ever had. Grazie to Beppe & his family, Marino & Luisa and Gianmarco & Clem for doing what you do.