We recently returned from our annual trip to Piedmont and Liguria, to visit growers, taste their wines, enjoy the food of the region and most importantly to celebrate the wedding of our great friend in Barbaresco, Olek Bondonio. Having arrived at Torino airport we grabbed a car and headed straight to the Castello del Verduno, the castle that houses Olek's wife Alessandra's family's restaurant and hotel.
We met up with Olek and found Marco Buratti, along with our friends Trish, James and Giorgio slowly roasting three very large pigs in the garden. After a simple lunch in the Castello's gardens and a few bottles of Marco's wine, we headed to the steps of the enoteca in Barbaresco for the confetti-filled ceremony. Alessandra was as elegant as always and Olek, out of boardshorts for the first time in a decade, scrubbed up surprisingly well.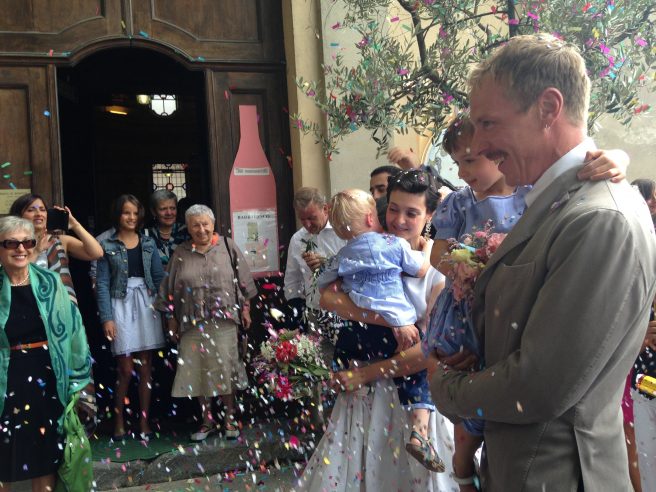 From there it was back to the Castello for the party. Giorgio De Maria was in charge of the drinks which meant long pours of some serious booze. There was a Negroni of Cappellano Chinato or an Orsi Pignoletto spritz to start, beer from the excellent local brewer Montegioco, eight orange wines by-the-glass, lambruschi from Ca del Noci and Olek's 2013 Pelaverga, unsulphured in a demijohn on the bar.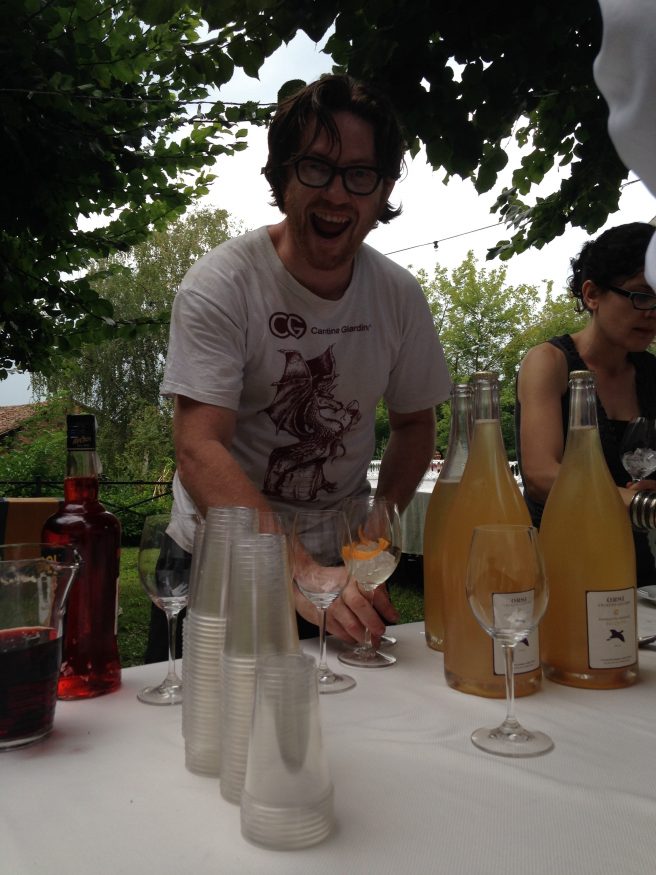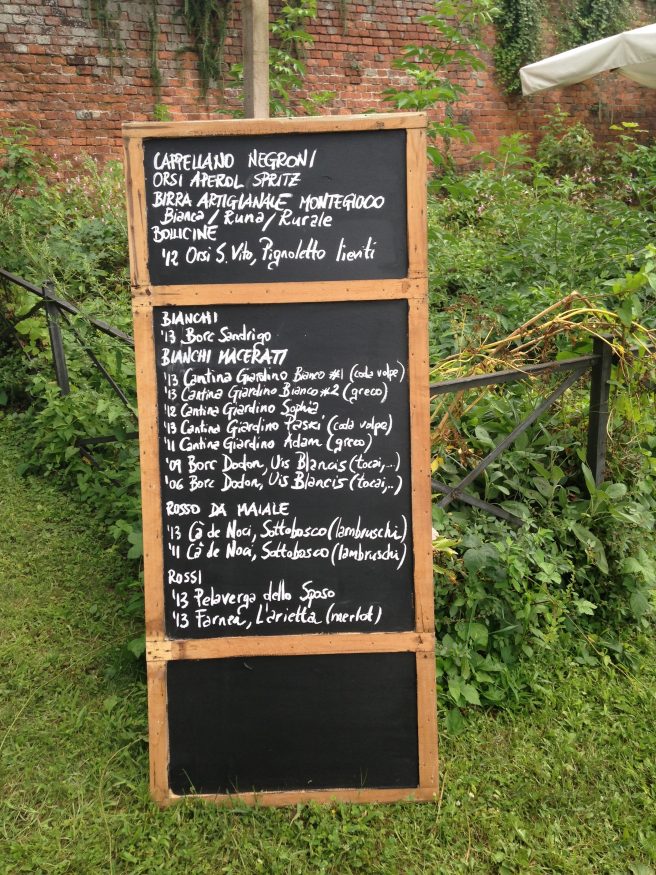 Other highlights were whole wheels of aged parmesan, this bloke in a waistcoat carving prosciutto, a 5 litre bottle of Radikon, those pigs and the DJ playing Earth, Wind & Fire's 'Let's Groove'.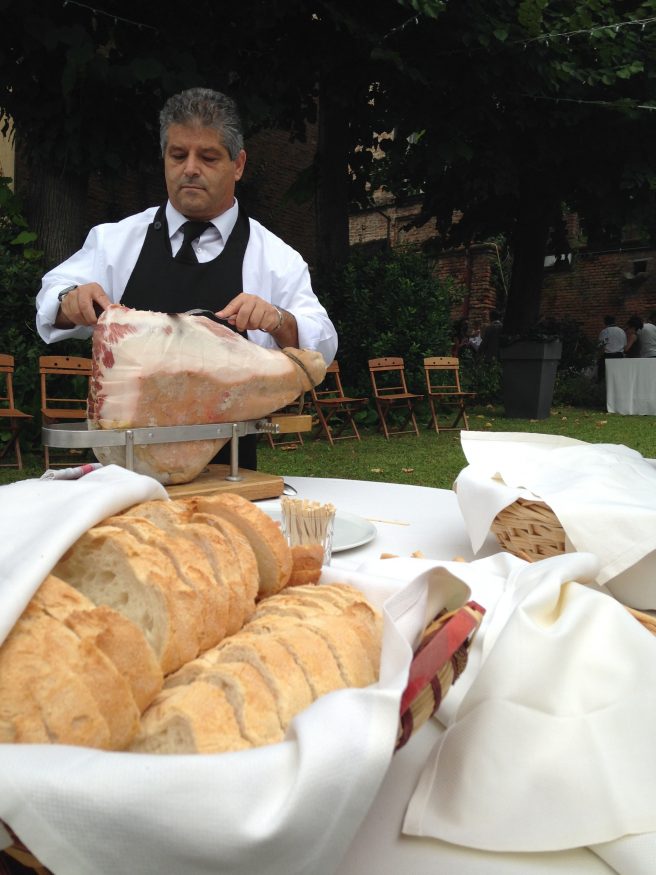 What a treat as well to catch up with friends from all over Italy. Luca and Carolina from Valfaccenda, Antonio and Daniela of Cantina Giardino, Federico of Orsi San Vito, Alberto from Slow Food, Giovani Canonica and more. From what we can remember it was quite the party.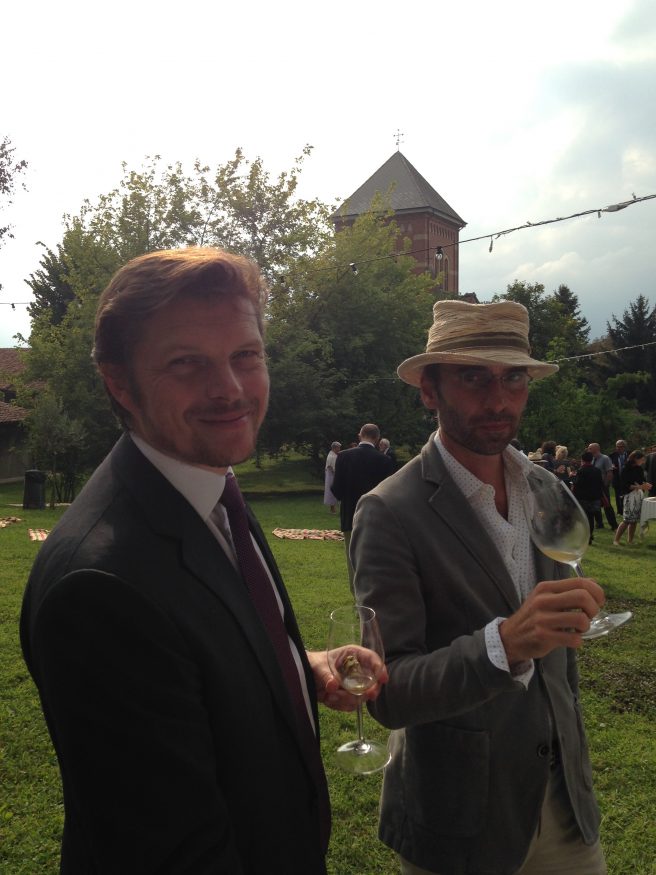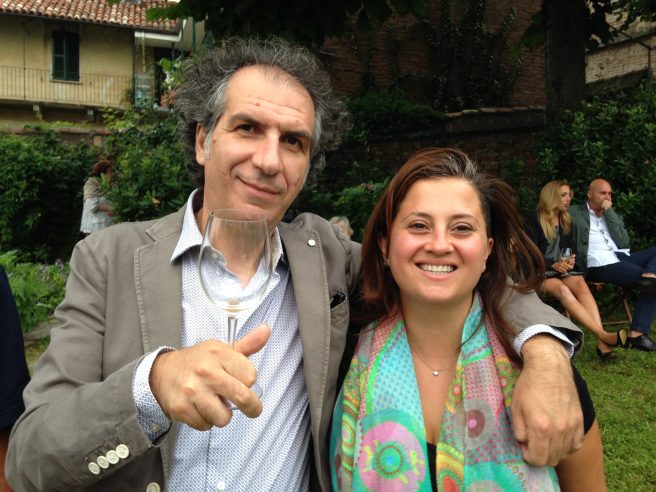 A little tender the next day, we set off to meet Ezio Cerruti in Castiglione Tinella to walk through the Moscato vineyards planted on the steep chalky slopes in front of his home.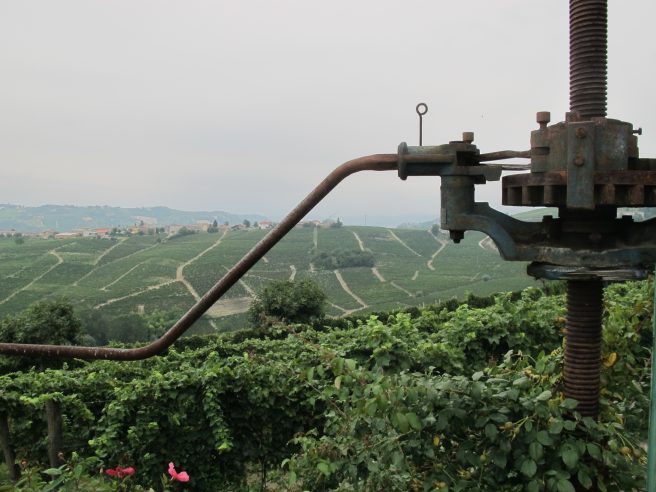 However, Ezio was a little thirsty and had other ideas and so we spent the afternoon on his terrace, tasting through some wonderful bottles. We kicked off with an unsulphured 2013 pet-nat of Moscato. Brimming with flowers, it offered supreme refreshment and unusually for the genre, was bone dry. Ezio only makes a couple of hundred bottles of this and unsurprisingly drinks most of them himself.
We then looked at that same fruit in different guise with a bottle of his Fol. A brisk, slender Moscato, it suggests that the region's future might be here rather than in the confectionary bubbles most choose to make. Our tiny allocation of this wine is now gone, but with 2014 not looking very promising for the production of Ezio's passito, there could be a lot more around next year.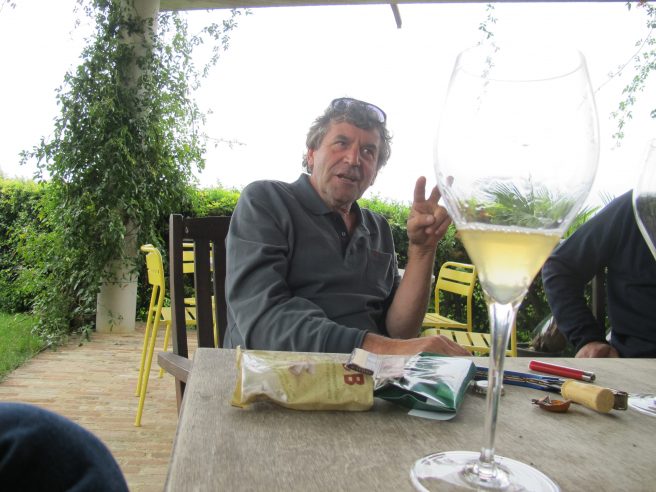 Ezio told us that whether the wine is a passito or a Barolo, the most important thing for him is drinkability. He was quick to reiterate that he didn't mean that every wine should be glou glou, a simple vin de soif.  Rather he suggested that no matter the style, foremost, a wine should be digestible and make you feel good. To illustrate this point he opened a few bottles of older passito, including his rare botrytis bottling, along with a cracking 2006 Cannubi San Lorenzo-Ravera Barolo from Rinaldi and one of our favourite wines this year, the 2010 Rosato from Massa Vecchia. Point taken.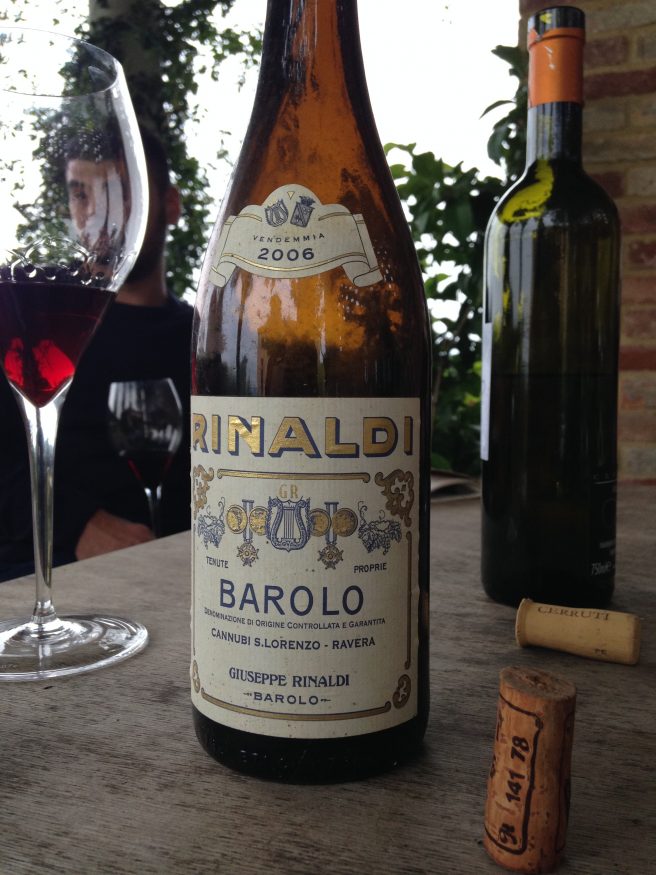 Before Ezio opened any more bottles we hightailed it to the hills of Scurzolengo outside Asti to catch up with Nadia at Cascina Tavijn. We love this quiet part of the world and our annual visit to see Nadia. We kicked off tasting some wines from barrel in the cantina beneath the family home.
The highlights were a trio of Barbera. The 2013, 2013 riserva and 2012 which are looking great. The 2012 should be ready in the next month or so, though Nadia is not sure if it will be bottled as a Barbera d'Asti or as 'Bandita' like last year. We'll have to wait for the DOCG. Regardless, the wine is classic Barbera. Bright, tart and such a friend of winter's larder, we can't wait for it to arrive.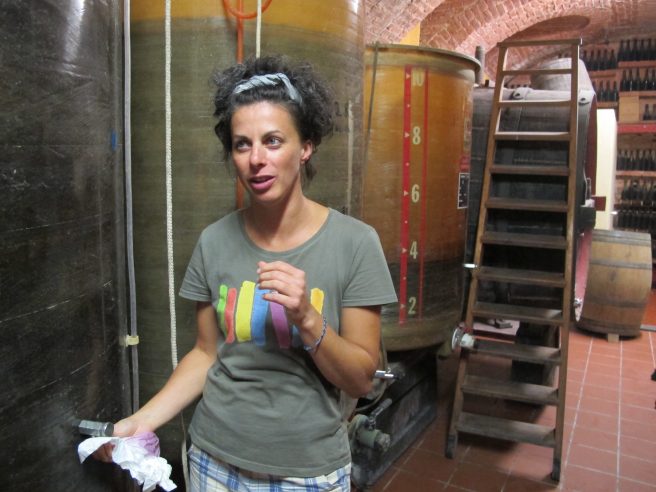 We then headed upstairs into the house and tasted both Grignolino and Ruche' in their classic guises, alongside bottles made without the addition of sulphur. I remember the first time we tried this experiment, with the late, great Marcel Lapierre at his home in Morgon and we've never tired of making the comparison. Here, as is so often the case, both wines without sulphur seemed lighter, more nimble on the palate, though the Grignolino was a little reduced.
Having spent the last two years getting our head around Ruche' and Grignolino Nadia poured us another curio made from an even rarer local grape, Slarina. This was not unlike a Ruche', bright, aromatic and full of sappy, brambly fruit, it it was good foil for a small mountain of just-picked hazelnuts.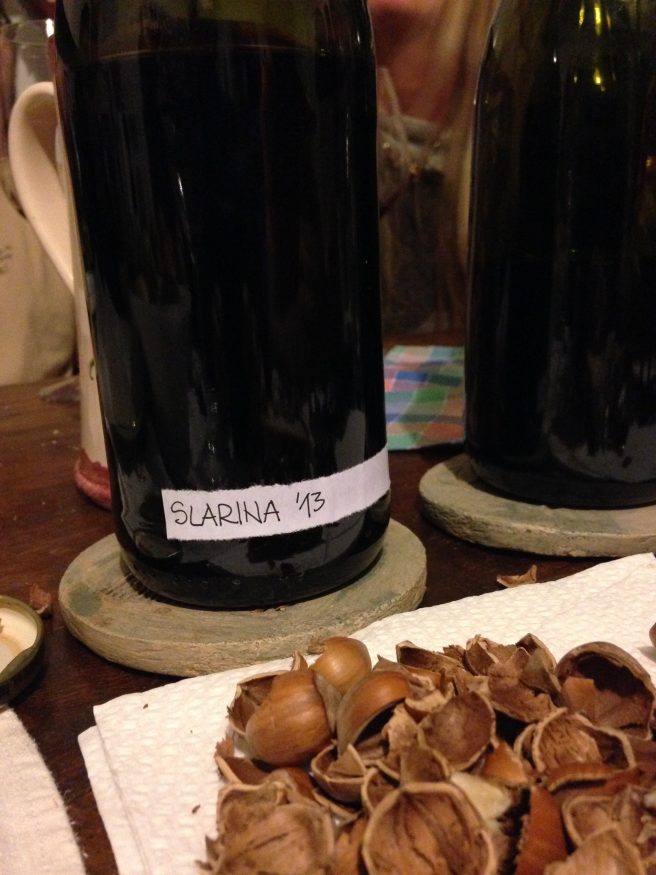 The highlight of an otherwise unremarkable dinner that evening was leaving. It was well after midnight and the restaurant's car park entrance, sat on a small rural highway, had been blocked by carabinieri, who seemed to be pulling over every single car that drove past and breathalysing the driver.
Having had a couple of wines with dinner we were a little concerned. We stood around in the dark, talking for twenty or minutes or so, wondering when our new friends might leave. That was until the chef popped out for cigarette and asked what we were doing. We explained and he said that the guys ate lunch there all the time and wouldn't dare pull over one of his customers. He was right.