Our first stop on the next day of our travels was to see Augusto Cappellano at his family's home and cantina on the outskirts of Serralunga d'Alba. An absolute reference point in the area, the Cappellano's invented the digestive tonic Barolo Chinato and produce some of the most honest, beautiful Baroli we have tried.
We tasted a number of wines straight from barrel, including their wonderful Barbera which comes from 70 year old vines in the heart of the Gabutti cru, The wine positively screams of this wonderful terroir, with a power and elegance one seldom associates with the grape. From there we got in a hidden, old rickety lift and headed down to the the bat cave, where the family keep large reserves of older vintages of Baroli for private customers and a lucky few. To stroll around in here is real kid in a lolly shop stuff.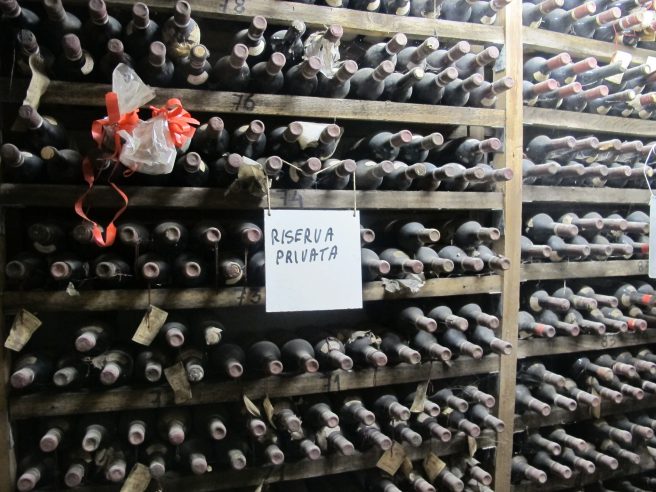 As far as we know the Cappellano's are the only producer to produce a Barolo from pre-phylloxera, ungrafted vines. Augusto explained that in the late 1980's there was a landslide in the family's Gabutti holdings, which took out certain sections of their Nebbiolo plants. Having wondered for many years what effect ungrafted rootstock would have on the site's fruit, his father Teobaldo replanted the vines pie franco, on original rootstock and to many's surprise they thrived. Thank the lord they did. To taste their Pie Franco and Rupestris bottlings side-by-side is the only instance we know of where one can compare the effect of ungrafted vines on one of the world's great vineyards. The difference according to Augusto? That the Pie Franco bottling is often more elegant, with finer tannins, "like coarse versus fine sand".
August opened a bottle of 2003 Pie Franco Barolo that was really quite remarkable and goes to show that great producers make great wine no matter the vintage. 2003 has been written off by nearly everyone, though interestingly Teobaldo thought this wine was perhaps the best he ever made, "though not like a Barolo at all". This had a drive and freshness that belied weather Augusto described as "tropical", though he was at a loss to explain how these very special vines helped in this respect. It remains a mystery. A real treat.
From there August poured us glasses of three different Barolo Chinato, the 2009, 1990 and finally one the bottle from the early 1950's that stopped us in our tracks and may well be the best thing we have ever tasted. Pale and ethereal it seemed to have been stripped of weight and fruit, so that only the herbs remained. A little like old Chartreuse, a sip went on and on, coating your mouth with layer upon layer of flavour.
We said our goodbyes to Augusto and drove across to the hills of Roero to meet Luca Faccenda at his family home. Luca was almost finished the building of his cellar, a project that he, his wife Carolina and their friends have been working on over summer, it will be mean a lot to Luca, who until now has made his wines in the corner of the Matteo Corregia winery down the road.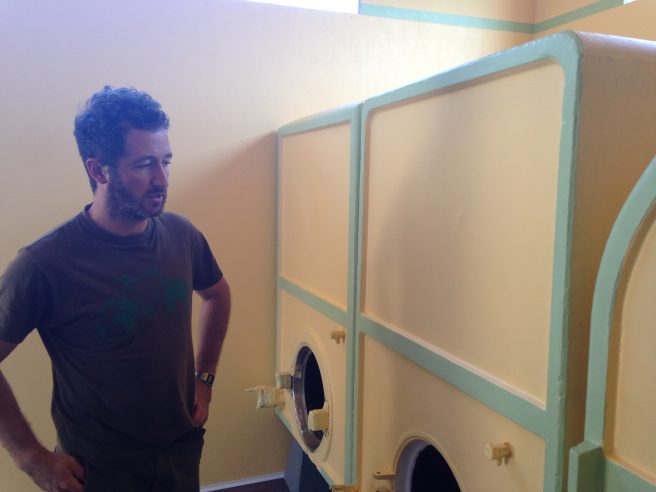 We had a wander around the beautiful Arneis vineyards planted on the valley's soft, sandy slopes before heading inside for lunch.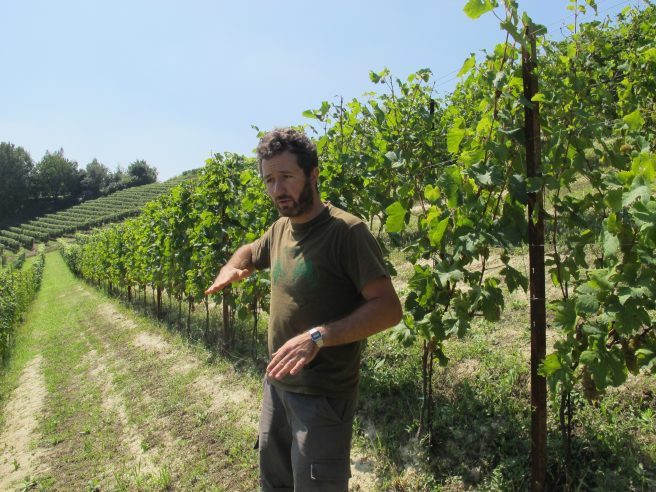 While Luca cooked pasta with fresh tomatoes we tried a bunch of wines. The 2012 Roero Nebbiolo which has just arrived in London is less fruity and more streamlined than the warmer 2011 vintage and though young, is looking great. We also tried a nice, juicy young Nebbiolo that at present he makes just for himself but may available to buy next year and his Vin de Bagna, a pet nat of skin-macerated Arneis made to accompany bagna calda. Luca takes on a hell of a lot of work for young guy and with the harvest imminent, he still had the minor task of finishing the cellar and flying to southern Italy to do some consulting work he continues to do to make ends meet.
After wishing Luca goodluck with the harvest we headed to Asti and the unassuming door the leads to Mauro Vergano's tiny laboratory.
It's always fun to visit Mauro, poking your head into bags of botanicals, trying to guess which component of his drinks they were. We didn't fare too well… We also got to try a couple of new drinks for us, a Chinato made with Ruche instead of the customary Nebbiolo which was seriously exotic, heady with rose and elderflower and his Elixir di China, a digestive liquor made with a whole lot of quinine bark. This was seriously refreshing gear, as bitter as you would expect but like all Mauro's drinks possessing an uncanny balance.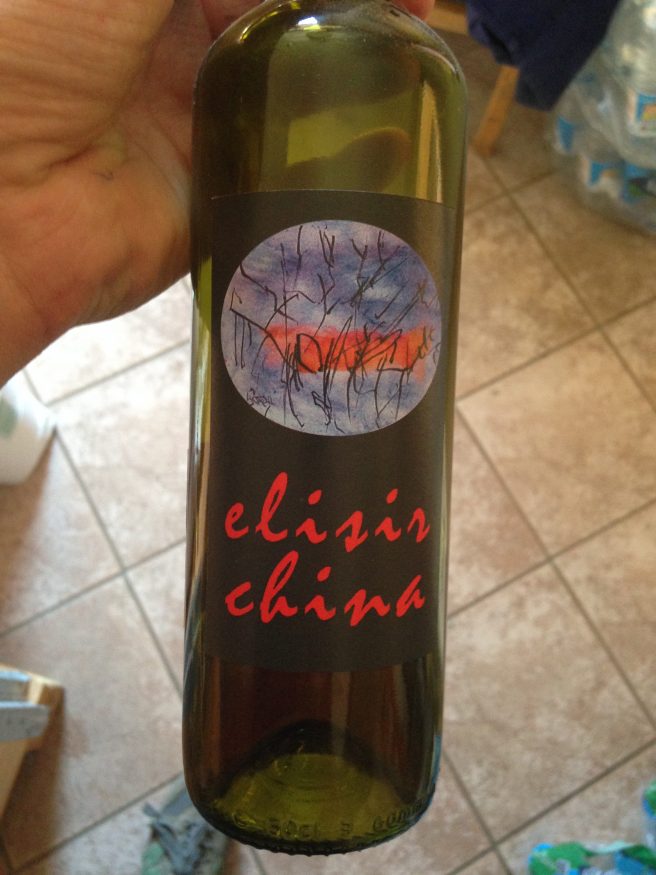 We had a great chat with Mauro about the challenge of using living wines that change over vintage and time as the basis for his drinks. Interestingly, the composition of herbs, botanicals, alcohol and sugar never changes for each drink, but Mauro will taste the wine several times before making the blend and adjust the percentage of the mixture included depending on where the wine is at. The last batch of Americano, for example, was about 70% wine Grignolino, 18% sugar and 7% of the macerated liquid. We didn't make it to Mauro's place last year and had forgotten on how small his workspace is. A tiny laboratory out the back of a house, batches of each drink are seriously small.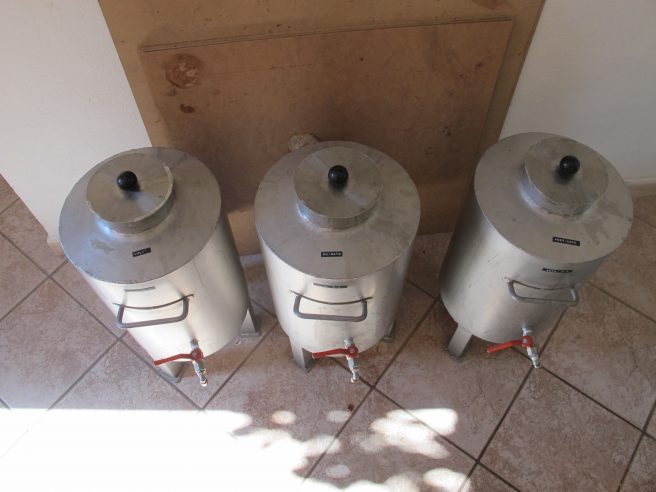 That evening we had dinner with a dozen people at Ristorante Consorzio. We kicked off with fried anchovies and a few bottles of Cantillon at their new bar Banco, which is the dream wine bar, a must if in Turin. From there it was onto Consorzio. Things are a little hazy but highlights amongst the many bottles opened included a 1999 Overnoy Vin Jaune, a magnum of unicorn fizz from Schueller that had been collected from his cellar in Alsace that morning, an old bottle of Le Coste's Moscato, a never-seen-before Chenin from Domaine de Montrieux in the Loire, a magnum of 2009 Cantina Giardino Sophia and fair few more Cantillon.
The next morning we met up with Olek Bondonio and after a quick bowl of tajarin in a local trattoria set off for his vineyards. We first visited his Altavilla vineyard, which sits high on the hill above the town of Alba and is planted with Dolcetto and Barbera vines up to 90 years old. This is a quiet, magical spot, with views across the countryside, isolated from the world surrounded by hazelnut trees and bush.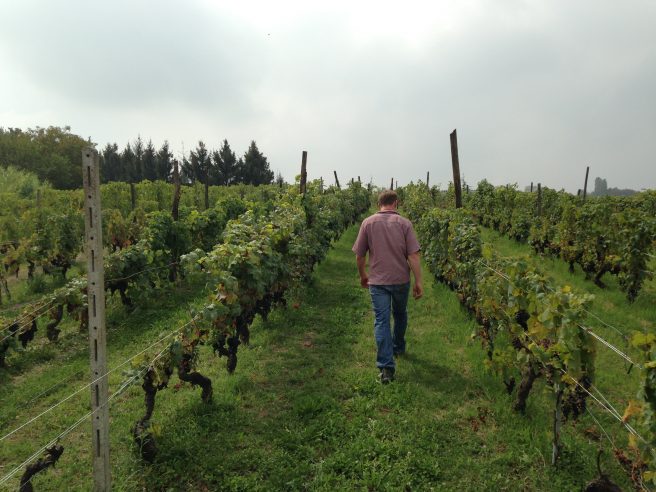 Olek has a long-term lease on the vineyard, though is yet to pay any rent due to the amount of work he has put into caring for these ancient, low-yielding vines and replanting the sections which have died off bit-by-bit. He feels that once he has made the changes he needs to the vineyard he will be able to produce amazing Dolcetto and Barbera, though tasting the 2013 wines from here later in the day, you wonder if he is not closer than he thinks.
From there we went and looked at the vineyard he rents from a robust old woman in Straderi, a particularly steep, beautiful patch of vines that are exposed full south.  It was funny to see Olek on the charm offensive as the woman has mentioned she is sick of having to worry about the vineyard and will soon be looking for someone to sell to.
The final stop was his farmhouse La Berchialla in Barbaresco, which peers over his holdings in the storied Roncagliette cru. While strolling this slope we accidently stumble into Gaja's vineyards which produce Costa Russi and Sori Tildin, just a few steps but a world away in terms of style and price!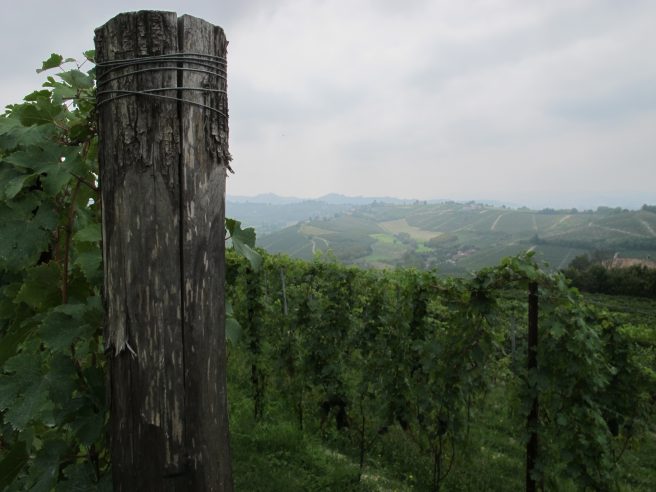 Back at the house Olek showed us where he wants to begin work on building a proper cellar later in the year and we tasted a bunch of wines from barrel, including 2013 Barbaresco from both Roncagliette and Straderi which gave a fascinating insight into the differences between the crus. We also revisited Olek's 2013 Dolcetto and Grignolino and 2011 Barbaresco which have just arrived in London and are looking wonderful indeed.
After finishing tasting we set off for the beautiful Ligurian hillside town of Dolceacqua to meet up with Nino Perrino of Testalonga. No matter how many times you visit this little town it is impossible to remember just how beautiful it is.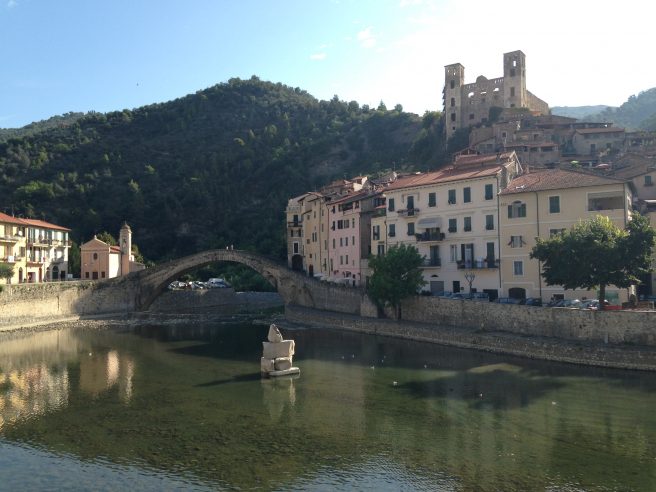 As we arrived late we headed straight to dinner a little further up in the mountains to catch the sunset at the trattoria Da Delio in Apricale, which is as good a place to end the day as any.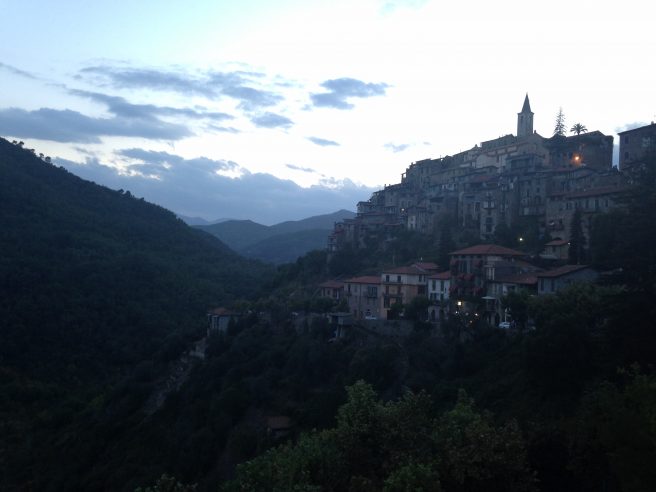 Delio specialises in local rabbit braised in Vermentino wine and taggiasca olives. It was just as good we remembered and would have been spot on with a bottle of Nino's Rossese. Unfortunately they were though out of bottles and large formats other than methuselah of the wonderful 2000 vintage. After much to and fro we conceded it probably wasn't a good idea to attempt drink all six litres between the two of us before our flight left the following afternoon.
This is the third year in a row we have visited Nino at his tiny garage in the heart of Dolceacqua, a real trip back in time, it never ceases to amaze.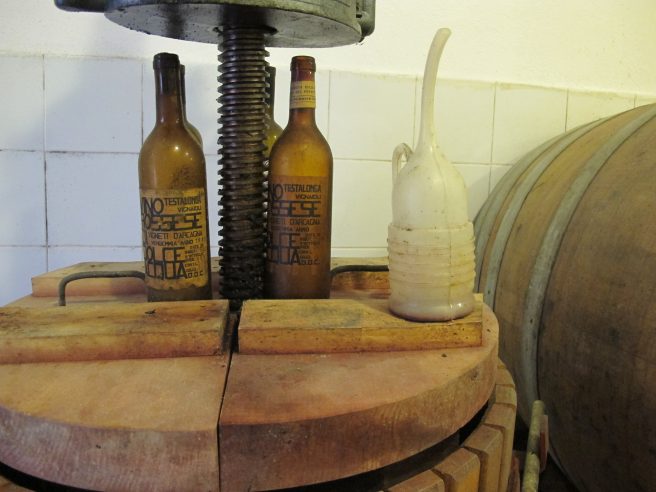 Nino has not been very well lately so our meeting the next morning was a little more subdued than usual, though the man that he is the conversation remained as lively as ever and he still managed to crack a few jokes at our expense. The 2013 vintage saw very little fruit but what was picked was of stunning quality. The Rossese and Vermentino we tasted from barrel were taut, compact and layered with flavour.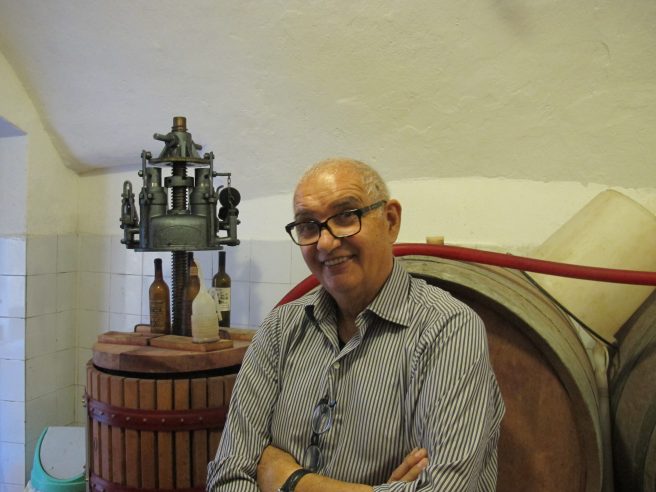 Nino made just a thousand or so bottles of each and is keeping nearly all of those for his longstanding private customers, folks who for decades have driven to taste at this tiny cellar in the hills and grab a few cases of some of Italy's true terroir wines.
We have so much love for Nino, a true gentleman and always doing things right. Next time we go to visit we'll need a few extra people to tackle that methuselah waiting up the hill.