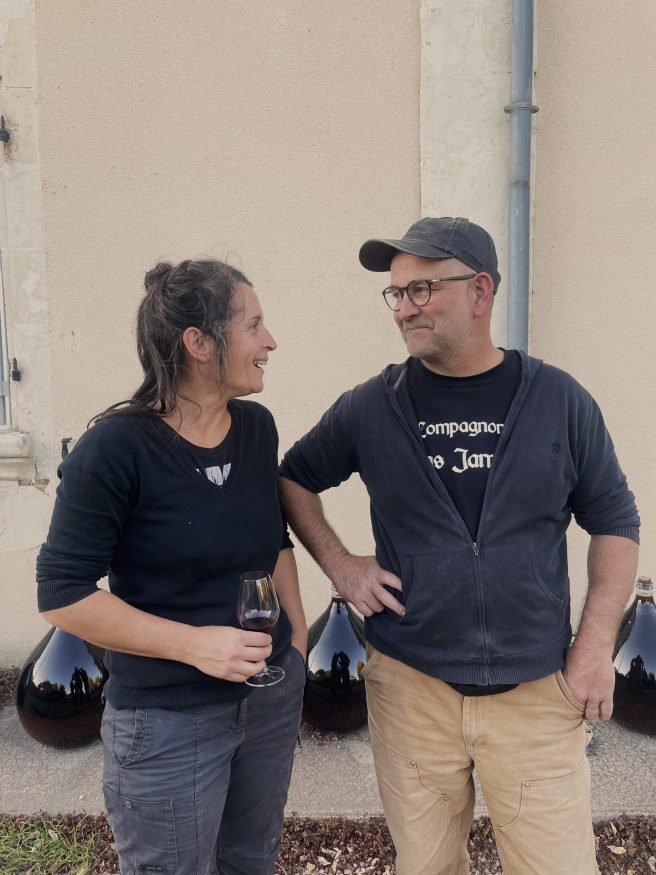 Our visit to Claire and Florent Bejon's home in the little village of Saint-Germain-sur-Vienne was one of the highlights of our last trip to the Loire, and after a nice rest in our cellars, we can't wait to share these new releases with you.
Claire and Florent farm a total of five hectares of vines spread amongst tiny parcels on either bank of the Vienne, just to the west of Chinon. The vines are on average fifty years old and planted over complex and varied soils made up of clay, limestone and a large proportion of silex, lending the wines structure and complexity.
All work in the vineyard is done organically and by hand, and now that each of the parcels has a healthy ecosystem, they prefer to let nature find harmony, and rarely trim the shoots, flowers and weeds that grow between the vines.
The wines are made in an old cellar dug into the tuffeau, and here the Bejons display a real lightness of touch, with an emphasis on long, gentle infusions and a restful élevage in a combination of old casks, demijohns and earthenware jars.
Their Cabernet Franc is truly one of a kind. In terms of texture and perfume, these wines have more in common with the great wines of Beaujolais than the burly Cabernets one often finds in this part of the world. That it is particularly true of this release from the 2021 vintage, a throwback year which reminded us the Loire was historically a very marginal climate. The resulting wines are light, bright and achingly pure, making for invigorating autumn drinking.
Claire and Florent's wines are now available on Tutto a Casa