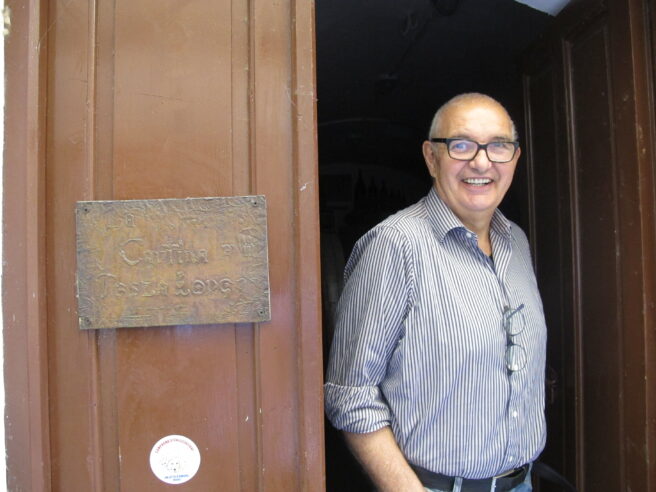 We are very proud to present the sixtieth vintage from a gentleman who is as old-school and humble a vignaiolo as they come, Antonio Perrino.
Nino is from Dolceacqua, a quiet, pretty little village in the Ligurian foothills, just a few miles from the seaside holiday towns of the Mediterranean. For the past six decades, he has farmed a couple of hectares of vines and ancient olive groves on steep terraces planted over clay and limestone high in the hills above the village. The grapes are Vermentino and Rossese, the olives Taggiasca. The oldest vines are over a hundred years of age, the oldest trees are over a thousand.
Originally Nino began working in the vines alongside his father, for many decades he worked alone and in recent years he has been joined by his niece Erica. The wines are made in a little garage in the village, the smallest winemaking setup we have seen. Their tools consist more-or-less of seven old barrels and a vertical press. The wines are made by hand, in the same fashion as they were when Nino began making wines here with his father all those years ago and fittingly, they taste as if they were from another age.
We remember our first meeting with Nino in Dolceacqua like it was yesterday. Over the past decade, each time we have returned we've always been treated to the same warm welcome, long lunches and some incredible old wines. A bottle of Rossese from 1973 counts as one of the greatest wines we have had the pleasure to taste. Luminous, soothing and laden with herbs, it encapsulated all we love about Mediterranean wine and the soul of this great man.
Nino's sixtieth vintage is now available on Tutto a Casa