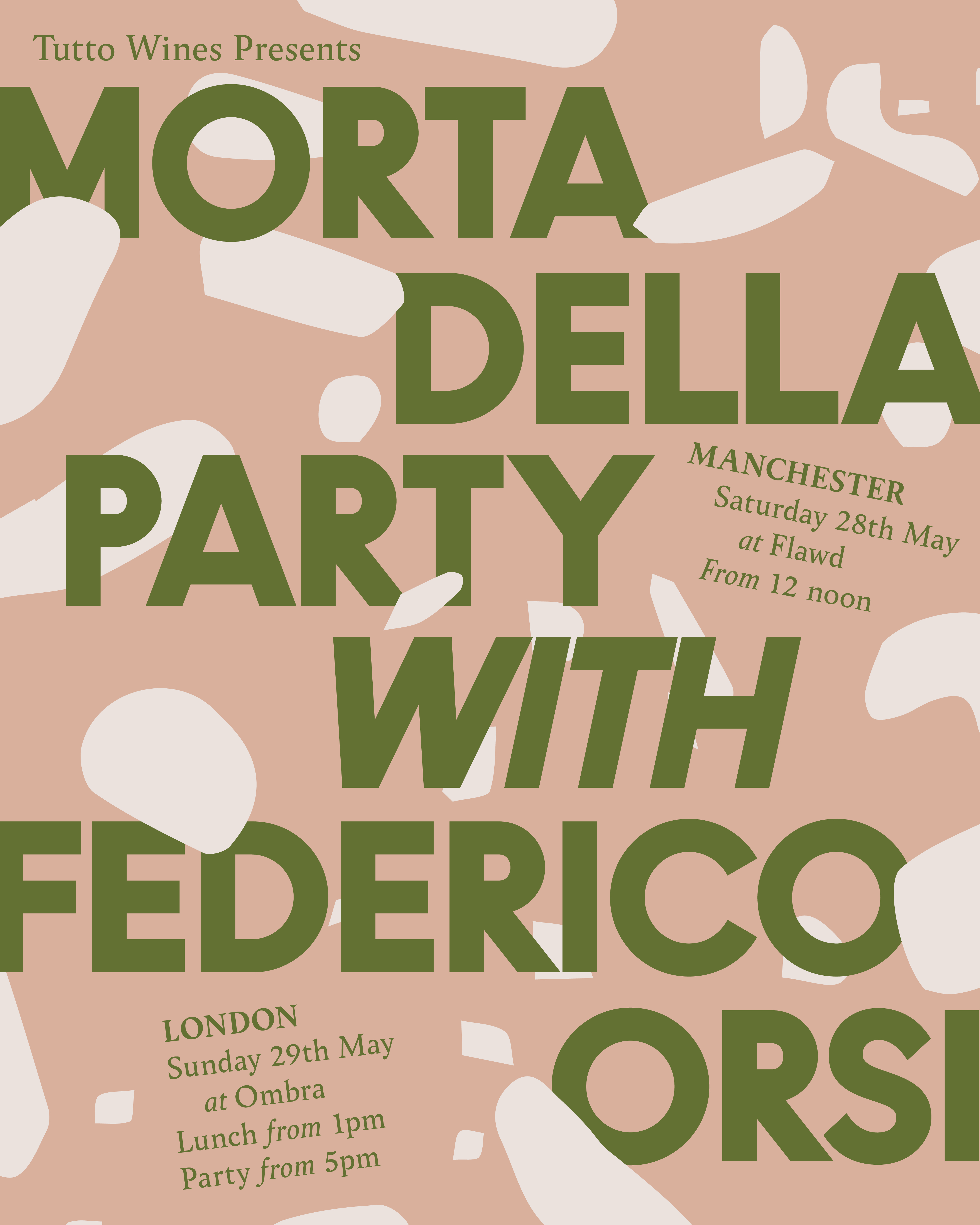 After a two year absence, we are thrilled to be welcoming Federico of Orsi Vigneto San Vito back to our isles for the return of the Mortadella Party.
Federico's mortadella is a thing of legend. It is made from local Mora Romagnola pigs who roam free and feed on wheat, barley, fava and wild herbs on his farm in the Colli Bolognesi in Emilia-Romagna. Federico breaks down the animals whole and adds a little salt, pepper, herbs and a good glug of his wine.
This year, we will be taking the party out of London for the very first time and on Saturday 28th of May from 12noon Federico will be at Flawd in Manchester, slicing the 'della thin and filling little ciabatte from the local Companio Bakery. Alongside, Flawd's chef Joseph Otway will be serving up a selection of plates based on whatever is looking great in their Cinderwood Market Garden.
We'll be pouring Federico's wines by-the-glass and from bottles big and small. There is no need to book and everybody is welcome, so please come and join us for a panino and a few glasses of wine in the spring sunshine.
The following day on Sunday 29th of May we will be heading to Ombra in East London for a lunch celebrating the very best of Emilia-Romagna, followed by a party that will surely be one for the books.
Ombra's chef Mitshel Ibrahim has penned a beautiful five course menu inspired by his visits to Emilia, featuring dishes such as Gnocco Fritto with Federico's Pancetta, Broadbeans, Courgettes & Parmigiano Reggiano and his take on the region's emblematic dish, Tagliatelle al Ragù di Cortile.
Lunch starts at 1pm with several sittings available but unfortunately given the nature of the region's cuisine, the kitchen is unable to cater for dietary requirements. The menu is £55 per person and a wide range of Federico's wines will be available by the glass and bottle.
You can book your table here
From 5pm it is party time and we'll be clearing the tables and serving Mortadella sandwiches and frothy glasses of Pignoletto all night long, soundtracked by the sweet sounds of Danny Della and Greggy Panini.
There is no need to book in the evening, so we look forward to seeing as many of you as possible on la terrazza.
Alex, Damiano, Jack and Justina