The first stop on our recent trip to Italy with Le Marche. We landed in Ancona on a drab, dull Friday morning and headed to the hills of Cupramontana to catch up with Corrado and Valeria at La Distesa. Corrado hasn't always been a winemaker, he studied and worked in Milano for many years, before packing it in to return home and do what he loved in 1996. After a few years getting to know the land, he made his first wine in 1999.
We caught the guys at the end of a long, slow and ultimately very difficult harvest in which the local authorities took an unprecedented step in allowing organic producers to spray more than their rules usually allow. Corrado didn't and lost plenty of grapes, but what remained was of pristine quality. After a great lunch of salumi, cheese and ravioli in their farmhouse we set off to see their vineyards in San Michele.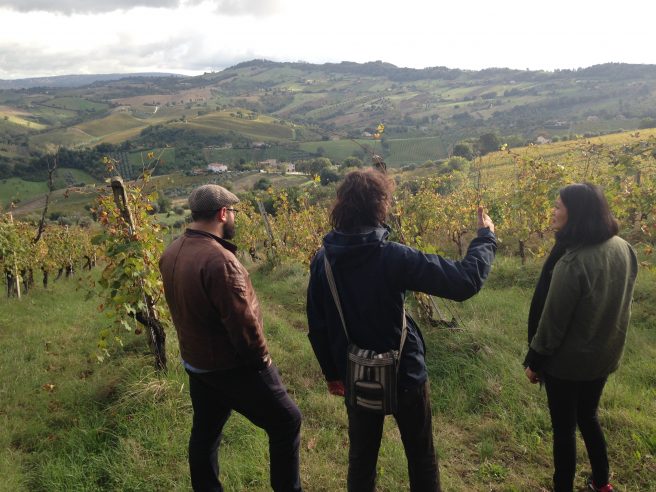 Corrado explained that you can make Verdicchio dei Castelli di Jesi from any of about 30 villages in the area, except of course Jesi itself! For the last few years he hasn't bothered seeking certification for the Terre Silvate bottling, avoiding getting into the politics to concentrate on making what he deems to be a good wine.
Pointing to the castles dotting the landscape, he explained that Le Marche is almost the opposite of France, as here the towns sit on the top of hills with the vineyards spanning the lower slopes. For this reason he always seeks higher plots with a good exposition.
The vineyard in San Michele is 350 metres above sea level and exposed full south. It has compact, poor soils that are littered with marine deposits. The area around Cupramontana used to be a sea and Corrado thinks the salty note one finds in the best examples of Verdicchio come from this. The new parts of the vineyard are planted in Albarello as Corrado believes in this time of global warming it can force the plant to produce less, yielding more concentrated and complex fruit.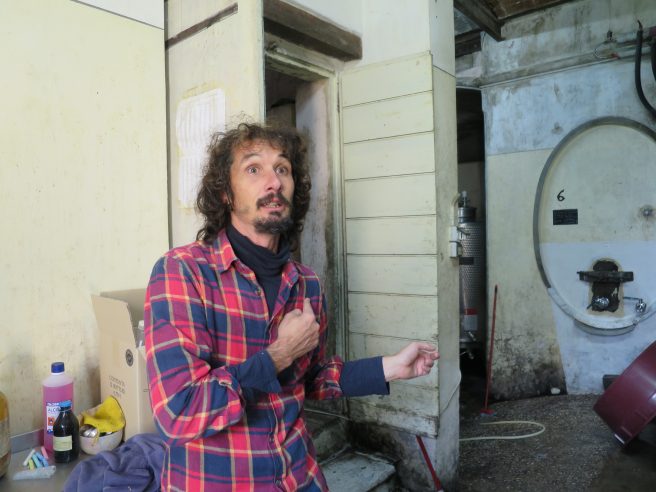 We then headed into the cantina to taste. Corrado's grandfather bought the building in the early 1900's and it was an old-school yet pretty cool set up,  the whole thing full of these massive old concrete vats that are still in use for fermentation and ageing today.
We tried for the first time Corrado's sfuso, which is made up of the pressings from the three whites and the fruit that doesn't make it into the Terre Silvate. Crisp, nutty and cloudy, what it lacks in complexity it makes up for in charm and sheer drinkability. It's an absolute no-brainer but understandably most goes to thirsty locals who arrive in packs to get their fill when it is ready. We'll do our best to get a little of the 2014 to the UK next year.
Another highlight was a 2013 Gli Eremi from vat. This is their single vineyard, old vine Verdicchio and it was positively shimmering, a really expressive wine from what Corrado says is a classic year. We then took a look at a few of the wines in the making from this year.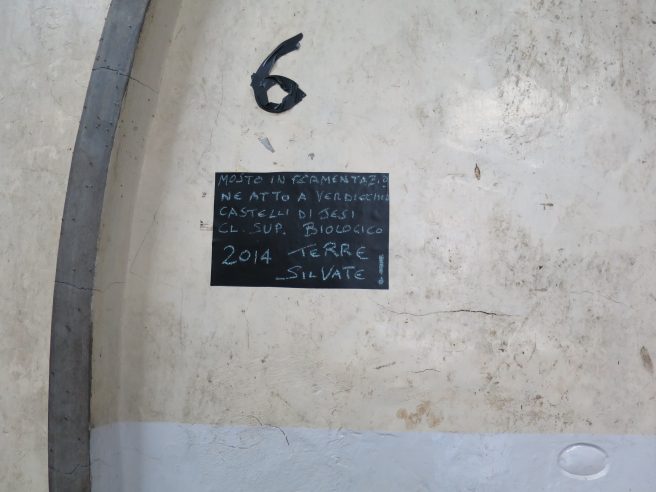 What was most surprising about this lot was just how pristine and clean they were. While some were still fizzing with the buzz of fermentation, everything we tasted was fresh and detailed, remarkably composed for wines that had still been grapes on the vine a matter of weeks ago. Before heading home for a quick snooze before dinner showed us the setup for making his solera wine, outside exposed to the elements, he's been playing around with this since 1999 and the results are a wine deep, nutty and saline.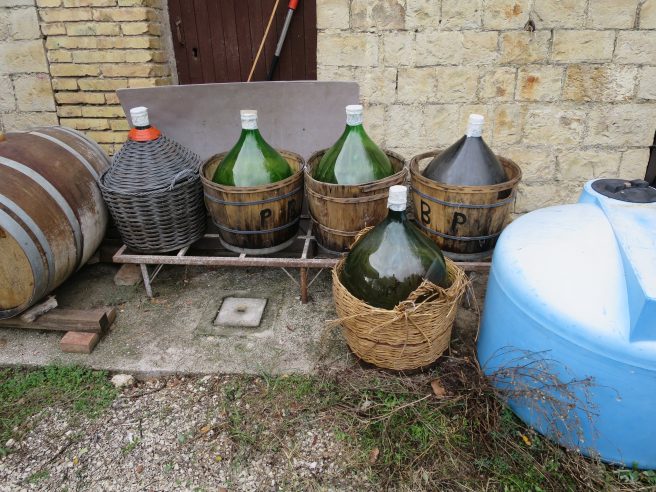 That evening we headed to a local trattoria and ate very well indeed. A simple dish of gnocchi with tomatoes, some excellent tagliatelle with duck ragu and plates of rabbit in the style of porchetta, heady with wild fennel, which really stole the show. To wash them down Corrado went deep into his cellar, and we were lucky enough to try a 2001 Terre Silvate, which was of course amongst the first La Distesa wines made. In drinking this alongside a 2007 and the current release 2013 we were able to track not only the evolution of his winemaking but also the ability the Verdicchio grape has to age.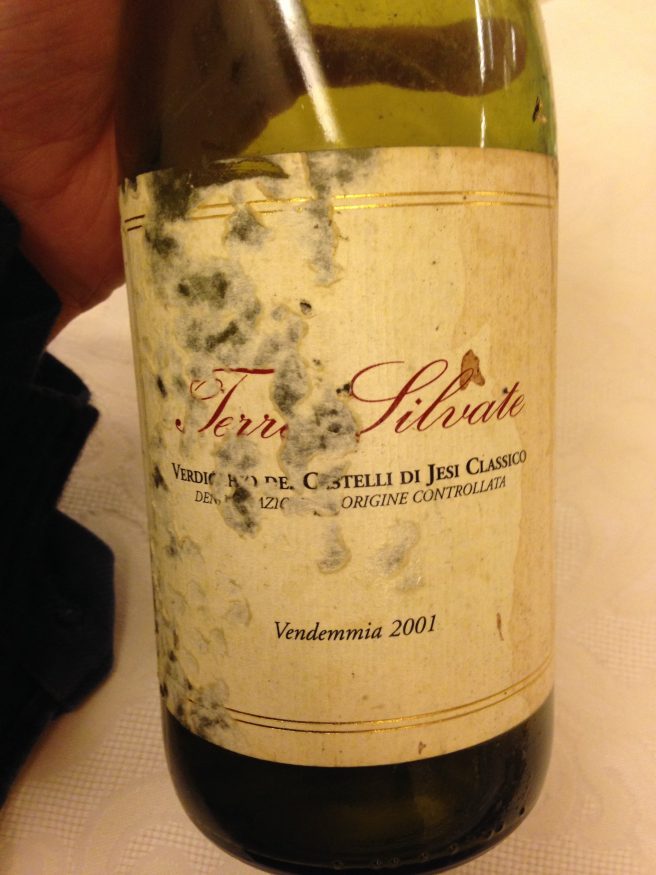 A 2010 Gli Eremi was in splendid form and it confirmed our impression of the 2012 and 2013 vintages of the wine tasted earlier in the day and Corrado's note that it is only after a couple of years that his wines truly begin to sing. We look forward to the 2012 arriving in the new year, compact and mineral, it will be great to follow it over the coming months.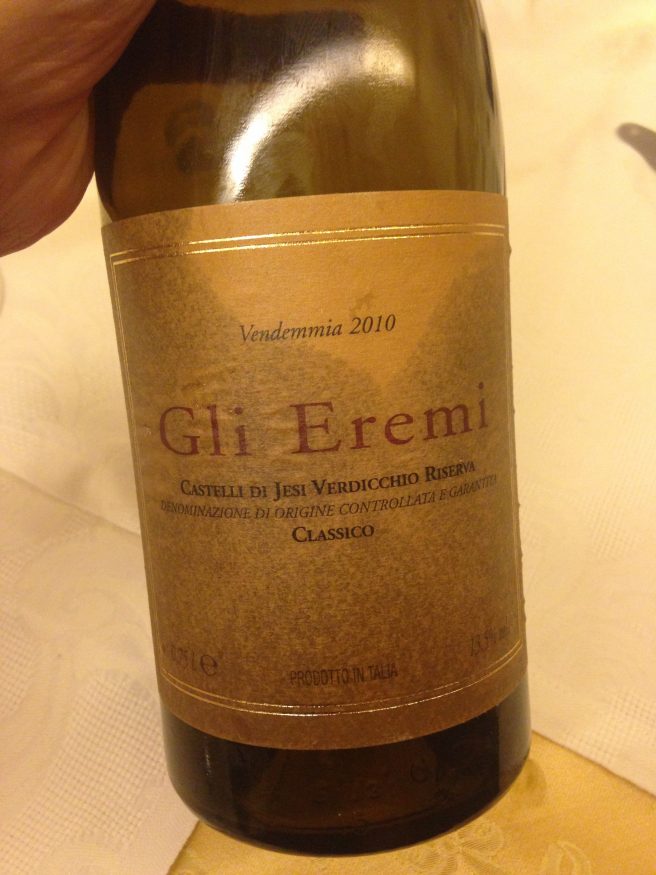 Our time in Le Marche was short and sweet, but we look forward to welcoming Corrado and Valeria to London in the new year to introduce them to you all.