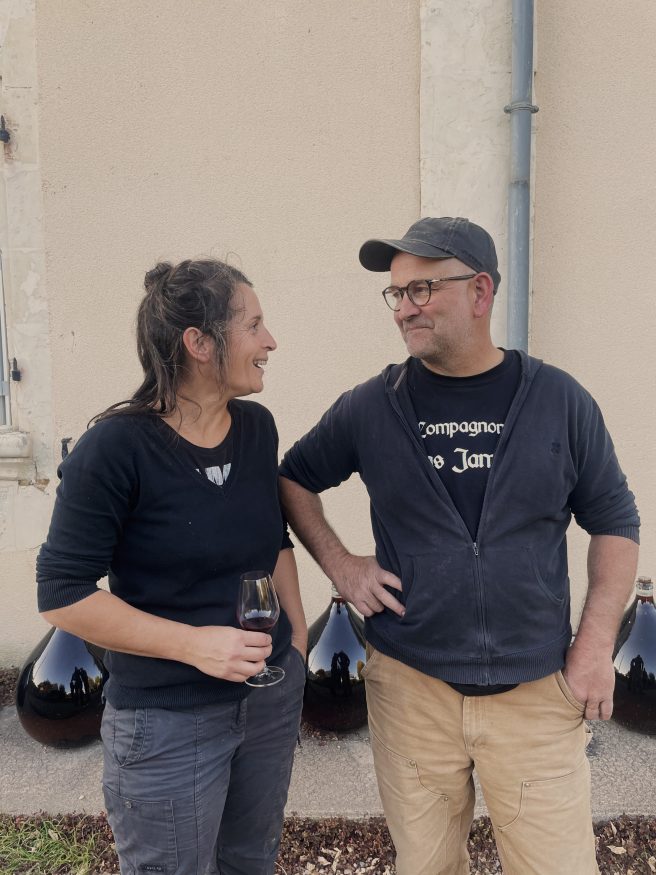 The discovery of Claire and Florent Bejon's wonderful wines proved to be one of the highlights of last year and after a long rest in our cellars, we are thrilled to be able to offer some new wines from their little cave in Saint-Germain-sur-Vienne.
Claire and Florent farm a total of five hectares of vines spread amongst tiny parcels on either bank of the Vienne just to the west of Chinon. Vines are on average fifty years old, over complex and varied soils made up of clay, limestone and a large amount of silex, lending the wines structure and minerality.
All work in the vineyard is done organically and by hand, and now that each of the parcels has a healthy ecosystem, they prefer to let nature find harmony, and rarely trim the shoots, flowers and weeds that grow between the vines.
The wines are made in an old cellar dug into the tuffeau, and here the Bejons display a real lightness of touch, with an emphasis on long, gentle macerations and élevage in a combination of old casks, demijohns and earthenware jars.
From the pristine 2020 vintage, these gorgeous expressions of Cabernet Franc pair soft, supple tannins with great purity of fruit and complex perfumes, making for wines that are truly unique.
For those that missed it, an interview with Claire and Florent discussing their work can be found here
The following wines are now live on Tutto a Casa